5th Anniversary Flowers
Wood is the traditional symbol of a 5th anniversary. Why not delight your dearest with a wonderful array of woody blooms that represent the raw love and the happiness that defines your relationship.
Tiber Lilies and Roses
Save £5 (9%) with FREE Delivery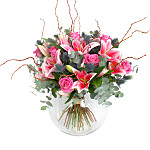 Order in the next 21 hours 52 minutes for delivery TOMORROW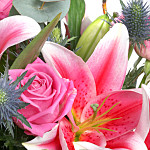 Bestsellers
- 5th Anniversary Flowers
Track your order
Customer Satisfaction
5 star
(99014)
4 star
(24249)
3 star
(470)
2 star
(9365)
1 star
(9007)
Service rating : Delivery was on the day requested, but towards the end of the delivery slot.
Product : The flowers were delivered in excellent condition, but after 4 days the Freesias had drooped or died and by the 5th day most of the roses had wilted. I find this unacceptable for a product that cost me just short of £30
Excellent flowers and excellent service! Will definitely use again when on amazon local(any chance of a discount on that seeing as it's my 5th order - I'm joking!)
Wynne
St. Leonards-on-Sea

Service rating : The ordering process and delivery were very good .
Product : The Flowers were beautiful on arrival Monday 2nd June but by the thursday 5th of June they had wilted and were ready to be thrown. I have been unable to contact you before as I have not been at work, and they were ordered on my work computer so I had no information like order numbers to be able to contact you. I was very dissappointed as the flowers I have ordered in the past have always been first class.
Service rating : great website, easy to navigate and attractive to look at. Second time I've used serenata and would recommend to all flower lovers
Product : Ordered Bonfire for my mums november 5th birthday and they were, and still are lovely. All the blooms are such high quality, very fresh with a beautiful scent
4th or 5th time i have used serenata.. Top class is all i can say.. thnk you guys!!!
Service rating : This is the 5th time i have used you and your service is 2nd to none, I started using a couple of years ago after interflora messed up 3 orders in a row and didnt give a damn, well done for your excellent service.
Product : The flowers you send are always very fresh and last a long time, everyone i send them to say they are the most beautiful flowers they had ever had and are extremly happy with them, thank you for helping me make people i love so happy.
About the 5th time I've used this service. Excellent.
Celebrate the True Bloom of the Relationship with 5th Anniversary Flowers
Do you know what they say about the 5th anniversary of a relationship? It is the time when it really blooms as something natural and more real than it has ever been. Once a couple is past this milestone, they are likely to be together for at least five more. So, why not celebrate this bloom with the most beautiful 5th Anniversary flowers in the form of bouquets, bunches, vases, boxes, or baskets created spectacularly by our highly creative florists?
The traditional symbol of this milestone is wood but you can't imagine getting a log as a present. It isn't slightly romantic even if you had to travel to the deepest part of the forest and cut the tallest tree to get it for your love. If you really want to get them a piece of nature, it might as well be a beautiful bouquet of flowers. At SerenataFlowers.com, we take pride in speaking the language of love through flowers, the universal symbol of love. We have an extravagant collection of bouquets, bunches, vases, pots, and baskets of fresh and fine flowers that truly symbolise the beauty of your relationship. We source our 5th anniversary flowers fresh from the market every single day. And our florist put in an immense amount of love and care to make sure each product is unique and perfect for the occasion.
Free Next-Day Delivery - Flowers for 5th Anniversary
If you have forgotten about the anniversary till the last hour, you don't have to fret anymore. We have got your back. We know just exactly how to make sure your forgetfulness doesn't come in the way of celebrating the wonderful day. We offer a free next-day delivery on all of our 5th Anniversary flowers. Whether you choose the petite pot of red roses or the huge mass of white roses with violets, it will reach the door step within the next 24 hours, no matter what day of the week. We may be granting wishes like a fairy-god-mother, but we are also pretty lenient in terms of hours. Our next-day delivery service applies even if you order your 5th Anniversary flowers at midnight (selected range only). Plus you can spark things up by adding from one of the romantic gifts we have at SerenataFlowers.com. Trust us to deliver the perfect bunch of flowers for 5th Anniversary.