Baby and Mum
Fresh flowers for fresh beginnings. Welcome a new life into the world with a bouquet that suggests a promise of joyful things to come. In the early 20th century, pink was the favoured colour for boys, so don't be restrained by modern stereotypes. Send your good wishes with an arrangement in whatever happy hue you like.
Beautiful Blue
Save £5 (20%) with FREE Delivery
Order in the next 20 hours 36 minutes for delivery TOMORROW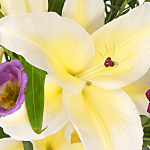 Bestsellers
- Baby and Mum
Track your order
Customer Satisfaction
5 star
(98936)
4 star
(24234)
3 star
(470)
2 star
(9359)
1 star
(8999)
Had hoped they would at last have offered a non-gender specific baby card. Find the OTT messages a bit irritating.
I always use serenata flowers for all our new baby deliveries at work! They are very punctual, keep you updated by text message as to when the delivery has actually been made. I have never had a bad experience with them at all ! Always recommend to friends & colleagues alike.
Service rating : I think Serenata is a well run business and always provides a reliable service and a very good product
Product : These were for a friends who had lost their baby and for them to say 'they were beautiful' meant a lot. Thanks
These was sent to a friend who had recently had a baby boy and she was absolutely delighted with them.
Would have liked to know that the flowers had been delivered. Had to rely on the receiver thanking me, which since she had just had a baby, took her a few days to do.
Service rating : Found the website very easy to use and the delivery very quick.
Product : Whilst the arrangement was nice it was much smaller than I expected it to be - one reason I send flowers is because it normally looks so much nicer and better value for money and the bouquets and normally a really good size - this when it arrive unfortunately didn't look any better than a bunch I could have bought in a supermarket - and to be honest I could have got a larger bunch of flowers for half the price if I had gone to Waitrose. Very disappointed. This bouquet was a thank you for my mum for looking after my little boy while we were in hospital having his baby brother and now I wish I had gone to my local florist. I will go back to using Next flowers in future.
Your choice of fun boy baby cards could be larger.
If you are throwing a baby shower and want a creative table centrepiece that will also double as a baby socks gift to the new mum and dad, you will be interested in baby sock flowers. There are many varieties of baby socks flowers to choose from, both in colour and the way in which the socks are shaped to mimic different kinds of flowers made with baby socks. Whatever you choose, the baby sock flower will serve as a talking point during the party and a useful gift for the new parents once the event has come to an end.

Since new babies are always in need of baby socks bouquets, both as a newborn and as they grow, it is common to supply a variety of sock sizes in bouquets made from baby sock roses so the gift can continue to be useful for several months to come. You may not even be the host of a baby shower to supply the expecting parents with this useful, creative, and beautiful baby sock flower arrangement.

Fortunately for you, there are options to make affordable purchases of baby sock flower bouquets even if you do not have the creative hand and eye to construct one yourself. It is also convenient to have the option of making an affordable, one-time purchase instead of buying all the separate supplies and working your way through building your own baby sock rose bouquet through trial and error. Simply put, if you want a high quality gift that both looks beautiful and can be functional, a baby socks bouquet is a smart purchase for you to make today.