Birthday flowers for mum
A poem of petals ? without big words or fancy rhymes, just an abundance of colour and tenderness, beauty and gentleness that perfectly describes how much you appreciate, adore and celebrate this amazing woman, your mother.
Summer Holiday
Save £5 (17%) with FREE Delivery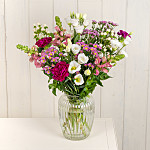 Order in the next 9 hours 19 minutes for delivery TOMORROW
Bestsellers
- Birthday flowers for mum
Track your order
Customer Satisfaction
5 star
(99048)
4 star
(24254)
3 star
(470)
2 star
(9368)
1 star
(9007)
I have used them to supply my mother with flowers for the last few years. They have always been spot on
Great service, my mother was very happy
Delivered conveniently. Although delivery driver didn't give my mother much time to answer the door and left the flowers in the garage. Fair enough they were delivered safely, but the added touch of having someone hand them to her was lost.
My mother was very pleased with her flowers as she was with previous ones that i have sent
Sent my mother in law flowers for her 93 rd birthday and she was very pleased .
delivered on time and my mother in law loved them well done Serenata x
Problem with the first delivery paid extra for Mothers Day delivery it did not happen, flowers arrived next day soaking wet and flattened did not last a week. Contacted Serenata an offer of refund or re-delivery as it was Mothers Day flowers I got a re-delivery and one happy Mother.

When it comes to flowers for mums birthday and other occasions, serenata Flowers is the ultimate choice. serenata flowers provides customers with the best services, offering only fresh flowers beautifully arranged, delivering orders on time, and helping customers. If you want a risk-free flowers mum shopping experience, shop nowhere else but here. No need to woory about the cost of mum flowers at serenata.



Occasions, such as your mum`s birthday or mum sympathy flowers, can be made more special by giving her a bouquet of bright-colored mum birthday flowers. Show how much you love your mother by remembering her birthday and offering her mum flowers and mum socks from serenata. Under the birthday flowers for mom selection, there is Beautiful Smile, White Lily bouquet, Sugar Hill, Madonna, Someday Dreamer, gerbera bouquet, Tequila Sunrise, Neapolitan, Ocean Whisper, Lyra, Calliope, and Pink orchid.



Among these beautiful mums birthday flowers, Serenata Flowers presents its bestseller Pink Lily. Pink Lily is an elegantly scented arrangement with premium pink oriental lilies with three to five luxurious flower buds blooming out from each stem. When it comes to mums flowers lilies have exceptional charm and exquisiteness all year round, making this arrangement a perfect choice for your mother`s birthday, no matter what time of the year her special day is.



Aside from birthday flowers for mum, Serenata Flowers also offers mum funeral flowers, birthday flowers for wives, daughters, and female friends. See the complete catalog at serenataflowers.com. There, you can also browse for funeral flowers mum and for other occasions, whether it is an anniversary, date, engagement, new baby, birthday, or to say congratulations or mums funeral flowers.