Blue
Blue is an unusual hue for blooms. Indeed, you only come across true blue flowers, well, once in blue moon – unless, of course, you happen to live near a stream in a high-altitude meadow, where they are fairly prevalent. More popular are tinted with pinks and purples, but whichever end of the spectrum you prefer, you'll find blue flowers evoke tranquility and harmony and portray a sense of stability suggestive of confidence, honesty and security.
Ocean Whisper
Save £10 (25%) with FREE Delivery
Order in the next 47 minutes for delivery TOMORROW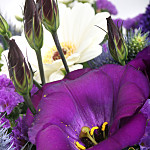 Track your order
Customer Satisfaction
5 star
(98861)
4 star
(24221)
3 star
(470)
2 star
(9354)
1 star
(8994)
Although I ordered blue flowers and purple was delivered they were still beautiful :)
Service rating : Helpful as offer came just when I needed to send flowers!
Product : Bit disappointed as just one lily with one variety of blue flowers but delivered on time. Thank you
Service rating : Excellent - always a good service and flowers from Serenata
Product : Well, whilst I did order a blue posy - most of the flowers were yellowish - nonetheless - they were gorgeous and I didn't mind not having the blue posy.
Service rating : Fabulous service, loved the variety of flowers and emails and texts to let you know about update of order.
Highly recommend to others.
Product : My mother loved her flowers and prior to that delivery a friend also received a blue bunch of flowers her favourite colour.
Service rating : Can always be relied upon to deliver an excellent service.
Product : my friend absolutely adored the blue dendrobium. She thought they were really exotic and unusual and beautiful to look at.
Cute blue bear for a baby boy
Service rating : All on time, quick confirmation of order and delivery and not a bad price.
Product : Was bit miffed to discover these were dyed the blue colour after I ordered - should have read the small print more carefully before. Mum said they were lovely nonetheless.

Blue and its related hues are undoubtedly the favorite colors of millions. It is believed to be a color that evokes peace or calm and tranquility while at the same time suggesting honesty, sincerity, and confidence. Even though blue is considered an uncommon shade for buds and blooms, serenata flowers, UK`s top selling online florist, proudly offers a list of blue flower arrangements for the true flowers blue lovers.



Flowers that are blue do not occur very often in nature. Blue roses are mostly found growing freely near streams of flowing water or meadows located in high altitudes. Blue tulips flowers include those with deep pink or purple tints such as blue roses delivery, blue orchids flowers, blue thistles, blue gerberas and blue winter flowers. Of course, there are the midnight blue roses flowers which are in a class of their own.



You can order any of Serenata Flowers` nine distinct blue bouquets flower arrangements. Ocean Whisper is considered Serenata`s bestseller among the blue roses delivered. For only £29.99, this flower arrangement features shell-white gerbera daisies and daisy mums nestled amidst lush purple veronica blooms. Purple statice are interspersed with blue thistle, delphiniums, and purple lisianthus.



If your tastes are a bit on the conservative side and you know what flowers are blue, Star Sparkle would be your kind of blue and yellow flowers. In this serenata flower arrangement, delicate white gypsophilas contrast beautifully with the deep hues of midnight blue irises.



To order blue roses you can also go online and buy blue roses and opt for Moonlight, Lemon Soda, All That Jazz, Blue Cloud, Tribeca, Santorini, or Summertime. Serenata`s blue tulips flowers bouquet are affordably priced between £29.99 and £119.99 and included in the same day delivery service.