Flowers By Post - FREE Delivery
Get more petal for your pound with these great value flowers... they're thrifty but nifty, tight, not tight-fisted; cheap, but so much more than cheerful.
Aztec Sun
Save £10 (33%) with FREE Delivery
Order NOW for delivery on
Monday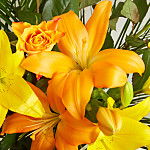 Bestsellers
- Flowers By Post - FREE Delivery
Track your order
Customer Satisfaction
5 star
(98936)
4 star
(24234)
3 star
(470)
2 star
(9359)
1 star
(8999)
Excellent service from start to finish. Packaging for flowers was first class
I have been very happy with the service. There was a problem with the delivery of one of my orders but I blame the courier company.
Flowers by post delivered 7 days a week
Sending flowers by post is a wonderful way to surprise someone you care about. Especially if it's someone who doesn't receive flowers very often. Our range of flowers by post has been specially designed to suit even the tightest budgets without compromising the quality and excellent service that comes as a standard. On the top of our unbeatable prices, we also offer free delivery. So when we say send your flowers by post, we don't expect you to run to the post office to get your stamps. Place your order online and our team of florist experts will take care of the rest.
Our range of flowers by post includes some of our bestselling bouquets. Choose from orchids by post, fragrant red roses, tulips by post, colorful lilies, beautiful gerberas by post, daisies and other popular flowers. One of our most popular bouquets are the exotic blue dendrobium orchids, with striking appearance that will leave the recipient speechless. Or choose more subtle romantic bouquet, like the Strawberry Sundae, with blushing pink roses and lilies, surrounded with a field of delicate gypsophila and chrysanthemums.
No matter what your preference is, our wide range of flowers by post caters for every budget and occasion. You don't even need to worry about last minute orders! We accept flower delivery orders as late as midnight (selected range only) and unlike any traditional shops, we are open 7 days a week, 24 hrs a day. Send flowers by post anywhere in the UK and turn an ordinary day into a special surprise for someone you care about.