Flower Delivery to Three Mile Cross
Colourburst
Save £5 (20%) with FREE Delivery
Order in the next 1 hours 14 minutes for delivery TOMORROW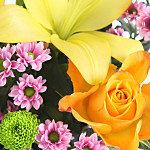 Bestsellers
- Three Mile Cross
Track your order
Customer Satisfaction
5 star
(98903)
4 star
(24229)
3 star
(470)
2 star
(9357)
1 star
(8995)
Every time I use the flower delivery service I get good feedback from the recipient
Easy to order. Good communication from company about when flowers were delivered.
On the 4th time I've used Serenata, the service and pleasure given have been outstanding.
Order flowers online for Three Mile Cross delivery
In today's digital world, it's never been easier to say 'I love you' with a beautiful bouquet of flowers ordered online with SerenataFlowers.com. Our easy to use website gives you a fabulous selection of bouquets, floral displays and fresh flowers, delivered to any address in Three Mile Cross, seven days a week. The beauty of ordering your flowers online is that you can place your order whenever you want to, from the comfort of your own home. Simply browse our selection, pick the one you want and pay using our secure payment methods. Our skilled florists online in Three Mile Cross will take care of your order for you, with a next-day delivery service.
Flowers sent online next day to Three Mile Cross
Once you've picked your blooms, it's time to get them delivered. SerenataFlowers.com can ship flowers to any address in Three Mile Cross thanks to our easy and fast service. Simply pick and click from our fabulous selection, pay using our secure online payment method and we'll take care of everything for you. Our skilled florists will create a beautiful bouquet for you and send it to the destination of your choice in Three Mile Cross with our next-day flower delivery service. Our florist service offers a seven-days-a-week service, delivering fresh, fabulous flowers and gifts with your own special message.
Award-winning flower service in Three Mile Cross
Flowers are a special part of all our lives, whether we have a garden full of blazing blooms or a single rose in a vase. They even have their own language, with different blooms meaning different things. Want to say 'I love you' or 'happy anniversary'? We can help. Our skilled florists in Three Mile Cross speak this floral language fluently, and by picking your flowers online from SerenataFlowers.com, your floral message can be delivered to any location in Three Mile Cross, whenever you want.
Online florist in Three Mile Cross
At SerenataFlowers.com, we only work with the best florists. They understand that if you're sending flowers in Three Mile Cross, then it's not just the freshness of the flowers that's important, but the message too. So our skilled florist online can interpret what you want to say and pick the right flowers that send exactly the right message. Our flower delivery service in Three Mile Cross makes sure those blooms arrive at their destination in tip top condition too, with a next-day delivery that's available seven days a week. Whether it's a birthday, an anniversary or just a spur of the moment buy, our florists will create the perfect bouquet for you.