Flower Delivery to Ashbourne
Colourburst
Save £5 (20%) with FREE Delivery
Order in the next 1 minute for delivery TOMORROW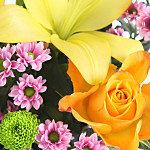 Track your order
Customer Satisfaction
5 star
(98808)
4 star
(24209)
3 star
(470)
2 star
(9349)
1 star
(8987)
Very pleased with the service, and my Mum was pleased with the flowers. Let's hope they last a good time. I particularly liked getting the delivery status reports as I ordered them from overseas so it was reassuring to read the updates
Very prompt service. Kept informed by text. Great
Service rating : I have used you twice & will continue to do so .
Product : the product was for a friend who said her flowers were very nice.but I didn't see them.
Service rating : As below
Product : Reliable service, kept me informed and flowers very fresh
Excellent
Have used serenataFlowers 3 times and would use again good service and good quality flowers .
Good quality flowers in interesting combinations.
Next-day flowers in Ashbourne
Delivering flowers in Ashbourne is something that our florist specialists are very good at. At SerenataFlowers.com, we only use the best flowers delivery service to ensure that your blooms arrive in perfect condition and as fresh as the day they were picked. We can ship flowers to any address in Ashbourne for next-day deliveries, seven days a week. And all you have to do to make sure your flowers arrive on time is to pick and click from our online selection, and order a flowers delivery to your chosen address. Why not treat someone special – or even yourself?
Beautiful flowers in Ashbourne
For thousands of years, mankind has had a real love affair with flowers. In fact, these fragile, special blooms that capture our hearts and are the ultimate gift for someone you love even have their own 'language'! Fortunately, our florists in Ashbourne speak it fluently, and can translate your message into a fabulous, fresh bouquet of pansies, peonies or petunias. Or if you prefer a single red rose to say 'I love you' then browse our flowers online at SerenataFlowers.com, click and pick and we'll arrange a special flowers delivery to deliver them the next day to any address in Ashbourne.
Online florist in Ashbourne
Flowers each have their own special meaning, and at SerenataFlowers.com our skilled florists in Ashbourne understand the symbolism of roses, carnations, dahlias and daisies. No matter what message you want to send, our florist online can take your order 24/7, and turn it into something truly beautiful. Our florists can then arrange for a special next-day delivery service that ensures your blooms arrive in perfect condition and as fresh as the day they were picked. You can do this all from the comfort of your own home, just let our florists take care of everything else.
Send flowers online to Ashbourne
Turn your laptop into an online flower shop with our fabulous selection of fresh flowers and beautiful bouquets. It's simple to arrange a flowers delivery in Ashbourne using our online service at SerenataFlowers.com. Day or night, 24/7 you can go online, browse our collection and then book a next-day flower delivery in Ashbourne with just a few clicks. Our online service is safe and secure, so you can buy with confidence. With such an easy-to-use online flowers service, there's no excuse for forgetting another anniversary or birthday! Simply pick and click, and we'll do the rest.
Flowers delivered near Ashbourne: