Flower Delivery to Eastleigh
Colourburst
Save £5 (20%) with FREE Delivery
Order in the next 20 hours 3 minutes for delivery TOMORROW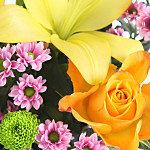 Track your order
Customer Satisfaction
5 star
(99014)
4 star
(24249)
3 star
(470)
2 star
(9365)
1 star
(9007)
Ordering was easy. Kept informed throughout. Delivered on stated day. Great service. Thank you
Service rating : Good informed service easy to use
Product : Beautiful flowers,well protected,arrived on time.I would recommend Serenata to my friends
Service rating : Very easy to use - although I didn't receive an email confirmation. All went well with the order though
Product : Beautiful flowers, exactly as described. Thank you very much!
Very efficient service, beautiful flowers and great to be kept up to date with delivery
Flowers arrived damaged, but the company did issue a full refund.
Gorgeous flowers made by florist in Eastleigh
Did you know that maidenhair ferns, often used in bridal bouquets, symbolise undying love? At SerenataFlowers.com, our florists in Eastleigh understand the nuances and symbolism of every flower, and how picking the right one can send a clear message of love and affection to someone you care about. Our florists Eastleigh will take your order and turn it into something truly special, and will ensure that your bouquet is delivered in tip top condition. The hardest bit is deciding which bouquet to send!
Order flowers online for Eastleigh delivery
Are you a dedicated online shopper? It's the easiest way to get just about everything you need, and now SerenataFlowers.com makes buying flowers online easy too. Our skilled florists in Eastleigh can transform your online order into something really special, with a next-day delivery service to any address in Eastleigh too. Forgotten a birthday? Or that wedding anniversary again? Simply browse our safe and secure site, pick and click and we'll take care of everything for you. No fuss, no bother, just a convenient, 24/7 flowers online service for you.
Fresh flowers delivered daily to Eastleigh
Fabulous fresh flowers make anyone's day more special. Whether it's a birthday or an anniversary, our florists in Eastleigh are dedicated to creating beautiful bouquets that will bring a huge smile to a loved one's face. And no matter what kind of flowers you like, you can choose from our fabulous selection of flowers online and have them delivered to any address in Eastleigh the very next day. Love lilies? Passionate about pansies? Adore azaleas? We've got the best flowers right here online for you to choose from.
Guaranteed next-day flower delivery in Eastleigh
Add an outstanding flowers delivery service to our incredible selection of blooms and bouquets, and you have the complete online flower package from SerenataFlowers.com. Our skilled florist delivery service creates your online order and delivers it to any address in Eastleigh next day, Monday to Sunday. All you need to do to arrange for a flower delivery to someone special (or even as a little treat for yourself!) is to pick from our online collection and book a next-day flower delivery to the address of your choice. Our floral experts make sure your flowers arrive in Eastleigh in perfect condition, as fresh as the moment they were picked.