Flower Delivery to Merton
Colourburst
Save £5 (20%) with FREE Delivery
Order in the next 3 hours 50 minutes for delivery TOMORROW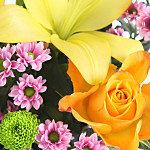 Track your order
Customer Satisfaction
5 star
(99048)
4 star
(24254)
3 star
(470)
2 star
(9368)
1 star
(9007)
Service rating : I cannt give a honest opinion on the flowers as I have not seen them all I can say is when my sister rang to thank me she said the flowers were really lovely. They were delivered on the correct day
Product : as I said above I have not seen the flowers so can't give an honest answer
Service rating : The choice was good and the order process simple.
Product : The white roses were all bruised and browned to the point that the outer petals had to be removed to make them look presentable. Also the bouquet was a lot smaller than I expected, from a greenery point of view. I got a full refund but would have preferred decent flowers!!!
They arrived on the 24th as requested . Unfortunately the lady to whom they were sent has memory problems ,so can't give you any more feedback! Feedback for us would have been useful, but understandably not feasable.
Service rating : I did not see the flowers but my friend said they were beautiful. Also my friend lives in an obscure place in the middle of Dartmoor and the driver found it and as she was out left them in a safe place by the front door
Product : As above
Service rating : your service was very good and quiet easy to follow
Product : as i did not see the summer holiday arrangement i cannot really say but my friend was very pleased with the nice surprise
Service rating : From the receivers we understand that the flowers arrived on the chosen day, and quite early in the day although we had ordered them late on the previous day.
Product : THeir words were tghat the flowers were beautiful
But I ordered it without knowing, it was added in when I chose the reason for the flowers and didn't notice it until I had paid but I was in a bit of a rush.
Online flowers for delivery to Merton
Turn your laptop into an online flower shop with our fabulous selection of fresh flowers and beautiful bouquets. It's simple to arrange a flowers delivery in Merton using our online service at SerenataFlowers.com. Day or night, 24/7 you can go online, browse our collection and then book a next-day flower delivery in Merton with just a few clicks. Our online service is safe and secure, so you can buy with confidence. With such an easy-to-use online flowers service, there's no excuse for forgetting another anniversary or birthday! Simply pick and click, and we'll do the rest.
Next-day flowers in Merton
You can rely on SerenataFlowers.com to deliver flowers the next day to any address in Merton. Using our pick and click online service, you can arrange for a beautiful bouquet to be sent by post or using our seven-day-a-week shipping service. Our florist delivery specialists will ensure that every bloom arrives in perfect condition, whether it's a single red rose or that all-important bridal bouquet. Our flowers delivery service is designed to take good care of your flowers, so you're never disappointed! Send beautiful blooms anywhere in Merton, and all from the comfort of your couch.
Buy stunning flowers in Merton
A feast of flowers and perfect posies are waiting at our florist online for you. If you want to arrange for our florist delivery service in Merton to surprise someone with a beautiful bouquet, our skilled florists can prepare, and deliver a fabulous display of dahlias or a romantic red rose for you to any location, seven days a week. At SerenataFlowers.com, our fabulous selection of fresh flowers online make it easy for you to give a gift that will make someone smile, and our next-day flowers delivery in Merton means that it's never been easier to brighten someone's day with a special and very personal gift.