Flower Delivery to Pity Me
Colourburst
Save £5 (20%) with FREE Delivery
Order in the next 1 minute for delivery TOMORROW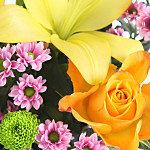 Track your order
Customer Satisfaction
5 star
(98808)
4 star
(24209)
3 star
(470)
2 star
(9349)
1 star
(8987)
Service rating : Delivery ok, flowers dreadful. Not value for money at all.
Product : Flowers thrown away after half a week. Unfortunately my mum was too polite to tell me but I have visited her 6 days after delivery to be told she binned them 2days earlier. Many had already died, thoroughly disappointed but complaints process requires photo which we do not have. Will not use Seranata again.
Service rating : brilliant flowers and service
Product : big fat blooms ..great stuff
Service rating : always had excellent service
Product : didn't see the flowers as they were a gift however the recipient was very pleased with them
Beautiful flowers in Pity Me
Floral bouquets are the perfect gift for any occasion – and now you can make someone feel special with flower deliveries in Pity Me, thanks to SerenataFlowers.com. Our florist online gives you all the choice of a flower shop, but from the comfort of your own sofa. Want to say 'happy birthday' or an impulsive 'I love you'? Go to our website and our flower delivery service in Pity Me will do the rest. We can even deliver your blooms at the weekend too – perfect for Mother's Day or a special surprise birthday present. It's never been easier to choose from a fantastic selection of flowers online, and to send them anywhere, any time.
Flowers sent by florist in Pity Me
Gorgeous gladioli, amazing asters, fabulous forget-me-nots – stunning blooms, but what do they all mean? At SerenataFlowers.com, our skilled florists in Pity Me understand the language of flowers, and what you want to say when you send flowers to someone special. So our florist online will interpret your message and pick the right blooms for that perfect bouquet. Our specialist florist delivery service in Pity Me also ensures that every bloom arrives in perfect condition the next day, seven days a week. All you have to do is pick and click, and our florists will do the rest for you.
Flowers sent online next day to Pity Me
Once you've picked your blooms, it's time to get them delivered. SerenataFlowers.com can ship flowers to any address in Pity Me thanks to our easy and fast service. Simply pick and click from our fabulous selection, pay using our secure online payment method and we'll take care of everything for you. Our skilled florists will create a beautiful bouquet for you and send it to the destination of your choice in Pity Me with our next-day flower delivery service. Our florist service offers a seven-days-a-week service, delivering fresh, fabulous flowers and gifts with your own special message.
Order flowers online for Pity Me delivery
Are you a dedicated online shopper? It's the easiest way to get just about everything you need, and now SerenataFlowers.com makes buying flowers online easy too. Our skilled florists in Pity Me can transform your online order into something really special, with a next-day delivery service to any address in Pity Me too. Forgotten a birthday? Or that wedding anniversary again? Simply browse our safe and secure site, pick and click and we'll take care of everything for you. No fuss, no bother, just a convenient, 24/7 flowers online service for you.