Flower Delivery to Hartlepool
Colourburst
Save £5 (20%) with FREE Delivery
Order in the next 16 hours for delivery TOMORROW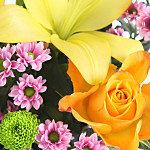 Track your order
Customer Satisfaction
5 star
(99014)
4 star
(24249)
3 star
(470)
2 star
(9365)
1 star
(9007)
Always good and quick delivery always on time
Service rating : customer service, brilliant
Product : lovely flowers, friend very pleases
It would be a good idea to leave an option for customers to write alternative delivery information as most people know the premises to which they are sending the flowers and therefore it would make more sense for your delivery men on site.
Beautiful and prompt as always
Very good service. Kept me informed all the way right up until delivery.
Top service first rate could not fault it.
Online flowers for delivery to Hartlepool
This is the digital age, and we're all turning into dedicated online shoppers. At SerenataFlowers.com we've made it simple to pick out a beautiful bouquet and send it to any address in Hartlepool. And all it takes is just a few clicks. Our flowers online are the pick of the very best and freshest blooms, crafted into gorgeous bouquets for you by trained florists online and in Hartlepool. All you have to do is use our secure online service to choose the bouquet you want, and we'll take care of the rest.
Florist in Hartlepool
Florists know how to take your message and turn it into a beautiful floral gift that will light up anyone's day. At SerenataFlowers.com, we only work with the best florists in Hartlepool who have the passion and experience to translate your message into a bouquet that will delight and thrill. They can also arrange for a next-day delivery in Hartlepool to any address. Our online flower shop is open 24 hours a day, seven days a week and our skilled florist online is ready to create a beautiful bouquet for you.
Award-winning flower service in Hartlepool
Do you want to send a very special message to someone? Then the best way to do it is with fresh flowers from SerenataFlowers.com. We offer an amazing selection of flowers online, so you can pick your blooms from the comfort of your own home. Sending flowers in Hartlepool couldn't be easier – just go to our online flower shop, choose your perfect posy and we'll do the rest. Our flowers delivery in Hartlepool means your gift arrives the next day, perfectly fresh and fragrant. So if you've got a wedding or a birthday coming up, we've got it covered for you.
Flower delivery next day to Hartlepool
Order your flowers online and we'll make sure they're delivered in pristine condition the very next day. At SerenataFlowers.com, our flower delivery service in Hartlepool is purpose designed to take care of your bouquets from the moment they leave the hands of our skilled florists to the moment they arrive at their destination. Send flowers to any address in Hartlepool and the very next day they'll arrive as fresh as the moment they were picked, thanks to our specialist flower shipping service. And all of this can be arranged with a few clicks online. It couldn't be any easier.
Flowers delivered near Hartlepool: