Flower Delivery to East End
Colourburst
Save £5 (20%) with FREE Delivery
Order in the next 6 hours 47 minutes for delivery TOMORROW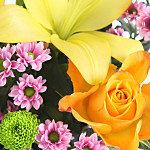 Track your order
Customer Satisfaction
5 star
(98936)
4 star
(24234)
3 star
(470)
2 star
(9359)
1 star
(8999)
Service rating : An all round Professional service. Good communication regarding order through to delivery. Thankyou.
Product : Beautiful flowers. Enjoyed very much on the day.
Service rating : Excellent service, flowers arrived on time.
Product : Delivered to an Aunt who thought they were beautiful. Tight in bud and ready to flower in the next couple of days.
The website was easy to use and the whole process of ordering the flowers was very quick. Delivery was on time and I was kept i formed at all times.
very responsive, useful information on deliver; recipients pleased!
Service rating : Did the job. Recipient very pleased!
Product : As above
Service rating : attentive, accurate
Product : recipient very pleased
Service rating : ....
Product : ....
Send flowers online to East End
Turn your laptop into an online flower shop with our fabulous selection of fresh flowers and beautiful bouquets. It's simple to arrange a flowers delivery in East End using our online service at SerenataFlowers.com. Day or night, 24/7 you can go online, browse our collection and then book a next-day flower delivery in East End with just a few clicks. Our online service is safe and secure, so you can buy with confidence. With such an easy-to-use online flowers service, there's no excuse for forgetting another anniversary or birthday! Simply pick and click, and we'll do the rest.
Fresh flowers delivered daily to East End
At SerenataFlowers.com, we are dedicated to delivering fabulous flowers and great gifts to customers all over East End. It's easy too, thanks to our skilled florists, all you do is pick and click, and we will do the rest. Sending a special message to someone you love with flowers in East End couldn't be easier. Choose from a great selection of flowers online, pick a bunch that sends a perfect message to the one you love, pay online using our secure payment methods, and then sit back and we will do the rest. Our flower delivery service means that your blooms arrive by next-day post, whether you're sending a single rose, a posy of peonies or a bouquet of blooms to congratulate on a wedding.
Next-day flowers in East End
You can rely on SerenataFlowers.com to deliver flowers the next day to any address in East End. Using our pick and click online service, you can arrange for a beautiful bouquet to be sent by post or using our seven-day-a-week shipping service. Our florist delivery specialists will ensure that every bloom arrives in perfect condition, whether it's a single red rose or that all-important bridal bouquet. Our flowers delivery service is designed to take good care of your flowers, so you're never disappointed! Send beautiful blooms anywhere in East End, and all from the comfort of your couch.