Flower Delivery to Darwen
Colourburst
Save £5 (20%) with FREE Delivery
Order in the next 9 hours 48 minutes for delivery TOMORROW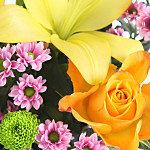 Track your order
Customer Satisfaction
5 star
(98972)
4 star
(24243)
3 star
(470)
2 star
(9362)
1 star
(9004)
Absolutely brilliant service, arrived next day and received a phone call from the driver when close to delivering. Would definitely use again.
Good value, website easy to navigate, efficient delivery
service was efficient and we were kept up-dated
Service rating : fantastic service happy all round
Product : flowers were lovely and communication regarding delivery excellent
Service rating : Excellant
Product : Excellent service, was a last minute thing and my grandma loved the flowers
recipient pleased with the flowers
Service rating : Have used Serenta Flowers many times in the past and was very satisfied with them for delivery times and what used to get delivered
Product : I was very disappointed to find what cost me so much for so little even my partner made a comment that they wasnt as big as they used to be. as this was a birthday occasion i wish i had gone to shop to se what I was buying
Guaranteed next-day flower delivery in Darwen
You can arrange for a flower delivery in Darwen from the comfort of your own home. It's never been easy to send flowers with SerenataFlowers.com. Our specialist flower delivery service in Darwen makes sure that every bloom is lovingly looked after and delivered to the address of your choice, seven days a week. Our next day flowers can be with you from Monday to Sunday, making our ship and send service perfect for weekend birthday surprises or mid-week I love you impulsive romantic moments. What could be simpler?
Award-winning flower service in Darwen
For thousands of years, mankind has had a real love affair with flowers. In fact, these fragile, special blooms that capture our hearts and are the ultimate gift for someone you love even have their own 'language'! Fortunately, our florists in Darwen speak it fluently, and can translate your message into a fabulous, fresh bouquet of pansies, peonies or petunias. Or if you prefer a single red rose to say 'I love you' then browse our flowers online at SerenataFlowers.com, click and pick and we'll arrange a special flowers delivery to deliver them the next day to any address in Darwen.
Flowers delivered near Darwen: