Flower Delivery to Leicester
Colourburst
Save £5 (20%) with FREE Delivery
Order in the next 20 hours 38 minutes for delivery TOMORROW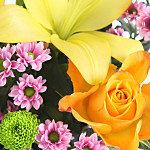 Track your order
Customer Satisfaction
5 star
(99048)
4 star
(24254)
3 star
(470)
2 star
(9368)
1 star
(9007)
I sent flowers to a friend for next day delivery but they were not delivered until the day after. I contacted serenata flowers about this and was offered a refund or resend. I was pleased that they were so attentive to me and felt appreciated as a customer. I realise that this was the courier companies fault, not serenata flowers and so would but flowers from here again.
Have used the company several times with great satisfaction but this time the delivery went wrong and the flowers were left behind a hotel.
However Serenata investigated immediateley and I got my money back.
Excellent service.
The flower bouquet was lovely but it did arrive after 5pm which for me was very late, I felt I could have took some flowers myself at that time and as it was for a special birthday it was too late in the day.
When there's a problem...that's when you know how good a company really is. Well, I had a problem with the delivery of my flowers and Serenata flowers sorted it quickly and completely to my satisfaction. Well done. Five star rating from me.
I received a bouquet from serenata flowers which lasted 3 weeks. I also sent a bouquet and was impressed with their delivery arrangements and the fact that they kept me up to date on the delivery. Would definitely recommend.
Good efficient service, flowers arrived on time and I was keep informed by E0mail of there progress.
Fast delivery, easy to use and free delivery which when compared with other website can cost a fortune!
Flower Delivery in Leicester, England
Leicester has lived its motto of 'Always the Same' throughout the centuries. Many of its buildings and structures are testaments to its history and its devotion to preserving important parts of its diverse cultural influences. With such a reverence for the old and natural here, it's no wonder that flowers in Leicester are treated with the same kind of respect and admiration. The city even hosts an official page dedicated to gardening and matters of flowers. At Serenata Flowers, we recognize the importance of flower delivery in Leicester. That's why we've made it our duty to only stock flowers befitting of a city once in the running for the UK City of Culture Award.
Fortunately for us, it's hard to convince residents of Leicester of a sub-par floral arrangement's value. For a cheap florist in Leicester who trades in inferior products, business is often not booming. The sheer volume of gardening clubs in the city almost guarantees a demand for a higher standard of florist. In Leicester, we answer that call with our own vast inventory and a website dedicated to sending orders for flowers as soon as they're received. Our next-day delivery service makes us one of the most popular flower shops in town.
Those with a penchant for floral appreciation and gardening are sure to instantly recognise the quality of any flowers delivered. Leicester hosts a number of clubs from the private neighbourhood variety to the public. Garden clubs like those led by churches or the Salvation Army are usually the most accessible and open to people of all ages. Special clubs, like those dedicated to exotic species, provide an intriguing look into faraway lands. If you or your intended recipient are taken with the look of exotic flowers, consider us the best florist for your order: We have many varieties of exotic flowers that beat the tropical offerings of competing florists. Leicester residents who have seen our inventory automatically think of us when asking themselves, 'Which florist near me is capable of putting an exotic twist on the age-old tradition of gifting flowers?'
We are proud to call ourselves the very best in florists. Leicester residents who desire to choose from a variety of blooms like those found at the University of Leicester Botanic Garden while sending flowers should browse our website and choose similar, striking blossoms for any occasion or recipient. At Serenata Flowers, we're the perfect choice for all of your floral needs.
Flowers delivered near Leicester: