Flower Delivery to Bellshill
Colourburst
Save £5 (20%) with FREE Delivery
Order in the next 3 hours 7 minutes for delivery TOMORROW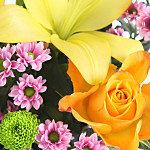 Track your order
Customer Satisfaction
5 star
(98903)
4 star
(24229)
3 star
(470)
2 star
(9357)
1 star
(8995)
I thought that the service was good on this occasion although I found amending my order wasn't as slick as I would have liked!
Service rating : Great service
Product : Beautiful arrangement
Delivered on time, easy to follow where they were.
I have not seen it so am unable to comment.
Service rating : Excellent flowers / Excellent customer service from point of order to delivery.I was kept up to date at all times/ service was amazing. Well done
Product : Flowers were more than expected thank you
Service rating : GOOD SERVICE, WEBSITE A BIT HARD TO NAVIGATE
Product : My mum was delighted with flowers but disappointed that when she followed the care instructions, that there wasn't actually any plant food included!!! A poor oversight when you get plant food with the cheapest of cheap flowers from the supermarket! I would expect plant food from a premium product and company like yourself!
Online florist in Bellshill
Did you know that maidenhair ferns, often used in bridal bouquets, symbolise undying love? At SerenataFlowers.com, our florists in Bellshill understand the nuances and symbolism of every flower, and how picking the right one can send a clear message of love and affection to someone you care about. Our florists Bellshill will take your order and turn it into something truly special, and will ensure that your bouquet is delivered in tip top condition. The hardest bit is deciding which bouquet to send!
Online flowers for delivery to Bellshill
In today's fast moving world, anything that makes your life easier has to be a bonus. So buying flowers online is the easiest and fastest way to send a special gift to someone. After all, who has the time to spend hours trudging up and down high streets in Bellshill, when all the flowers you need are right here online? Our skilled florist online can create a fabulous floral display for any occasion, and our next-day delivery is all part of our convenient pick and click service. Sending flowers in Bellshill couldn't be easier – simply log on to SerenataFlowers.com.
Fresh flowers delivered daily to Bellshill
Want to give someone the perfect surprise? The easiest way to send a message of love is with a fabulous flower bouquet or other gift from SerenataFlowers.com. Our online selection of beautiful blooms lets you pick a posy or grab a gift, and send it anywhere in Bellshill, and all from the comfort of your own home. Whether it's a spur of the moment thing or a planned gift, you can send flowers with next-day delivery in Bellshill, all with just a couple of clicks. Our florist online service lets you choose from a fabulous range of flowers – just right to say 'I love you' to someone special.
Guaranteed next-day flower delivery in Bellshill
Sending flowers by post couldn't be easier. Once you've picked your perfect posy from our online selection at SerenataFlowers.com, our skilled florists in Bellshill will create your bouquet ready for a next-day delivery to any address in Bellshill. Our specialist flowers delivery service is designed to preserve your blooms, keeping them beautifully fresh and fragrant as the moment they were picked. All of this is done with just a few clicks of your computer from the comfort of your home – just pick and click, and then let us take care of your flower delivery for any occasion.