Flower Delivery to Hanwell
Colourburst
Save £5 (20%) with FREE Delivery
Order in the next 3 hours 6 minutes for delivery TOMORROW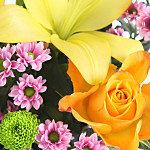 Track your order
Customer Satisfaction
5 star
(98903)
4 star
(24229)
3 star
(470)
2 star
(9357)
1 star
(8995)
Service rating : Very informative, easy and handy site to place online order
Product : Love it
Great, efficient service.
delivered on time many thanks with no problems
Couldn't get better value for money and will use them again
Very quick service good at letting you know where your product is!
Service rating : Excellent was kept informed at what stage the order was at and when it had been delivered
Product : Pretty flowers
Send flowers online to Hanwell
Online shopping is all the rage these days, so we've made it even easier for you to buy flowers online from the comfort of your own home. At SerenataFlowers.com, our florist online service means you can order a beautiful bouquet 24/7, and skilled florists in Hanwell will turn your order into reality. Our flowers delivery service in Hanwell also makes sure your fresh flowers reach their destination the very next day – and all this with just a few clicks! It's the easiest way to buy flowers online, and all at a price to suit any budget.
Next-day flowers in Hanwell
SerenataFlowers.com don't just sell flowers, we deliver them too. Our service delivers fresh flowers to any address in Hanwell, and our next-day flower delivery service means you can send someone special a gift or bouquet, delivered right to their door. Or why not treat yourself with a flowers delivery to your home? Our skilled florists will choose the best blooms from our fresh and fabulous selection. From a single rose to a bridal bouquet, you can rely on our fast and friendly flower delivery service in Hanwell.
Beautiful flowers in Hanwell
Flowers are a special part of all our lives, whether we have a garden full of blazing blooms or a single rose in a vase. They even have their own language, with different blooms meaning different things. Want to say 'I love you' or 'happy anniversary'? We can help. Our skilled florists in Hanwell speak this floral language fluently, and by picking your flowers online from SerenataFlowers.com, your floral message can be delivered to any location in Hanwell, whenever you want.