Flower Delivery to Oswestry
Colourburst
Save £5 (20%) with FREE Delivery
Order in the next 1 hours 33 minutes for delivery TOMORROW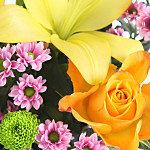 Track your order
Customer Satisfaction
5 star
(98808)
4 star
(24209)
3 star
(470)
2 star
(9349)
1 star
(8987)
Fresh and assembled well.
Service rating : I always use Serenata for flowers. The flowers are always beautiful, unusual and delivered on time. Customer service is second to none. They went out of their way to help when I contacted them.
Product : Superb! The recipient was delighted with the quality of the flowers.
I love the text messages. They are friendly and uplifting. Well done for not be 'stiff and starchy' with your customers:)
Service rating : easy to order and delivered the next day
Product : I didn't see them but my friend said they were gorgeous
Communication and speed of dispatch both excellent, very impressed
Great communication, easy ordering, lovely flowers, Best online flower service I've used :-)
Service rating : Fantastic service, best price around, fast delivery and great customer support!
Thank you
Product : My sister was very happy with the flowers. Thank you
Flowers sent online next day to Oswestry
You can rely on SerenataFlowers.com to deliver flowers the next day to any address in Oswestry. Using our pick and click online service, you can arrange for a beautiful bouquet to be sent by post or using our seven-day-a-week shipping service. Our florist delivery specialists will ensure that every bloom arrives in perfect condition, whether it's a single red rose or that all-important bridal bouquet. Our flowers delivery service is designed to take good care of your flowers, so you're never disappointed! Send beautiful blooms anywhere in Oswestry, and all from the comfort of your couch.
Flowers sent by florist in Oswestry
Booking a bouquet through a florist online is a great way to send someone a very special gift. Our florists in Oswestry are skilled artisans with years of experience in working with the freshest and most beautiful blooms to create wonderful memories in flowers. Delivery is guaranteed the next day, so with SerenataFlowers.com you can be sure that when you send flowers in Oswestry they'll be as fresh as the moment they were picked. Our delivery service makes sure they arrive on time and in perfect condition too. Simply pick and click, and our team of experts will do the rest for you.
Fresh flowers delivered daily to Oswestry
Do you want to send a very special message to someone? Then the best way to do it is with fresh flowers from SerenataFlowers.com. We offer an amazing selection of flowers online, so you can pick your blooms from the comfort of your own home. Sending flowers in Oswestry couldn't be easier – just go to our online flower shop, choose your perfect posy and we'll do the rest. Our flowers delivery in Oswestry means your gift arrives the next day, perfectly fresh and fragrant. So if you've got a wedding or a birthday coming up, we've got it covered for you.
Flowers online near Oswestry
Choose from a huge selection of flowers online at one of the UK's most popular florists, SerenataFlowers.com. We make it easy for you to simply pick and click on the blooms of your choice and send them to any address in Oswestry, all from the comfort of your own home. Order online, and we'll send your flowers by next-day delivery to any location in Oswestry, or why not treat yourself for a change? By ordering online flowers you can send a beautiful bouquet to someone special whenever you want, 24/7.
Flowers delivered near Oswestry: