Flower Delivery to Ilford
Colourburst
Save £5 (20%) with FREE Delivery
Order in the next 16 hours 57 minutes for delivery TOMORROW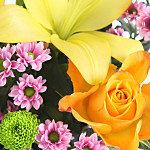 Track your order
Customer Satisfaction
5 star
(98936)
4 star
(24234)
3 star
(470)
2 star
(9359)
1 star
(8999)
Flowers were lovely but the instructions for delivery were to leave with a neighbour if no one in but the delivery person left it on the doorstep in full view, we were lucky no one took it.
Service rating : Good service but advert not very clear
Product : My friend said the flowers were lovely
Have used previously with no problems but very disappointed with late delivery on Valentines Day.(6.30pm) Good administration and updates.Would use again but not on Valentines Day
Arrived quicker than I expected!
Fantastic service - have used a number of times and would definitely use again!
Not enough choices to select from, I needed a congratulations card so picked the only one there which had champagne bottles. .. not ideal if youre a Muslim.
The flowers were beautiful but the delivery was poor. The receipent had to knock on her neighbours' doors to find where they were delivered. A surprise became a full treasure hunt for the receipent.
Award-winning flower service in Ilford
Flowers are a special part of all our lives, whether we have a garden full of blazing blooms or a single rose in a vase. They even have their own language, with different blooms meaning different things. Want to say 'I love you' or 'happy anniversary'? We can help. Our skilled florists in Ilford speak this floral language fluently, and by picking your flowers online from SerenataFlowers.com, your floral message can be delivered to any location in Ilford, whenever you want.
Online florist in Ilford
At SerenataFlowers.com, we work with some of the most skilled florists in Ilford to create stunning displays, beautiful bouquets and fabulous floral gifts that will delight and light up your day. Whether you're picking a bouquet for someone special or simply treating yourself (and why not!) our florist online will turn your dreams into a reality. They can also arrange for a next-day flower delivery to any address in Ilford, seven days a week. All you have to do is pick from our online selection and our florists will do the rest for you.
Guaranteed next-day flower delivery in Ilford
Send flowers to any address in Ilford and we'll arrange for a next-day flower delivery for you. Our online flower delivery service makes it even easier to send flowers. Simply choose your bouquet and we'll take care of everything for you. At SerenataFlowers.com, we only work with florist delivery services in Ilford who are skilled experts, so we can guarantee your flowers arrive looking fabulous and as fresh as the moment they were picked. Our convenient ordering system allows you to arrange flower delivery 7 days a week, even from the comfort of our own bed.
Flowers online near Ilford
Online shopping is fun, fast and easy, and now we've made buying flowers online easy too! No matter where you are, SerenataFlowers.com's glorious gallery of beautiful bouquets means you can arrange a flowers delivery in Ilford with just a few clicks. Simply go to our online store, select your favourite bunch, and our skilled florists online and in Ilford will create the perfect floral gift for you. Our Internet site is safe and secure, so you can shop in confidence from the comfort of your house, day or night, 24/7.