Flower Delivery to Marlborough
Colourburst
Save £5 (20%) with FREE Delivery
Order in the next 10 hours 32 minutes for delivery TOMORROW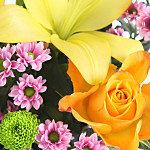 Bestsellers
- Marlborough
Track your order
Customer Satisfaction
5 star
(99014)
4 star
(24249)
3 star
(470)
2 star
(9365)
1 star
(9007)
Service rating : The service itself was good - the flowers were delivered on the correct day and Serenata's customer care dealt with my subsequent complaint in a timely manner.
Product : I was very disappointed by the bouquet that arrived - almost all of the flower types that were displayed on the website had been replaced by other types of flowers; and, in my opinion, of inferior quality. Even taking into account Serenata's 'substitution policy' the bouquet was decidedly poor and could in no way be described as 'deluxe'. Serenata customer care were quite sympathetic, but the florist themselves took no responsibility for the sub-standard arrangement. As a result I no longer use Serenata nor, indeed, any local florists (as I do not know which one was used to fulfill the original order)
Service rating : delivered as I requested
Product : My sister-in-law was delighted with the flowers
Used the company several times. Brilliant service never let me down
prompt delivery as promised
Fantastic service would defiantly use again great communication
Service rating : Arrived quote late in the day!
Product : Smaller than expected....bit disappointing!
Flower delivery next day to Marlborough
Dainty dahlias, delightful daisies or amazing orchids – blooms need special treatment when they're being shipped to addresses in Marlborough. At SerenataFlowers.com, we have the experience and expertise in flowers delivery to ensure that your blooms arrive in perfect condition, seven days a week. Our flower delivery service in Marlborough employs skilled florists and logistics experts to ensure that every bouquet is perfectly packed and carefully delivered to its destination. Our next-day flower delivery service ensures that your flowers arrive looking gorgeous, whether that's a single romantic rose or a bridal bouquet.
Flowers online near Marlborough
Choose from a huge selection of flowers online at one of the UK's most popular florists, SerenataFlowers.com. We make it easy for you to simply pick and click on the blooms of your choice and send them to any address in Marlborough, all from the comfort of your own home. Order online, and we'll send your flowers by next-day delivery to any location in Marlborough, or why not treat yourself for a change? By ordering online flowers you can send a beautiful bouquet to someone special whenever you want, 24/7.
Fresh flowers delivered daily to Marlborough
What's your favourite flower? At SerenataFlowers.com, we specialise in creating beautiful bouquets out of fresh flowers for every occasion. Whether you love the simplicity of daisies or are a fan of orchids, you adore azaleas or can't live without carnations, we have the best, freshest and most beautiful flowers online. If you're treating someone special then simply pick and click and we'll do the rest, arranging a flower delivery to Marlborough seven days a week. Or if you're treating yourself (and why not!), our expert florists in Marlborough will create a display that will brighten your day and scent your home for weeks.
Gorgeous flowers made by florist in Marlborough
At SerenataFlowers.com, our skilled florists online are here to make your dreams a reality. Their ability to create stunning bouquets to deliver in Marlborough means that no matter what the occasion, we can create a special gift to brighten someone's day. Our flower delivery service means that all you have to do is go online, choose from one of our gorgeous bouquets and our florist in Marlborough will do the rest. They use their skill and expertise to say in flowers what can sometimes be difficult to put into words!
Flowers delivered near Marlborough: