Flower Delivery to Scotland
Colourburst
Save £5 (20%) with FREE Delivery
Order NOW for delivery on
Monday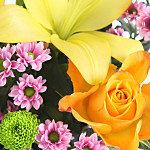 Track your order
Customer Satisfaction
5 star
(98936)
4 star
(24234)
3 star
(470)
2 star
(9359)
1 star
(8999)
The communication about delivery is great.
There was a technical problem with my order and they didn't get delivered that day. But it did get delivered 2 days later.
Very easy to order , great update on the delivery . I would definitely recommend Serenata flowers
Superb service with the flowers delivered in plenty of time. The company offers great choice at great prices.
Have Flowers Delivered to a Loved One in Scotland
People who live in Scotland are accustomed to seeing beauty in their environment. So when you're sending flowers to someone you love in Scotland, you'll want to be certain that they are not only beautifully arranged but also fresh, healthy and from reliable florists. Scotland has many flower shops for you to choose from. These shops and their flower arrangements range from costly to cheap and from professional to less-than-desirable. Although it is relatively simple to find a Scotland florist, their availability to you will be limited to store hours, and travelling to and from their shop can take up a good deal of your time. Fortunately, Serenata Flowers is your answer to the question, 'Where can I find quality flowers near me?' We are an online, independent florist that specializes in flower delivery. Because of that, you can trust us to be timely and send only the freshest flowers. Delivery, Scotland residents and the people who send them flowers know, is very important when surprising someone special. Typically, flowers are sent in celebration of an event or a holiday. That means that a missed delivery is a delivery that arrives too late. When you order flowers, you want them to arrive on time and you want them to look as vibrant and lively as the original image portrayed them. As we manage our own supply of flowers and put together your arrangement ourselves, you can always expect to receive exactly what you paid for and not a variation of it.
There are any number of occasions when our customers from throughout the UK come to us with the desire to send flowers. Scotland residents are no different. Whether our flowers are sent as a way to rejoice in love, to encourage someone to get well soon, or to celebrate a birthday, we are dedicated to making certain that your flower delivery in Scotland is made as requested. When the occasion is a romantic one, an arrangement of flowers is a fine complement to a romantic stroll and picnic in Edinburgh at Princes Street Gardens. Your beautiful flower arrangement will also go well with a romantic dinner following a day spent in Perth at the Perth Museum & Art Gallery, for example.
If your loved one is attending a university in Scotland, such as the University of Glasgow in Glasgow, the University of the Highland and Islands in Inverness or Queen Margaret University, Edinburgh, to name a few, sending flowers is a thoughtful consideration. Wherever you loved one is attending or graduating, you can send flowers. Delivery, Scotland students know, must be made properly according to the guidelines at the college or university. Flowers can be sent as a 'thinking of you' gift or in celebration of a birthday or a university-related accomplishment. Graduations are a popular reason for sending university students floral arrangements.
But there doesn't have to be an event or special occasion to send flowers. Scotland residents who are important in your life will love getting a floral arrangement just because you are missing them or thinking of them and the time you have spent together. Flowers that you order from Serenata generally can be delivered the next day. Better still, flower delivery to recipients in Scotland is free unless certain circumstances apply: Same-day flowers are delivered at a surcharge, as are those that are placed with a guaranteed time of delivery. Why wait any longer when you can have vibrant flowers ordered and delivered to your loved ones in Scotland in no time? Browse our site and order today!
Flowers delivered near Scotland: