Colourburst
Save £5 (20%) with FREE Delivery
Order in the next 8 hours 29 minutes for delivery TOMORROW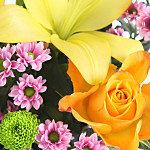 Track your order
Customer Satisfaction
5 star
(98903)
4 star
(24229)
3 star
(470)
2 star
(9357)
1 star
(8995)
Service rating : No comment
Product : They were pretty average. The sort of thing you could buy from morrisons.
Quick and easy service. Good prices too.
Used company several times before. Always good apart from the last but 1 order which i was unhappy with,was given a full refund and a money off code for my next purchase which i used on my last bouquet i bought.good customer service
After initial problem when ordering everything was sorted by email.
Communication was excellent, I especially liked hearing when the flowers had been delivered
Service rating : service was good apart from the driver seemed like he was in a rush and literally chucked the box in to my arms and said cheers and ran back to the van
Product : for the price I paid I was expecting a little bigger bunch
Beautiful flowers in Barry
Fabulous flowers are the best way to celebrate a special day. Whether it's a wedding, a birthday, a special anniversary or even just a spur of the moment 'what the heck, it's Friday!' party, our skilled florists in Barry can brighten anyone's day. At SerenataFlowers.com, our selection of beautiful flowers online makes it so easy to simply pick and click the perfect posy, and all from the comfort of your own home. Why go searching for a flower shop when you have one right here on your computer? Simply browse our selection and let our florists in Barry do the rest for you.
Order flowers online for Barry delivery
Choose from a huge selection of flowers online at one of the UK's most popular florists, SerenataFlowers.com. We make it easy for you to simply pick and click on the blooms of your choice and send them to any address in Barry, all from the comfort of your own home. Order online, and we'll send your flowers by next-day delivery to any location in Barry, or why not treat yourself for a change? By ordering online flowers you can send a beautiful bouquet to someone special whenever you want, 24/7.
Guaranteed next-day flower delivery in Barry
Why spend time pounding the high street to find a florist when you can simply go online and have fresh blooms delivered to any address in Barry with SerenataFlowers.com? We ensure that your fabulous bouquets or perfect posy is delivered with our next-day service anywhere in Barry. Our skilled team will process your order seven days a week, and arrange for your bouquet to be shipped using our next-day delivery service. Choose from a single rose or a dazzling display of dahlias! Simply click and pick and we will do the rest!