Flower Delivery to Dundee
Colourburst
Save £5 (20%) with FREE Delivery
Order in the next 13 hours 55 minutes for delivery TOMORROW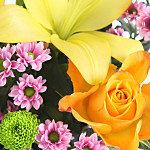 Track your order
Customer Satisfaction
5 star
(98903)
4 star
(24229)
3 star
(470)
2 star
(9357)
1 star
(8995)
Excellent service. I would highly recommend your company.
Regular email and text updates on delivery progress which was good. Only downside was flowers arrived quite late in the day on specified delivery date (around 6pm) which was a shame as they were a birthday gift.
I had originally chosen to have them delivered 'next day'. But on reaching checkout was told to choose another day as they did not deliver to the address I had asked for on that day. I was slightly disappointed with this as I wasn't sure the recipient would be in the day after but went with it anyway as nothing could be done about it. However, the flowers were actually delivered the next day (original choice) and the recipient was in to receive them and was delighted. So thank you very much for a great service. Will definitely use again.
Delivered on the required day.
Fantastic customer service and update tracking
Service rating : Quick and easy
Product : From the feedback my parents have given me, they were beautiful
Flower Delivery in Dundee, Scotland
In this highly populated city, many opportunities, both common and unique, arise every day for flower delivery in Dundee. Its official candidacy for being a UK City of Culture comes as no surprise to residents who have witnessed the town's cinema, music, television and radio industries flourish for years. Whether you want to congratulate industry players on their successes or simply wish to send flowers to Dundee for a loved one's birthday, Serenata Flowers is the flower shop that fits the bill. Our services for flower delivery in Dundee are unrivalled by competitor florists.
Joining a gardening club can be a great way to relieve stress and continue your education about plant life and vegetation long after you've placed your order. Despite its name, the Scottish Rock Garden Club has since 1933 been intended for people who love plants and flowers. Local chapters of the club make attending meetings easy for even those located outside of major metropolitan areas. Activities include flower shows, plant sales and seed exchanges. Events are open to gardeners of all levels and amateur florists in Dundee. Conferences and meetings with international speakers make membership in this club a world-class opportunity to learn about exotic flowers. For more garden clubs in the area that may appeal to you, consider running a search on the Internet with the term 'gardening clubs in Dundee near me' and contacting club organizers for more information.
More than just being a source of aesthetic pleasure, flowers in Dundee can have many health and therapeutic benefits. Organizations like Barnardo's and its Growing Up service take gardening to another level by making it an inclusive activity for children and disabled adults. Along with providing access to a community garden and imparting practical tips on how to maintain it, the organization encourages conscientious treatment of the environment. While attending their courses, you may learn how to introduce and keep wildlife in your garden. These biodiversity initiatives train mindful amateur florists and help to counteract habitat destruction that is so often seen in modern cities.
Dundee is located in an area that is used to witnessing fortune sprout from the soil. The land encompassing Dundee is recognised as being hospitable to arable farming, which makes it a good source of crops. For this reason, residents of the city are accustomed to cultivating prodigious yields from the earth. Bountiful blooms come with the territory when it comes to flowers delivered in Dundee. At Serenata Flowers, we make sure to pack our bouquets and arrangements with blossoms that match the quality and quantity of harvests in the area.
Your loved ones and associates have earned your respect, and thoughtful gifts like flowers from Serenata Flowers can instil in them a sense of personal pride. When looking to send beautiful arrangements, compare florists in Dundee and invest in peace of mind by ordering from our flower shop. We have numerous arrangements grouped by category from which to choose for every occasion. Ask about next-day delivery for the fastest service in Dundee.