Flower Delivery to Glasgow
Colourburst
Save £5 (20%) with FREE Delivery
Order in the next 56 minutes for delivery TOMORROW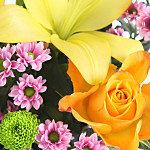 Track your order
Customer Satisfaction
5 star
(98972)
4 star
(24243)
3 star
(470)
2 star
(9362)
1 star
(9004)
Easy to order. Good communication about despatch and delivery. Would recommend the company
Didn't like the fact that I got a txt at 11.30 stating the flowers had left the shop only to receive another at 5.45 to say they had been delivered ??
Very easy to use and delivery was free including next day.
delivered as requested, kept updated and advised once delivered
Delivered in time excellent service all when as planned would recommend this company
Excellent, quick service. Flowers were excellent and lasted for quite a time. Would definitely use your service again. Many thanks.
Flower Delivery in Glasgow, Scotland
Glasgow is widely considered to be a cultural jewel of Scotland. With its emphasis on ballet, theatre and opera, it nurtures an appreciation for the finer things of life. As a result, personal, professional or recreational events often call for flower delivery. Glasgow dominates Scotland in a number of areas, including its choices for flower shops. When you want to send your sentiments wrapped up in blooms, however, only one option will do: Serenata Flowers. Amongst all of the florists in Glasgow, we are the premier source for beautiful bouquets and arrangements in a city fondly referred to as 'the dear green place.'
A love for flowers runs deep within the Glasgow community. Founded in 1933, the Scottish Rock Garden Club has been a staple of gardening clubs in Scotland for almost a century. While the club's events can take place all over the UK, shows have been known to be hosted in Glasgow. Flowers are a prestige item in this club, and all who are interested in plants are encouraged to join, whether novice enthusiasts or advanced gardeners. Participating in a club of this calibre can be a great way for amateur florists to familiarise themselves with different types of plants and flowers for free. They can also give you ideas when you want to send flowers: Glasgow gardening enthusiasts are sure to have suggestions for particular flowers for your order. To find current events associated with this club, use the Internet to search for 'Scottish Rock Garden Club events near me.'
A personal interest in gardening can also extend to a community endeavour. The Friends of Kings Park in Glasgow are a group of individuals who are devoted to beautifying and improving the value of Kings Park. Among their many projects is a Sensory Garden that was designed to aid people with disabilities. As a charity, the Friends need volunteers to help maintain Kings Park and its Sensory Garden. Becoming involved with this organization provides a unique perspective on the effect that flowers can have on individuals, which is an important lesson for amateur florists. In Glasgow, opportunities to learn about gardening and flowers abound: It's simply a matter of choosing the perfect ones for your purposes. With almost 100 parks and green spaces located within the city, you are spoiled for choice when it comes to finding a shared green space to invest in.
We at Serenata Flowers proudly serve Glasgow. Flowers intended for residents of this area are required to be of the highest quality due to their discerning tastes, and we exceed expectations each time there is a flower delivery in Glasgow. Refuse to be fooled by competitors who attempt to pass off cheap or old inventory as your only option, and choose our services for every occasion. We've got you covered with next-day delivery because we know that like life, time waits for no one!