Flower Delivery to Rhos On Sea
Colourburst
Save £5 (20%) with FREE Delivery
Order NOW for delivery on
Monday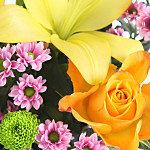 Bestsellers
- Rhos On Sea
Track your order
Customer Satisfaction
5 star
(98936)
4 star
(24234)
3 star
(470)
2 star
(9359)
1 star
(8999)
Service rating : Thanks was excellent service.
Product : Very happy with the quality of flowers
Excellent communication and lovely product, unfortunately left them on doorstep of wrong house. However the neighbour kindly took them over and my dayghter was thrilled with the flowers, thanks.
Service rating : Used Serenta a few times now always on time and the cheapest I have found online, very impressed Thanx !
Product : Excellent value and lasts for weeks!
Service rating : FANTASTIC SERVICE YET AGAIN, WELL DONE! DEFO USE/ RECOMMEND AGAIN!
Product : LASTED LONGER THAN I THOUGHT, QUALITY FLOWERS.
Service rating : You can learn to provide a service your customers will come back to.
Product : Another selling point you can dry and save your flowers.
Service rating : Very good. Easy to use and really effective communication,
Product : Very good, my other half very much enjoyed the flowers.
Flowers sent by florist in Rhos On Sea
If you want to send a special message to someone you love in Rhos On Sea then that bouquet needs to be created with love and care! Our florists at SerenataFlowers.com can make your dreams become a reality. You don't have to go hiking up the high street to find a florist! Simple click will take you to our exclusive selection of beautiful bouquets, all created by skilled florists. Delivery in Rhos On Sea is on a next day basis, so you can get a pretty posy or a romantic single red rose to someone special anywhere, any time. And because we're online, you can do it 24/7, whenever you want. Our fabulous choice of blooms, all created by florists with a real passion for their craft, are made from the freshest and most beautiful flowers just for you.
Online flowers for delivery to Rhos On Sea
It's never been easier to find flowers online in Rhos On Sea with SerenataFlowers.com. Our online flower shop makes it quick and simple for you to pick and click in a few easy steps. Simply browse our fabulous selection of flowers and gifts, decide when you want your gifts or flowers to arrive, and where you want your them delivered. We will then arrange for next-day delivery, Monday to Sunday, anywhere in Rhos On Sea. For special occasions or just an impulse buy, our florist online service makes sending a special message easy, and the online service means we're open 24/7 for your convenience.