Flower Delivery to Cardiff
Colourburst
Save £5 (20%) with FREE Delivery
Order in the next 15 hours 57 minutes for delivery TOMORROW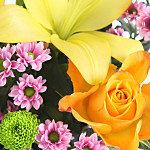 Track your order
Customer Satisfaction
5 star
(98768)
4 star
(24203)
3 star
(469)
2 star
(9344)
1 star
(8982)
my friend thought the flowers were lovely
Flowers were fantastic excellent, thank you
No Fair Trade flowers was the only but major let down.
We had an email to say that they were on their way to being delivered when in fact they were not delivered until the following day. There was no urgency in this delivery, but the recipient was told and they were expecting a delivery which didn't turn up.
Lots of help received to complete the order after initial problems with submission of the details.
Have Flowers Delivered to Cardiff, Wales
At Serenata Flowers, we enjoy answering the question, 'Which florists near me are available for flower delivery in Cardiff?' With our extensive inventory of blooms that rival any competitors' flower shops and a desire to serve customers' floral needs, we've made it our business to lead the industry with our delivery of beautiful flowers. Cardiff residents and those who simply want to have their arrangements shipped to someone in the city can safely rely on us to have their sentiments displayed in full bloom.
As the tenth-largest city in the UK, Cardiff provides ample celebratory opportunities and recipients for flower delivery. Moreover, its abundance of parks and green spaces has earned it the Green Flag Award, which acknowledges its appreciation for nature. Along with these interesting factors, a yearly summer festival makes it a wonderful location for the services of florists. Cardiff simply lives and breathes in the natural world, and we at Serenata Flowers are proud to help it blossom to its full potential. We take pride in being your go-to source for having flowers delivered. Cardiff is one of the best places to have floral arrangements sent.
But the city is more than just a great place to have flowers delivered. Cardiff boasts its very personal love for flowers and vegetation. Gardening enjoys a rich tradition in Cardiff, with local activities hosted by religious groups, specialised organisations like the Cardiff Institute for the Blind and many others. It's also not uncommon for flower-centric activities to be held in this magnificent city. The Royal Horticultural Society's Flower Show is one example; it celebrates an appreciation for green thumbs and the floral bounties they produce.
We make it easy for residents of Cardiff to receive and send flowers. Cardiff, after all, is one of the most natural places to enjoy the bounty of the Earth. While our competitors may cut corners and stock only cheap flowers, our blooms are known for being fresh, vibrant and ready for display in your recipients' personal space the very next day. Send us your online order today to give the precious gift of flowers. Cardiff recipients are sure to love every petal!
Flowers delivered near Cardiff: