Mother's Day Flowers
When did you last make your mother feel really special? Here`s the perfect way to show her how much she means to you. Don`t even think about those dodgy petrol station carnations - our distinguished Mother`s Day flowers are a cut above the rest - just like your mum! Put a smile on her face and order yours now to ensure delivery in time for the big day. Mother`s Day is on Sunday 6th March 2016
Spring Chicken
Save £5 (14%) with FREE Delivery
Order in the next 8 hours for delivery TOMORROW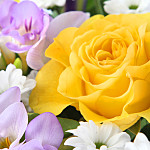 Bestsellers
- Mother's Day Flowers
Track your order
Customer Satisfaction
5 star
(98972)
4 star
(24243)
3 star
(470)
2 star
(9362)
1 star
(9004)
Convenient and reasonably priced service. Very courteous staff.
Excellent service, as always.
Would be better if able to track the flowers so could have a better time frame of when they will arrive, not just 8am-8pm!
Did exactly as advertised, flowers delivered midday, recipient very pleased. Overall good service..

See this section for full Mother's Day flower delivery information.

Q: When is Mother`s Day?

A: Mother's Day 2016 is on Sunday 6th March in the UK.

Q: I want flowers delivered to my mum on Mother's Day itself, do you deliver flowers for Mother's Day on Sunday?

A: Yes we do! Serenata Flowers offers a FREE Flower Delivery service Monday to Saturday (including the week of Mother's Day). We also offer a special Mother's Day Sunday delivery service for a small surcharge of £4.99.
What Mother's Day gift is complete without Mother's Day flowers? In fact most people order flowers for Mother's Day. Celebrating this once a year event is a small recompense for all a mother is. Though some would say that Mother's Day flowers are not as ostentatious as Valentine's Day bouquets, there are more style selections and flower varieties to choose from on Mother's Day, from tulips and chrysanthemums to orchids, roses, lisianthus and gerbera. The classic Mother's Day bouquet is made up with pink lilies. Mother's Day lilies are very much the perfect Mother`s Day flower for any mum.

Flowers for Mother's Day come in a variety of choices from free standing to Mother's Day plants and flowers in pots, and every so often a simple posy of small, handheld flowers trimmed in fern or palm fronds. The tendency for simplicity mirrors the warmth and tenderness of a mothers love. For Mother's Day flowers, there is also a preference for lilacs and lavenders. Whatever your taste or preference, Serenata Flowers Mother's Day range will surely be able to meet them and fit your budget as well.

Whatever the style and size, Serenata Flowers can deliver Mother's Day flowers right to your mother's doorstep. With loving care reminiscent of a mothers love, these flowers for Mother`s Day are arranged with meticulous attention. Serenata Flowers Mother`s Day guarantees full satisfaction, with a no questions asked refund or full replacement for the Mother's Day flowers.

You can avoid the Mother's Day rush by ordering flowers online. Serenata Flowers is the best online source for Mother's Day flowers and all your flower arrangement needs. Even if you cannot be there to celebrate Mother's Day with your mother, let Serenata`s flower delivery fulfill your best wishes and fondest memories. This year Serenata will add some extra special gifts to the selection. Why not try a Mother's Day hamper filled with delicious food? Or perhaps your mother fancies dark and white Mother's Day chocolate? Of course last but not least we offer wine gifts for Mother's Day from all corners of the world. The choice is yours!