Pretty
Candy-coloured roses pouting their pretty lips, or a serendipitous vase of blushing petals – these fine floral arrangements combine the sweetest shades this side of the stratosphere.
Freesia Bouquet
Save £39.99 (0%) with FREE Delivery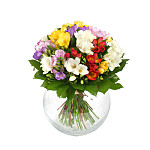 Order in the next 3 minutes for delivery TOMORROW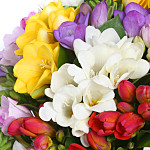 Track your order
Customer Satisfaction
5 star
(98808)
4 star
(24209)
3 star
(470)
2 star
(9349)
1 star
(8987)
Service rating : Flowers were fresh and lasted longer than any other flowers I have had
Product : Looked beautiful colour so pretty
Service rating : web site easy to use
Product : very pretty
Great value, very handy to get text reports about delivery.
My only gripe was that you can't login to the website, and the delivery info on the site is pretty vague!
Service rating : Gorgeous flowers, brilliant and friendly service
Product : Very bright and pretty. Great service
Service rating : very pleased with the device. Very informative company.
Product : Pretty flowers, the roses were exactly as shown.
Serenata's website is good without being spectacular. The selection of gift cards available is also pretty limited. Those slight negatives out of the way, the service is top-notch. I was kept informed at each stage of the process I'm real-time and everything was flawless. Would absolutely recommend without a moment's hesitation.
Flowers are a mainstream decoration almost anywhere in the world. For almost any event, meeting, or social gathering, one would surely find some pretty blue flowers as decorations, gifts, or tokens of appreciations. That is why if you are looking for some pretty flowers to use, then serenata Flowers is the perfect answer for you.

Serenata Flowers has been known for their gorgeous and pretty flowers roses for a long time. This is because they get their flowers only from the best pretty flower growers in the country. This will guarantee you that they have the most beautiful flowers you can buy. To further enhance the pretty flowers that they have, Serenata has a team of expert flower beauticians who will trim, cut, and arrange your flowers into the most wonderful and extravagant bouquets and flower arrangements around.

The best part about these prettyflowers from Serenata is that their delivery service is practically the best. They will deliver your flowers anywhere, on time, and in the best condition possible. Serenata uses only the best flower chauffeur service imaginable with air-conditioned sealed vehicles to keep your pretty flowers online uk staying fresh and sweet. The pretty flowers plants are also immersed in a stem bath during the trip so that they will not dry up and wilt before you get to use them.

If ever you find yourself in need of some pretty flowers for any occasion, buying them at serenata flowers will give you the best flowers for your money's worth.