Roses
Ah, roses! The ultimate romantic gesture. So who better than the French for elucidation on the matter? Gallant Gallics proclaim it's white roses for love, red for passion, yellow for friendship and pink for beauty. Don't say you weren't warned!
20 Luxury White Roses
Save £10 (20%) with FREE Delivery
Order in the next 13 hours 24 minutes for delivery TOMORROW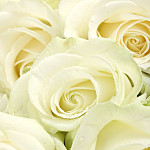 Track your order
Customer Satisfaction
5 star
(98972)
4 star
(24243)
3 star
(470)
2 star
(9362)
1 star
(9004)
shame everything was delivered in a box. It would have been nice to have been greated at the door by a man holding roses and a balloon.
I had roses delivered to my husband, at work, for Valentine's Day - no problems at all. Great service.
I liked the green & white combination but I do not really think it's good to abandon the seasonal flowers..must we have chrysanthemums in the spring when there are so many other flowers in massive availability? . Why must these old ' reliables' dominate the market so? And how long before the English roses with their beautiful soft shades and shapes, start appearing in mass-produced bouquets instead of the hard colours bred in the 1950s? Don't mind me, I am delighted really to be able to send a lovely fresh bouquet to a grieving and much-loved widow.
My friends have said their flowers have been lovely, but , a few of the roses, seem to have wilted.
Quick but not the correct amount of roses
service and delivery very good. disapointed with flowers thought we would get more but parents loved them. a few roses were damaged but still loved the bunch we had. apart from notes above will choose to come back x
Flowers ordered for my mum's 90th birthday. I have not seen the flowers but she told me roses especially where gorgeous although she said the card was missing but she guessed they were from me.

Women are mostly die-hard romantics and big fans of cool water roses. One of the best presents they can receive is a bouquet of roses. For that special someone, red roses are extremely romantic and beautiful, and she will appreciate the white roses delivered.



Roses delivered, whatever the color, excite recipients and make them feel extra-special and loved. Nowadays, shopping for white roses, blue roses, black roses or pink roses has become so convenient and easy. Through online shopping, the freshest roses for delivery can be sent to your loved one's doorsteps as quickly as possible with a click of a mouse button. One great site for shopping for roses delivery is serenata flowers. Serenata is an award-winning site, which has loyal customers clamoring about their efficient service and high quality blooms. Apart from offering red roses delivered, the site showcases a wide ion of flower varieties that fit your specific sentiment, style, occasion, season, or price. Truly, the shopping experience at serenata flowers is worthwhile and satisfying.



It is exciting that with Serenata flowers you can send roses anywhere around the world. There is also free standard red roses delivery for recipients in the UK area. That is a great value for your money! This site also accepts major credit card brands and allies with popular online payment systems like Paypal for safe and secure online transactions when you wish to order roses.



If you are still not convinced with the many rose delivery testimonials posted by Serenata Flowers' loyal patrons, perhaps the thought of getting a full refund or replacement in case a mishap occurs will persuade you. The site offers 100% satisfaction guarantee so shopping with them is stress-free and worry-free.