Roses
Ah, roses! The ultimate romantic gesture. So who better than the French for elucidation on the matter? Gallant Gallics proclaim it's white roses for love, red for passion, yellow for friendship and pink for beauty. Don't say you weren't warned!
20 Luxury White Roses
Save £15 (30%) with FREE Delivery
Order in the next 17 hours 56 minutes for delivery TOMORROW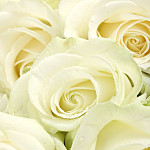 Track your order
Customer Satisfaction
5 star
(98768)
4 star
(24203)
3 star
(469)
2 star
(9344)
1 star
(8982)
Wonderful roses and very efficient delivery
shame everything was delivered in a box. It would have been nice to have been greated at the door by a man holding roses and a balloon.
thank you as always. my sister in law was more than happy with the roses she received . iwill continue using your flower service as iam more than delighted with the quality and service thank you again mrs m b
Normally I get an email saying when they will be delivered/if they have been delivered however I received no email. Roses were in a bad state and I requested a refund which was given the next day, good customer service although a call centre would have been beneficial.
The flowers were a gift to my friend, she said they were absolutely beautiful and even after over a week (when I visited her) there were four beautiful roses still looking and smelling fantastic.
A dozen red roses for my wife on our anniversary. Delivered on the day I requested, lovely blooms that are still going strong over a week later!
the roses were of fair quality but the buds could have been bigger. I don't think opting for 'deluxe' was worth the additional cost

Women are mostly die-hard romantics and big fans of cool water roses. One of the best presents they can receive is a bouquet of roses. For that special someone, red roses are extremely romantic and beautiful, and she will appreciate the white roses delivered.



Roses delivered, whatever the color, excite recipients and make them feel extra-special and loved. Nowadays, shopping for white roses, blue roses, black roses or pink roses has become so convenient and easy. Through online shopping, the freshest roses for delivery can be sent to your loved one's doorsteps as quickly as possible with a click of a mouse button. One great site for shopping for roses delivery is serenata flowers. Serenata is an award-winning site, which has loyal customers clamoring about their efficient service and high quality blooms. Apart from offering red roses delivered, the site showcases a wide ion of flower varieties that fit your specific sentiment, style, occasion, season, or price. Truly, the shopping experience at serenata flowers is worthwhile and satisfying.



It is exciting that with Serenata flowers you can send roses anywhere around the world. There is also free standard red roses delivery for recipients in the UK area. That is a great value for your money! This site also accepts major credit card brands and allies with popular online payment systems like Paypal for safe and secure online transactions when you wish to order roses.



If you are still not convinced with the many rose delivery testimonials posted by Serenata Flowers' loyal patrons, perhaps the thought of getting a full refund or replacement in case a mishap occurs will persuade you. The site offers 100% satisfaction guarantee so shopping with them is stress-free and worry-free.