Mother's Day Hampers
Why not send your Mum a delicious hamper this Mother`s Day? Full of tasty treats like biscuits, decadent chocolates and bottles of bubbly!!
Champagne and Chocolate Hamper
Save £15 (17%) with FREE Delivery
Order in the next 17 hours 1 minute for delivery TOMORROW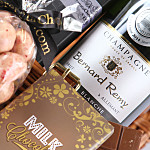 Bestsellers
- Mother's Day Hampers
Track your order
Customer Satisfaction
5 star
(758)
4 star
(185)
3 star
(1)
2 star
(45)
1 star
(68)
Service rating : The Customer Service team are very good. Shame that the tracking number is not included in the - your goods have been dispatched email.
The box should be marked fragile if it contains wine ROTC as Yodel obviously handled my goods harshly which resulted in a failed delivery due to damage. I was not contacted regarding this as it was I who did the chasing. Customer Service turned another Hamper around in 24 hours and I received it the following day.
Product : I haven't opened the full hamper as it is a present for my parents which I will deliver personally but at first glance the content looks good.
i sent you feedback immediately as I liked your style! then completed the feedback form with comments about the change in website so that moderatly prices bouquets no longer flagged up. Yes they are still in the range, but you have to know they are there, i DID NOT GET GOOD COMMUNICATIONON THIS MATTER, THE IMPORTANT POINT BEING IGNORED, AND AS i HAD BEEN RECOMMENDING YOU TO FRIENDS ON THE STRENGTH OF MODERATE PRICES AS WELL AS GOOD SERVICE, i CAN ONLY RATE YOU gooD NOW, PREVIOUSLY AND SPONTANEOUSLY IT HAD BEEN excellentN
However, I did not see the end-product and have not had a chance to ask the recipients what they thought. However, was disappointed to find subsequently that the recipients did not know who the flowers were from as there was no indication in the delivery - I did not use/send your standard greetings card as a card had already been sent privately. Therefore I think that a small indication at least of whom the flowers are from would be approporiate in the future.
I wanted delivery to Fife, Scotland for a specific week day, but this couldn't be guaranteed. I had to email the company to find this out as the online ordering system just said they didn't deliver on any day I tried to arrange delivery for. This was for a hamper. Apart from this service and communication was excellent.
Service rating : Serenata Hampers have an easy to use website and they respond to questions or queries very quickly. Unfortunately their service was let down by the delivery couriers who failed to deliver my order twice
Product : Excellent quality products that are well presented but they are very small for the price paid however I'm sure the taste will show quality
Order process is very straightforward and the level communication regarding the order and the delivery process is excellent. The only improvement I'd have liked on the website was to be able to search for flowers by colour theme - I couldn't see any way to do that.
I have used Serenata before and they offer Excellent free delivery options, they deliver on time and are very good at keeping you informed with progress. The Wine has increased in price this year so hopefully a very nice bottle of wine. Excellent company, really recommend them.
Mother's Day Hampers, UK
If there's one person that deserves a hamper packed full of luxury gifts, it's your mum. This Mother's Day, show your mum just how much you love her with one of our amazing Mother's Day Hampers. UK delivery is included in the price of each Mother's Day hamper, and each one is filled with a range of gifts that will help your mum to chill out, relax, and spoil herself for once! It's time to prove to mum just how much you appreciate everything she's done for you! As long as you order before our cut off time on the day before Mother's Day, she'll be delighted to receive her very own gift basket on the day itself. It's never too late to order a gift hamper for your mum, so take a look at our huge selection of hampers and choose a selection of gifts that any mother would love.
Pick the Perfect Mother's Day Hamper
Every mum is different, so we don't have a one-size-fits-all Mother's Day hamper. Our customers can instead choose from a huge selection of hampers guaranteed to put a smile any mum's face.
Why not choose: A Pamper Her Perfect hamper for a stressed-out mum - If your mum is constantly on her feet, what better than the gift of relaxation? Mum can enjoy a selection of bath bombs, chocolates and wine - her special Sunday afternoon in the lap of luxury. Speaking of chocolates, we've got a Mother's Day hamper that will delight and amaze any chocoholic. Packed with chocolates of every shape and size, The Chocolate Hamper will keep even the most committed chocolate eater happy for weeks! And if your mum loves a traditional afternoon tea, our Time For Tea Trug is the Mother's Day hamper for her. Tea, biscuits, jam and chocolates. Delicious! What more could any mother ask for on a relaxing Sunday afternoon? Other than a visit from her nearest and dearest of course! Choosing the perfect Mother's Day hamper means little though if poor old mum is left wondering. Wondering whether you'd remembered he special day at all. But don't worry, there's still time to order your hamper.
As Mother's Day usually falls on a Sunday, remember that there is a small surcharge for all Sunday deliveries! If you want to save on the delivery costs, get your Mother's Day hamper send to your home address few days before and take it to mum when you go to see her! You'll be delighted to see the smile on her face when she is presented with beautiful hamper packed with carefully selected fine food and pampering treats.