Merlot
Soft, rich and packed with supple fruit, this noble cousin of Cabernet produces the great Bordeaux of St. Emilion and Pomerol. A lovely blender, the finest examples from California, Australia and South Africa are reds to savour.
2013 Merlot Indaba
Save £29.99 (0%) with FREE Delivery
Order in the next 17 hours 3 minutes for delivery TOMORROW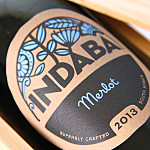 Track your order
Customer Satisfaction
5 star
(131)
4 star
(32)
3 star
(2)
2 star
(12)
1 star
(17)
great next day delivery for last minute orders, easy informative website, good range
Excellent communication & information re. delivery process.
Service rating : Fully informed regarding delivery. Very good service
Product : Was a gift.
Ordering was easy. Packages offered the right amount of choice. Speed of delivery and progress up-dates on order were exemplary. One of my best/easiest on-line experiences
Excellent. I was kept informed every step of the way. Efficient service and speedy delivery. My aunt was delighted.
First time I have used Serenata. It was a gift for a friend and service was excellent. I was kept informed of the delivery and best of all my friend loved the wine!
Quick to order from. Good at keeping you informed about the delivery.
Fantastic to order and know exactly when it will be delivered.
Summer is upon us, and Serenata's selection of merlots is at its peak right now. This varietal is great with summer feasts of barbecue or hearty salad. Whether dining al fresco with the family or entertaining, these wines are sure to please. Our merlots make a lovely daily wine or, if you are looking for something to add to the cellar, we offer many fine merlots from all over the world. Whatever you choose, your merlot is sure to please the palette now and in the future. We offer merlots for discerning palettes from all over the world. From luscious mineral rich soils in Europe that create beautifully hearty wines to the fruit-driven bouquets of New World grapes, we have a merlot that will suit you to a "t"!

Purchasing fine merlot wine on the internet can be a daunting task. There is the worry about your bottles arriving safe and free from shipping complications. There is the worry that the people from whom you are buying your wine will not handle your bottle properly. We at Serenata understand those worries. We are here to help you assuage those worries and give you a completely worry-free experience when purchasing your wine. We pack your bottles with loving care, and your wine is guaranteed to arrive safe. If, for any reason, you are not happy with your purchase, we will give you your money back. So fear not, fellow wine enthusiast, you are assured that you will be pleased with your purchase. We are here to make your acquisition stress-free.