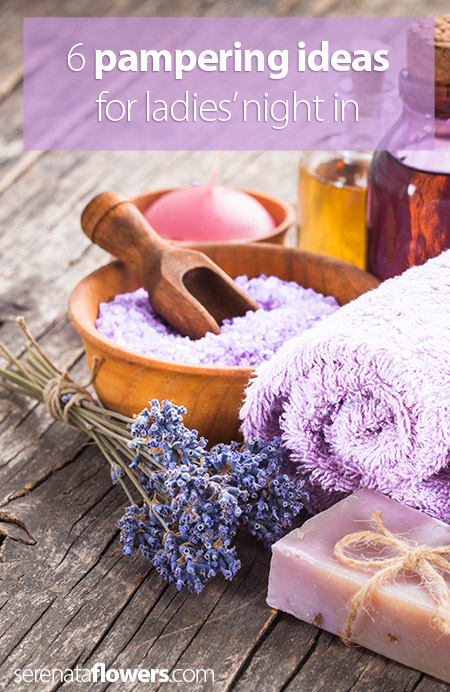 Whether you're rounding the girls up to celebrate a hen party or just fancy a night in with your favourite DVDs, there's no reason not to indulge in a little pampering together.
With pamper hampers selling out by the day, it's time women decided to save their cash on spa days and treat themselves to a little bit of luxury and relaxation in their own homes.
There is no better way to de-stress and recharge your batteries than having a little me-time while catching up on the latest gossip from your group of friends.
Whether you're the Carrie Bradshaw of the group or the Rachel Green; it's time to get your friends together and enjoy being pampered within an inch of your life.
To help you create the very best pampering day, here are six ideas that are perfect for a girls' night in.
1.Get the coconut foot treatment
Whether you're a mum or a working business woman, you're undoubtedly on your feet all day long – and let's face it, those heels have got to hurt! So, why not begin your pamper day by showing your tootsies a little TLC?
Trust us when we say there's nothing better than a coconut foot bath.
All you need is:
1 tablespoon of honey
2 tablespoons of almonds
175ml of coconut milk
1 lemon cut in half
2 tablespoons of sea salt
Warm water as needed
Simply grab a large enough bowl and combine the honey, coconut milk and almonds while adding enough warm water to fill the bowl. Place your feet in the water and begin to soak them for five minutes. Once you've done this, simply dip the lemon halves into the salt and rub them on your feet to exfoliate, afterwards, let your feet soak for a further ten minutes.
2. DIY manicure
Getting your nails done can make you feel on top of the world, but getting a manicure at your local salon every week can soon add up. So, why not go out and buy yourself a nail varnish in a colour you love and get your friends to paint one another's nails; it'll be fun and cheap – what more could you want?
Remember to get the nail file out too! That way you can be sure they'll look beautiful.
Oh and don't forget about your toes!
3. Exfoliate and moisturise
If you're going to pamper yourself, you can't forget about looking after your skin. So, get your hands on a cheap exfoliator and get in the shower; your friends can take turns after you, or even do it before they get to your home. Once you've exfoliated be sure to moisturise with a nice amount of cocoa butter, so your skin won't only look and feel soft and radiant, it will smell nice too!
Once you've done this, be sure to get into some comfy clothes that you can relax and chill out in.
4. Eat your favourite treats
If you're having a day of pampering, then why not get out your favourite treats that you don't normally allow yourself to have. Whether it's flapjacks or chocolate fudge cake, make sure you have plenty to go around. Complement this with a glass of wine or a cup of tea and get comfy with your best friends; veg out and catch up with what's been going on – pure bliss!
5. Give each other a make over
While you may not be going out today, it doesn't mean you can't get a free make over, trust us, nothing will make you feel better. Plus, there's no better time to try out a new look than among your group of favourite friends.
Whether you opt for a shimmer or smoky eye look, you're sure to look absolutely fantastic while chilling out with your besties.
6. Have a DVD day
Once you've been pampered, why not stick on your favourite films and get cosy? Get the popcorn ready and a few snacks and drinks and delve into a whole day of romantic comedies. And hey, you could even add a few horrors in for good measure, alternatively, why not check out the latest James Bond film? There's nothing like a bit of Daniel Craig to make you feel good about yourself.
Pampering yourself has never been more fun with these six tips in mind, especially when you're accompanied by your favourite friends.
If you don't want to create your own fun, why not choose from the variety of pamper hampers available at Serenata? Couple that with a bottle of wine and a bit of chocolate and you're sure to have the most relaxing day!