Champagne is a welcome and also an extremely versatile gift.
Whether you're looking for inspiration for a birthday present or wish to buy for friends who have recently announced their engagement, there are a number of impressive champagne gift sets to choose from.
And the best part?
They're suited to all budgets!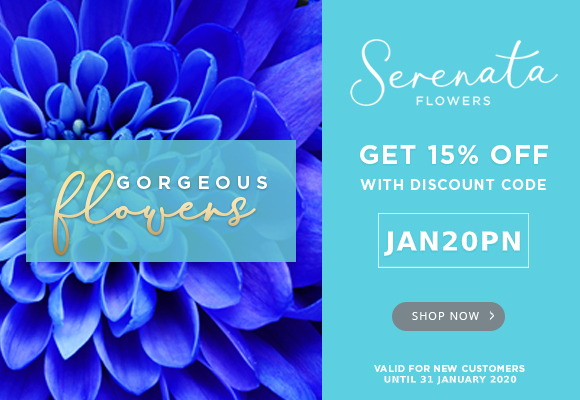 Champagne gifts under £50
Champagne and Belgian Chocolates – £49.99
If you know someone with a sweet tooth, the Champagne, and Belgian Chocolate gift set is an ideal option for those who adore both chocolates and bubbles; and is a gift guaranteed to put a smile on a loved one's face. This champagne gift set contains a bottle of Bernard Remy along with a generous box of Belgian treats, enrobed in white, milk and dark chocolate and embellished with sprinkles of fruit and nut.
Champagne gifts under £100
Champagne and Truffles, £59.99
Champagne gift sets such as the champagne and truffle set from Serenata is a great option for a present, be it for a birthday, well-done gift or Mother's Day gift. What better way to enjoy a crisp glass of bubbles than with a taste tthe antalising burst of chocolate? These moreish truffles won't last for long, that's for sure!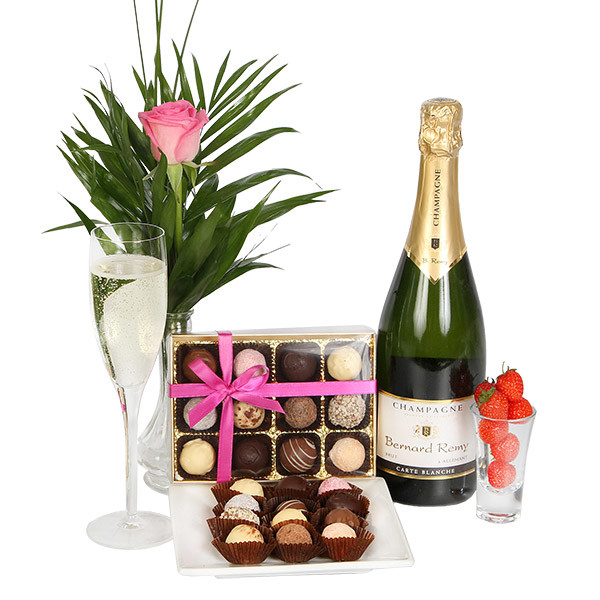 Black Pepper and Ginger Hamper with Prosecco, £79.99
The Black Pepper and Ginger Hamper with Prosecco is a great option for a girly girl, especially someone with a sweet tooth and those who prefer prosecco to champagne. Asides from the pampering spa set (a must for those who enjoy pampering themselves from head to toe), this hamper comes complete with a number of gourmet goods, including chocolate chip biscuits, scrumptious fudge, and lemon and ginger sherbets. Gifting a friend or family member with this hamper is guaranteed to put you in their good books.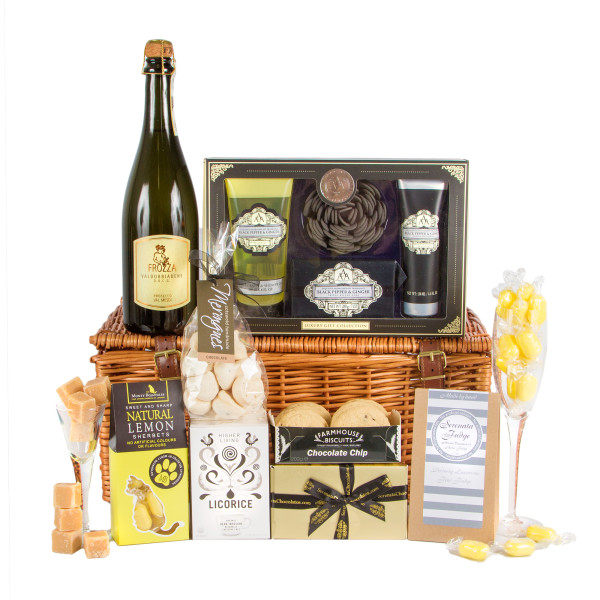 Champagne, Pate and Stilton hamper, £84.99
This is the ideal champagne gift set for a brother, father or partner – especially if they have a penchant for Stilton cheese! Inside you'll find a bottle of Bernard Remy champagne, a generous helping of Blue Stilton, along with several delectable pates. Extra virgin olive oil sea salted crackers, gourmet biscuits for cheese and a jar of nuts perfectly compliment the contents of this hamper – what more could your man want?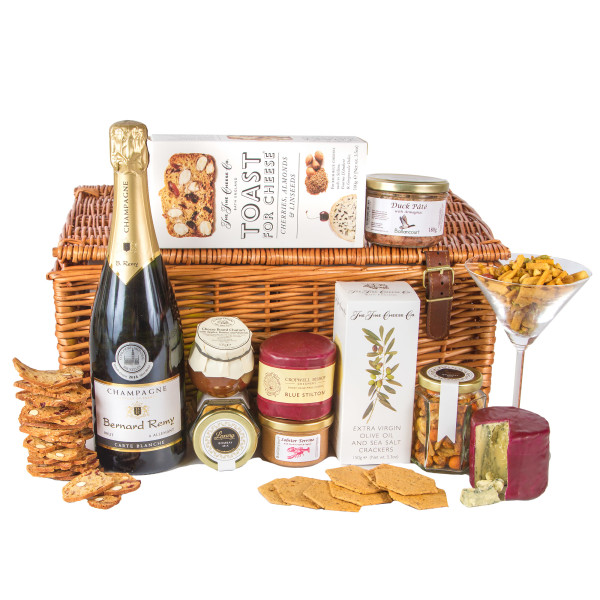 Lemon Grass and Basil Hamper with Prosecco, £79.99
Another spa-inspired champagne gift set, perfect for those who need a little pick me up after a hard month in the office, is the Lemon Grass and Basil Hamper with Prosecco. Inside you'll find lotions and potions, fudge, chocolate chip cookies, sweets and a bottle of Frozza bubbles.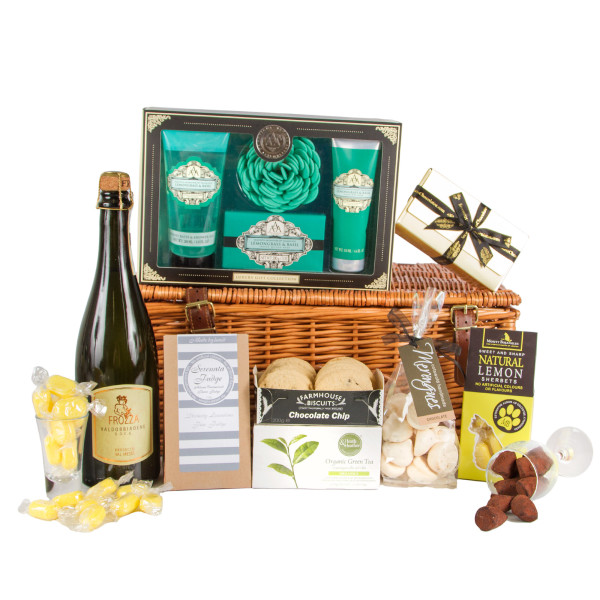 Picnic Hamper with Champagne, £89.99
Champers in a hamper! It doesn't get more traditional or any posher than this. This champagne picnic set is the perfect gift for a lover, colleague or the person who has everything. It's also an extremely versatile hamper in that it can be used time and time again – even after the champagne has been enjoyed. It's a great option for the summer months, and an ideal companion to take to garden parties, BBQs, race days and the beach.
Champagne gifts over £100
The Cheltenham Hamper, £119
The Cheltenham Hamper is a great gift to give for a special occasion. Priced at £119, it's extremely good value for money and boasts a hamper brimming with delectable delights, including champagne, cheeses, chutneys and an entire picnic set. If you're looking for quick champagne delivery, this gift set is a great option to consider and one that is certain to impress. It's also a great option for a colleague or a client gift.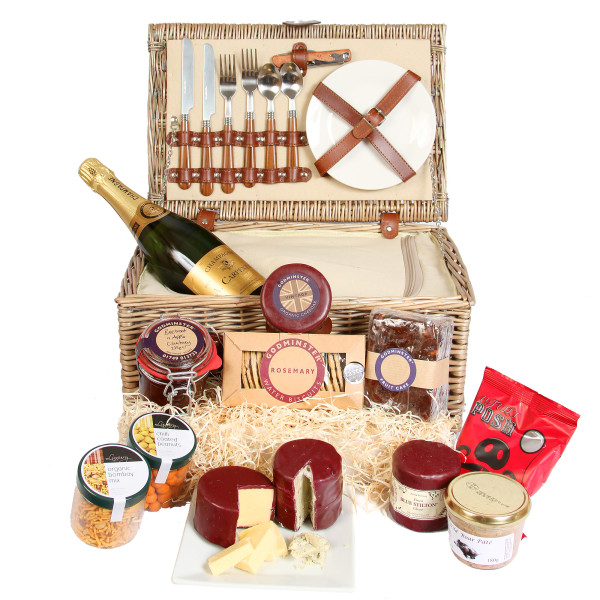 Champagne gifts at the high end of the price range are generally suited to those searching for a special birthday gift, such as an engagement, wedding or anniversary present. When displayed in beautiful packaging, this is certainly a gift that will be highly appreciated. Champagnes over £100 tend to be saved for special occasions.
Regardless of which champagne-infused gift set you choose, you can guarantee there is something to suit all budgets, styles and tastes.
We'd love to know how you enjoy your Champagne gifts – especially if you've recently purchased one to celebrate a special occasion.