Contrary to popular belief many men like a little taste of luxury too, so why not give the man in your life a little indulgence every now and then?
Whether it's your partner, dad or even your brother, here are a number of luxury hampers that just about any man will love.
Simply sublime
Trust us when we say this hamper will impress any man who loves a little luxury in his life. This luxury hamper is ideal for promoting a little TLC with a beautiful gold mature cheddar, complemented with a cheese board chutney that will make his mouth water.
To complete this tasty hamper comes chili and lime cashews for that extra crunch and a gorgeous oriental mix, for that added punch of flavour.
A trio of ale and treats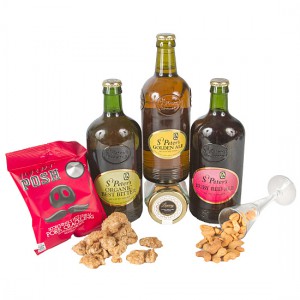 If you're on the lookout for something small yet perfectly formed then look no further than this stunning luxury hamper, sure to get your fella's thirst on. There's no need to dress this up, complete with luxury pork scratching and cashews, this hamper is a favourite among men for its Golden and Ruby Ale.
Oh and there's also a bottle of bitter for good measure!
Red wine and orchid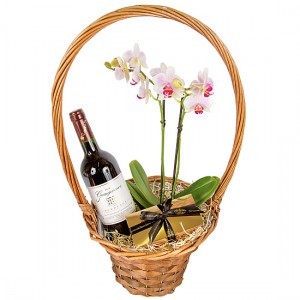 If the man in your life hates fuss but loves a touch of luxury every now and then, you'll find this small hamper just perfect. Complete with a bottle of red Grangeneuve Bordeaux and some gorgeous praline chocolates, there's nothing else he could possibly want.
There's also a stunning orchid that comes with this hamper, so your male friend can also benefit from a touch of floral in his home; who could resist?
The red wine hamper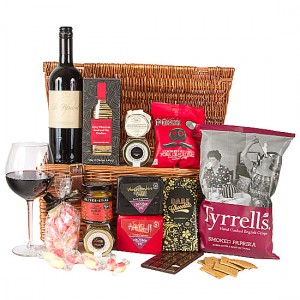 Give your man a taste of luxury and indulgence with this exquisite hamper that has just about everything in it that he will absolutely love!
This hamper comes complete with cheese board chutney, garlic and chili olives, and of course a range of high quality cheeses. But a cheese hamper wouldn't be right without a delicious bottle of red to complement the taste and texture.
You will also find paprika crisps and a deluxe Bombay mix in this basket- and not forgetting the rhubarb and custards that are second to none when it comes to taste!
Sugar blush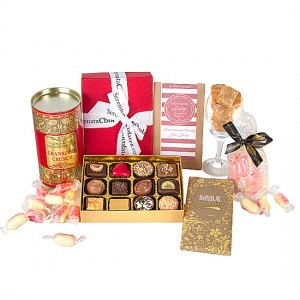 You can't go wrong with a sweet luxury hamper, sure to give your man the sugar rush he's been in need of. This delicious hamper is perfect for anyone with a sweet tooth and is even something you can share together over a cup of tea or even a glass of white.
Complete with cranberry crunch biscuits and salted caramel fudge, you can't go wrong with this luxury hamper. And to top it off, it also comes with a box full of Belgian chocolates….yummy!
Bordeaux and Artisan Cheese Selection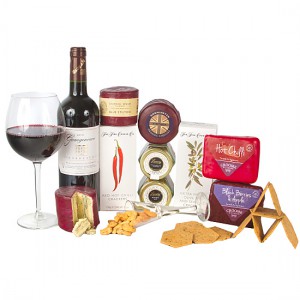 Now if you want to show your man just what it's like to eat and drink the very best luxury products, then this is the hamper you need!
Full of a sensational selection of artisan cheeses, wine, and crackers, this hamper is great to share with friends or even indulge in on your own.
With hand waxed blackberries, cranberries, and apple cheese, along with Scrumpy and crunchy apple; what more could a cheese lover want? You'll also be surprised to find a selection of crackers and of course a beautiful bottle of Bordeaux red that'll impress any wine lover.
Simply opt for wine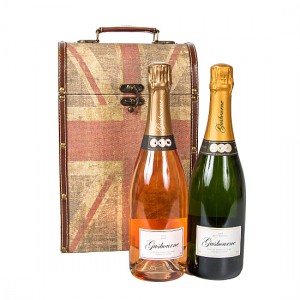 If the man in your life simply loves a good bottle of wine, you can't go wrong with ordering one of pure luxury and class. Here we have a beautiful box of 2011 Chateauneuf-du-Pape, Chateau Fargueiro; packed with southern warmth and a spice that will awaken those taste buds, making this the perfect gift.
Alternatively, if he would prefer a bottle of bubbles, you'll also find a beautiful Gusbourne Estate Sparkling wine that's toasty and packed full of hazelnuts and apples; boasting elegance and simplicity. We also have a Gusbourne Estate English Sparkling Rose which comes with a delicate taste of strawberry and cranberry that's both refreshing and indulgent.
Chocolate is the way to the heart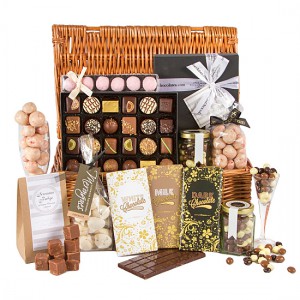 If your loved one is simply addicted to chocolate, why not opt for a luxury chocolate set that's sure to leave him feeling in heaven. And the best part about out chocolate sets is that you don't have to make that difficult decision between white, milk or dark chocolate, because we have it all!
In our Definitive Chocolate Hamper you'll find everything from chocolate-infused homemade fudge to white chocolate covered strawberries and chocolate meringues.
Find everything you need to give the man you love a taste of luxury here at Serenata.
Shop all of the above hampers at SerenataFlowers.com.
If you're looking for a bit more luxury, at SerenataFlowers.com you can find beautiful impressive luxury bouquets that come with free next day delivery in the UK. Happy shopping!