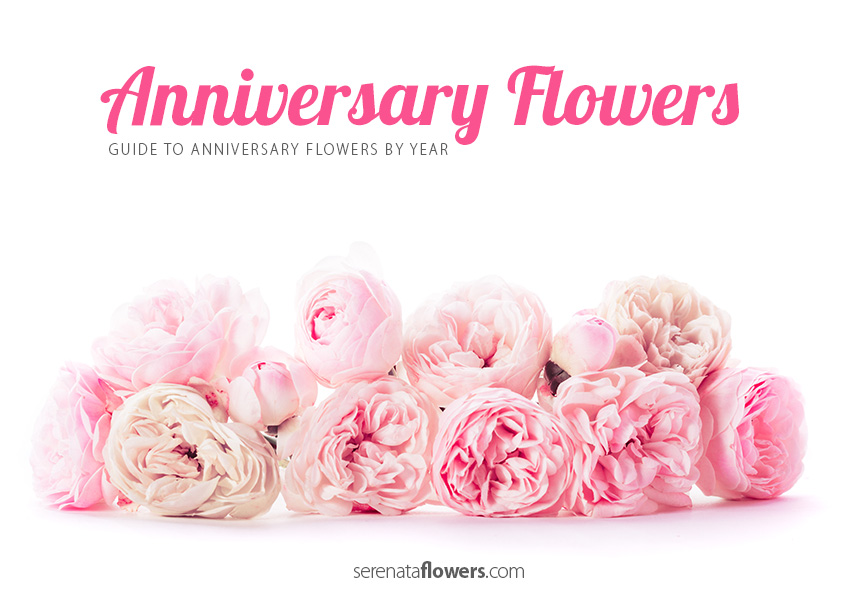 No celebration is complete without a bouquet of beautiful flowers and anniversaries are no exception!

How do you typically celebrate your anniversary? Do you go out for dinner or recreate your first date? Do you celebrate every year and leave out the big celebrations for round anniversaries?

Let's get things straight first – for every anniversary, there is a flower associated with it, in the same way that there are gifts associated with every anniversary.

Here are some tips on what flowers are most suitable for which anniversary! Do you recognize any of these?

Do you recognize any of these?

Don't forget to add a thoughtful message to go with your anniversary flowers.

First Anniversary – Carnations, as they represent the ties of lasting vows of commitment and joy for the next years.

Second Anniversary –  Lily of the valley signifies the purity of your relationship along with modesty and devotion- a powerful symbol of love

Third Anniversary – Sunflowers are appropriate as they represent the bond of your relationship

Fourth Anniversary –  Hydrangea, which represents gratefulness and appreciation.

Fifth Anniversary – Daisies will bring the promise of romantic future ahead.

Sixth Anniversary – Calla Lilies celebrate the growth of your love and wisdom

Seventh Anniversary –  Freesia, for trust and faithfulness.

Eighth Anniversary– Lilacs with their symbolic and melancholic recall of love and first emotions.

Ninth Anniversary – Birds of Paradise, symbolizing the magnificence of love.

Tenth Anniversary – A yellow daffodil to remind yourself of the simple pleasures you are sharing together.

Eleventh Anniversary – Tulip, for deep passion.

Twelfth Anniversary – Peonies, they bring happy fortune and bliss for the future.

Thirteenth Anniversary– Chrysanthemums

Fourteenth Anniversary – Affection and mature charm – orchids

Fifteenth Anniversary – Roses, the ultimate flower symbol of love.

Twentieth Anniversary – Aster, wisdom, and happiness.

Twenty-Fifth Anniversary – Irish – faith and long lasting marriage.

Thirtieth Anniversary –  Lily – pride, beauty, and devotion

Fortieth Anniversary – Gladioli – vibrancy and remembrance

Fiftieth Anniversary – Yellow roses, virtue, humanity, and faith.

Whether you choose to celebrate with a great meal cooked at home or a fancy affair at your favourite restaurant, don't forget flowers are always a good start of every special day! With SerenataFlowers.com, you can order Anniversary Flowers up to 10 pm the night before, and we will still deliver them the next day. Don't hesitate to browse through a beautiful selection of bright and fragrant blooms that will leave every woman speechless and arrange a surprise start of your anniversary celebrations by sending flowers to her work or office.

Article originally appeared in  www.fromyouflowers.com
Anniversary Flowers from SerenataFlowers.com
Here is a selection of our bestselling anniversary flowers, available from as little as £19.99 and with free delivery all week, including weekends.
For full range please visit SerenataFlowers.com and choose a bouquet of your preferences. You are not limited to our anniversary flowers collection, you might find something you like under roses, lilies or romantic flowers.
Why shop with SerenataFlowers.com?
As one of the very few florists, we offer free standard delivery for all of our flowers seven days a week. You can order as late as 10 pm and we will still deliver your flowers the next day, on time and in excellent condition. Our flowers are securely packed for their journey to the recipient – they travel in sturdy cardboard boxes supplied with enough food and flower food to keep them happy until they reach their new home. We will keep you informed about the progress of your delivery via SMS and email, and you can contact our customer service team anytime using the form on our website or via social media. 
More on Anniversary
10 Original Happy Anniversary Cards
Wedding Anniversary Gifts by Year
Happy Wedding Anniversary Messages
Wedding Anniversary Messages for Him
Wedding Anniversary – What to write on a card?