Wedding anniversary around the corner? You are probably thinking how to surprise your other half with something else than a dinner in fancy restaurant.
How about going back to the basics? Think romance!
Get yourself a nice card and send her a romantic poem in post as a surprise. If you add flowers the surprise will be even better.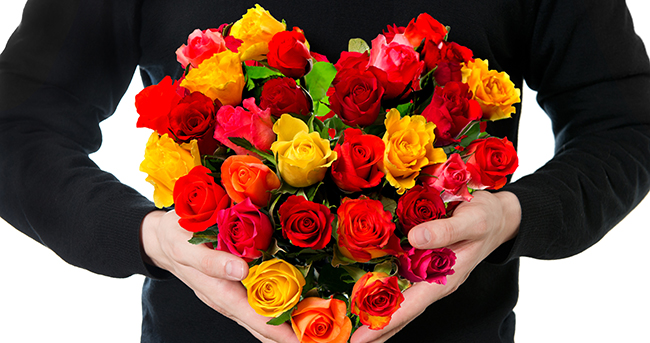 Here is the inspiration you were looking for:
20+ Beautiful Anniversary Poems
Love is not as simple
as candlelight and roses…
…love is day-to-day living,
taking time, making time to be there,
with open arms and a giving heart…
Love is the special life we share.
Happy Anniversary
*******
Ever since the day we met
I knew you were the one for me
Without you, I can't even imagine
How miserable everything would be
My life's most beautiful memories are
The ones that I've shared with you
Thanks for sticking by through it all
Without you, I wouldn't know what to do
*******
More Time, More Love
Our (number of years) anniversary, Love,
Brings feelings of delight,
Thoughts of pleasure that you give me
Every day and every night.
I'm grateful for each day and hour;
I thank the Lord above
For giving me the precious gift:
Of your deep, enduring love.
As our lives go on and on,
One thing is always true:
To the very end, I'll always wish
For more time, more love with you.
By Joanna Fuchs
*******
With You By My Side
This beautiful and memorable day,
has been carved into my mind.
A precious moment in time,
when our lives became defined.
Let's rejoice and celebrate,
our love and our bond.
I cherish what we have,
with my heart I respond.
This journey of life is so sweet,
with you by my side.
My smile radiates,
with each passing stride.
Whether one or a thousand,
journey's we take.
With you by my side,
I feel alive and awake.
My soul is filled with bliss,
due to the love that we share.
I promise you my dear,
I will always be there.
To the stars and the heavens,
our anniversary I shall proclaim.
My love for you burns like the sun,
with an infinite flame.
by anitapoems.com
*******
May you always be warmed by each other's smile,
Always take time to walk and talk a while,
Always know deep down you're each other's best friend,
And enjoy the kind of love that grows and knows no end.
Wishing you an 'always' kind of love!
Happy Anniversary
*******
Every year, our anniversary
Becomes more and more special
With every passing moment
I find you more adorable
Every year seems to bring
More and more happiness
Every year we seem to make
Memories that are priceless
Every year I thank my fate
For giving you as my hubby
Every year makes me realize
How lucky I am to be your wifey
Happy anniversary
*******
Each Year I Fall In Love Again With You
When I first met you all those years ago,
I fell in love so fast, I knew right then,
You were the one and only one for me;
I'd never have to look for love again.
Each anniversary finds us happier;
You are my light–my moon, my star, my sun.
You show me what real love is all about,
You fill my life with pleasure, joy and fun.
As time goes by, our love grows stronger still.
You're the most amazing (man/woman) I ever knew.
I prize our anniversaries because
Each year I fall in love again with you.
By Joanna Fuchs
*******
It started with a simple ring,
You became husband and wife,
You progressed to being parents
And you're still best friends for life.
You've travelled through life together
Enjoying years of wedded bliss
We congratulate you on reaching (Silver) (Gold) (Diamond)
And we toast your happiness
Jon Bratton 2012
*******
Today's a very special day
Reserved for just you two
Here's wishing you rich happiness
Today, and all year through!
Congratulations on your Wedding Anniversary
*******
Together
The day we both walked,
down our wedding isle.
I couldn't help,
but joyously smile.
My tears of happiness,
were so hard to suppress.
My whole life lit up,
the moment you said yes.
We've been through,
so much together.
We can outlast,
the harshest cold weather.
I will always love you,
and show you respect.
It's our wedding anniversary,
Let's spend time and connect.
My smile is peaceful and calm,
while I look straight ahead.
As long as we have each other,
our hearts shall be fed.
Thank you for loving me,
with your heart and soul.
When we are together,
I feel completely whole.
by anitapoems.com
*******
Wives are for sharing with,
Dreaming dreams and caring with
spending time with,
chatting to,
Making plans with,
Hoping they come true…
Holding hands with, hugging, kissing
Laughing with and reminiscing…..
Working with to see things through,
and loving
Just like I LOVE YOU
Happy Anniversary
*******
It started with a simple ring, many years ago,
And now you have a treasure chest that's begun to overflow.
For 25 years of married bliss, much silver did you store,
And then you reached your 40th, with ruby stones galore!
You travelled through life to 50 years of happy wedded bliss
Your treasure grew with golden gifts, to toast your happiness
And now you've reached that special day, that's only seen by few
60 years together, now its diamonds for both of you.
But the treasure that you value most isn't jewels, silver or gold
But the love you have for each other, that has never grown old!
Congratulations on your Diamond Wedding Anniversary
*******
You're In Trouble
You're a wonderful husband,
I'm not gonna lie.
This poem won't make you,
vomit nor cry.
Let's get a few things,
out of the way.
You're in plenty of trouble,
if you forgot what's today.
Time to take a ride,
down memory lane.
I think I found you,
underneath an old train.
I'd need a book,
to list all your flaws.
So let's just stick,
to a few basic laws.
You've always made me laugh,
you're hilariously funny.
I didn't care,
that you had no money.
The way you hold me,
in your manly arms.
Your voice and smile,
results in charms.
Ok, now wake up,
you're in real deep.
If my gift,
is super cheap.
by anitapoems.com
*******
Deeply, Madly
Our wedding anniversary brings to mind
The happiness and joy you've brought to me,
Sweet memories–the laughter and the tears,
Devoted love you give abundantly.
The place I want to be is close to you;
There's ecstasy and peace in your embrace.
I know that I can cope with what life brings,
As long as I wake up to see your face.
You're all I ever wanted, and much more.
I look at you and I still get a thrill.
Our marriage is the best thing in my life;
I love you deeply, madly, and I always will.
By Joanna Fuchs
*******
No running around for work
Looking at files or checking emails
Our day will start and end
With sunglasses and cocktails
Let's give ourselves a well deserved treat
Let's relax, unwind, sing and dance
Here's wishing us a happy anniversary
Raising a toast to our eternal romance
*******
Even after so many fights
So many sleepless nights
Even after so much stress
After going through so much mess
We both have ploughed through
For which credit goes out to you
Let's forget everything and start again
Let's wade out of this emotional pain
This is a promise that we make
To each other on this very day
I want to thank destiny for sending
A life partner like you, my way
Happy anniversary
*******
All the women in the world
With envy, can go green
Because a man like my husband
They may have never seen
A man who's not just handsome
But has an amazing sense of humor
A man who is rock solid
For me, he's always there
A man who's not just sensitive
But caring and generous too
So ladies, here it is
I am luckier than all of you
Happy anniversary
*******
Our Love Still Grows
Our anniversary means a lot,
Much more than any another day;
I celebrate my love for you,
And cherish you in every way.
Through passing time, our love still grows,
A caring relationship to explore;
Our life together gets better and better,
And I keep on loving you more and more.
By Joanna Fuchs
(and Karl)
*******
Happy Anniversary
When years are passing by like days,
and in my hand your hand is placed,
a knowing smile crosses your face,
a simple touch can still make my heart race.
When I can see my soul in your eyes,
and you see your soul in mine, we realize
that a love so deep can harbor no lies,
where our only tears shed were happy tears we've cried.
I love you as much now as I ever did before.
If possible, I may even love you more,
all starting from a feeling we did not ignore,
a feeling of connection we chose to explore.
I don't know what it is that you saw in me,
what I saw in you was the utmost happiness
that can ever be,
even more so on the day when you and I
became "We."
I can still smile and say with love and truth
Honey, I love you…Happy Anniversary.
*******
All the words in the world could not even begin to describe how deeply I am in love with you, from the first moment I saw you until the never-ending heartbeat you have given me. You are not only my love, but you are my soul.
*******
If I could go back in time today,
Way before we met,
I'd search and find you right away,
To form our loving duet.
Far, far back, I'd go for you,
To marry you much sooner;
We'd tie the knot, and you would be
My amorous honeymooner.
I love our anniversary now;
I'm happier every year;
I just wish there'd been more time
For me to love you, Dear!
-Joanna Fuchs
*******
No other love story
could compare
to the love story
that you and I are so lucky to share.
(Years) ago today
we finally said, "I do"
And that's when all of
our wildest dreams came true.
Happy Anniversary!
I love you!
-Anonymous
sources: wishesmessages.com, poemsource.com, verses4cards.co.uk, anitapoems.com, imag-e-nation.com, familyfriendpoems.com, paper-anniversary.com