From super-sized Easter eggs to deliciously moreish nibbles, sweet chocolate treats and bottles of fizz…
Easter hampers are a great alternative to gifting Easter eggs alone! With so many styles, designs and sweet and savory treats to choose from, there is something to suit all tastes!
10 Best Chocolate Hampers in the UK for this Easter
1. The ultimate Chocolate Hamper
Although a chocolate hamper boasts few ingredients, these ingredients are usually enjoyed by all! From strawberries enveloped in rich white chocolate sauce to salted toffee truffles, handmade chocolate-infused fudge, milk chocolate bars, cocoa coffee beans , and Belgian chocolates – there is something to suit even the most discerning of chocolate connoisseurs. For a decadent gift, chocolate hampers are a great option for those with a sweet tooth. Encased in a wicker basket, this delightful hamper can be used long after the contents have been demolished, either as a picnic basket or storage box.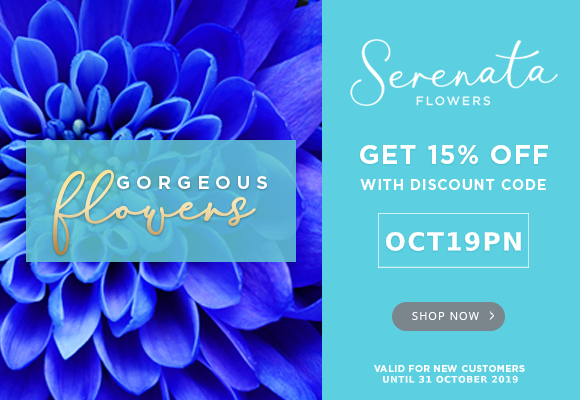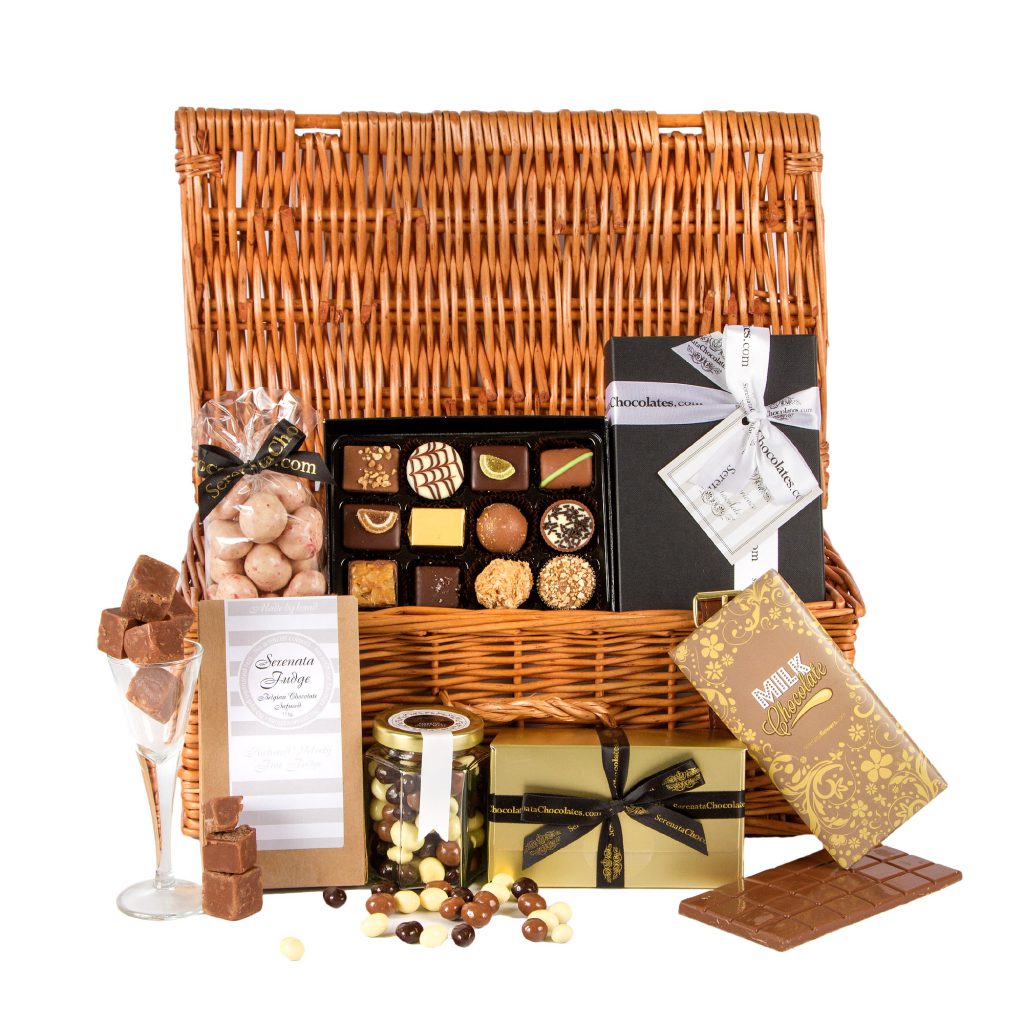 2. Cherish Chocolate Trug
Those who cherish their chocolate moments will certainly enjoy a chocolate hamper brimming with delights. Comprising creamy white, indulgent milk chocolates and intense darks – there is something to suit all. Teamed with nutty nibbles, liquor chocolates in the shape of whiskey truffles, chocolate coffee beans , and moreish sweet treats, this is a gift perfectly suited to those who class themselves as a chocoholic!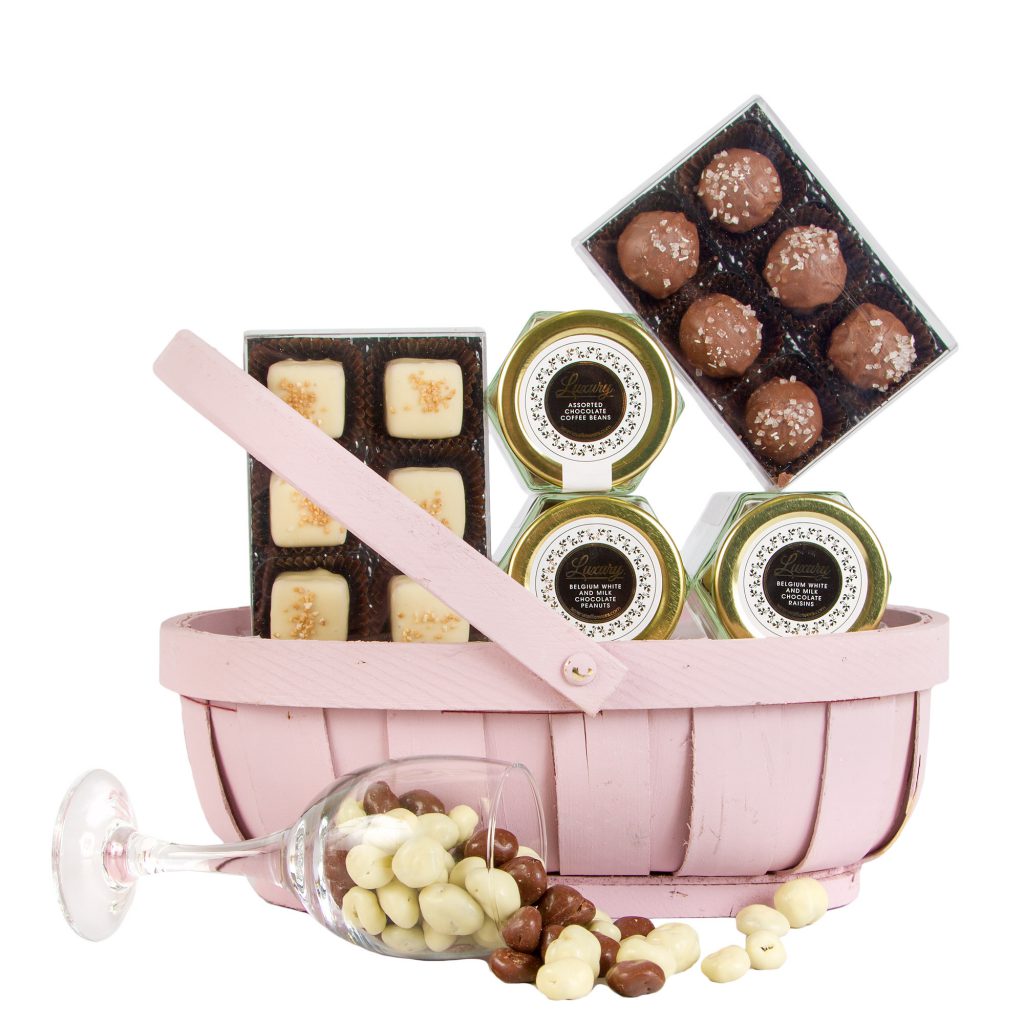 3. Luxury Pink Champagne Hamper
If you're searching for a hamper that is both sophisticated and luxurious, choosing UK chocolate hampers that house both bubbles and a series of sweet treats is a must. This pretty, pink hamper contains a bottle of rosé champagne, chocolate encased strawberries, champagne truffles, elegant English chocolate, and raspberry biscuits, organic tea and caramelized nut pralines. For those who enjoy their old school treats, you'll be pleased to learn rhubarb and custard sweets are another of the delights to be housed in this hamper.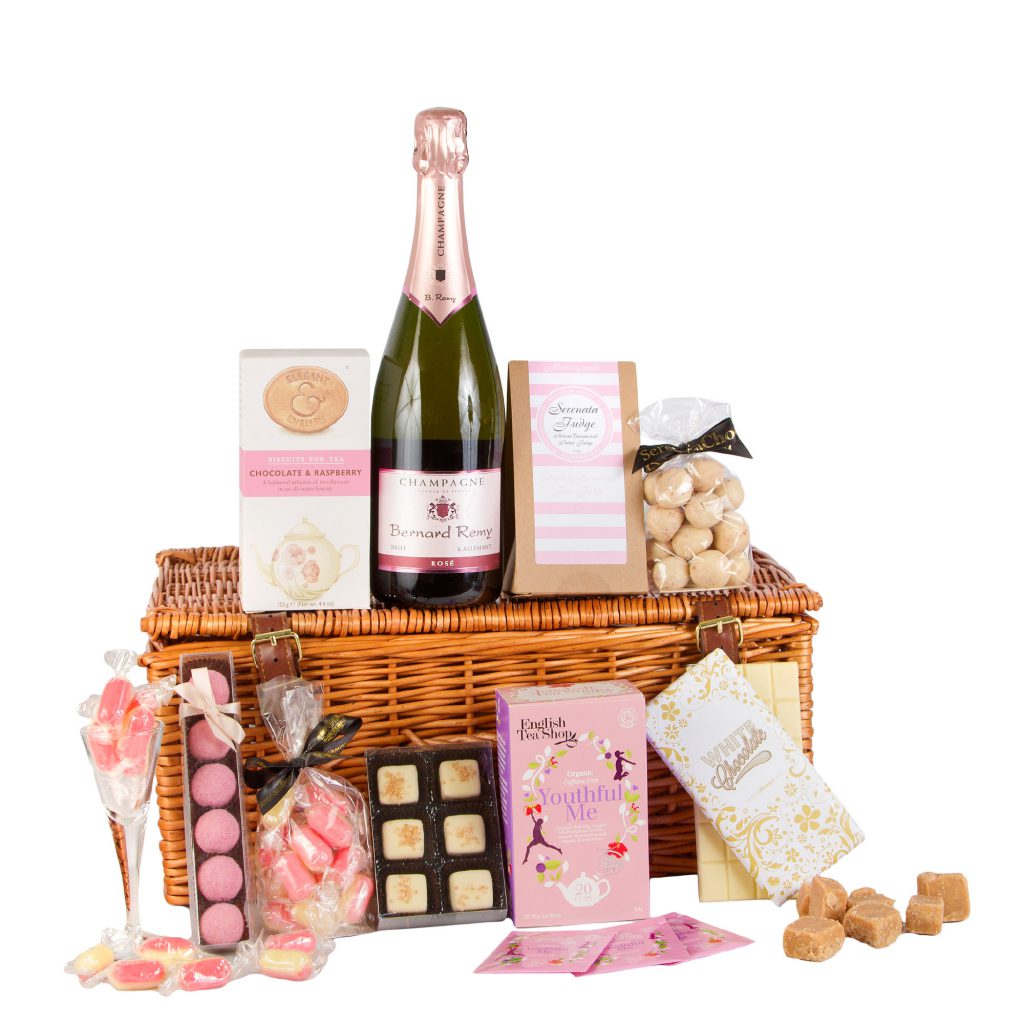 4. Food glorious food
For those who enjoy their savory as much as their sweet, a hamper brimming with everything from chutneys and cheeses to chocolates and cranberry infused biscuits is highly recommended. It's also an ideal option for an Easter treat! This after-dinner must-have is perfect for date nights and decadent dinner parties. Garlic and chili olives pair perfectly with smoked paprika crisps, whilst a variety of cheese delights, including favorites such as blue stilton and organic cheddar – as well a number of unique and fruity cheeses – are complemented by cheese board chutneys and spicy multi seed grain crackers. Moreish chocolates in the shape of rich Belgian truffles, almond-infused bites and velvety pralines make this the perfect gift for a special occasion. Family get-togethers are certainly an ideal excuse to indulge.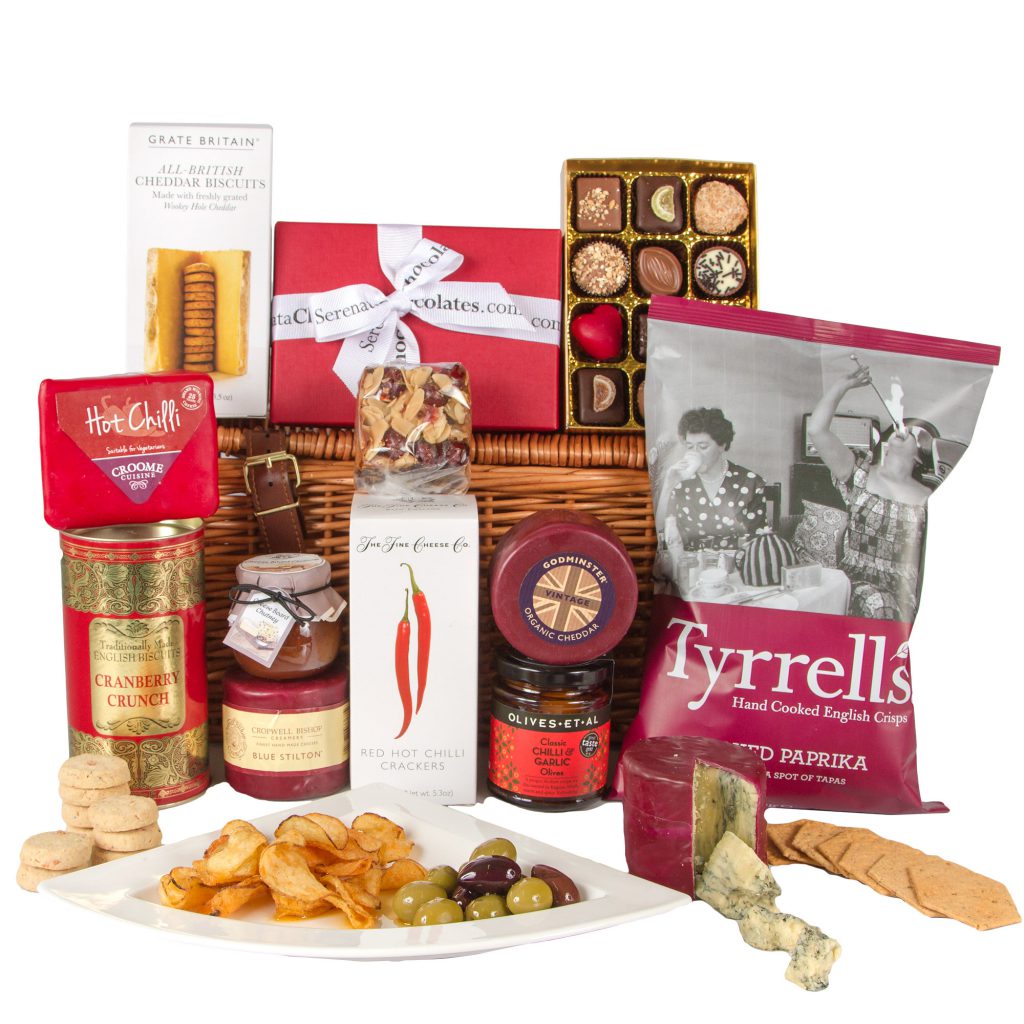 5. Time For Tea Trug
Looking for a gift for a special lady in your life? A hamper brimming with everything you could ever need for an idyllic 'high tea' is a must! Fine English tea leaves, delicious marmalades, strawberry Marc de Champagne jam, crumbly biscuits and of course, taste-tantalizing chocolates make this hamper ideal for those with a sweet tooth. All contents come encased in a pink trug.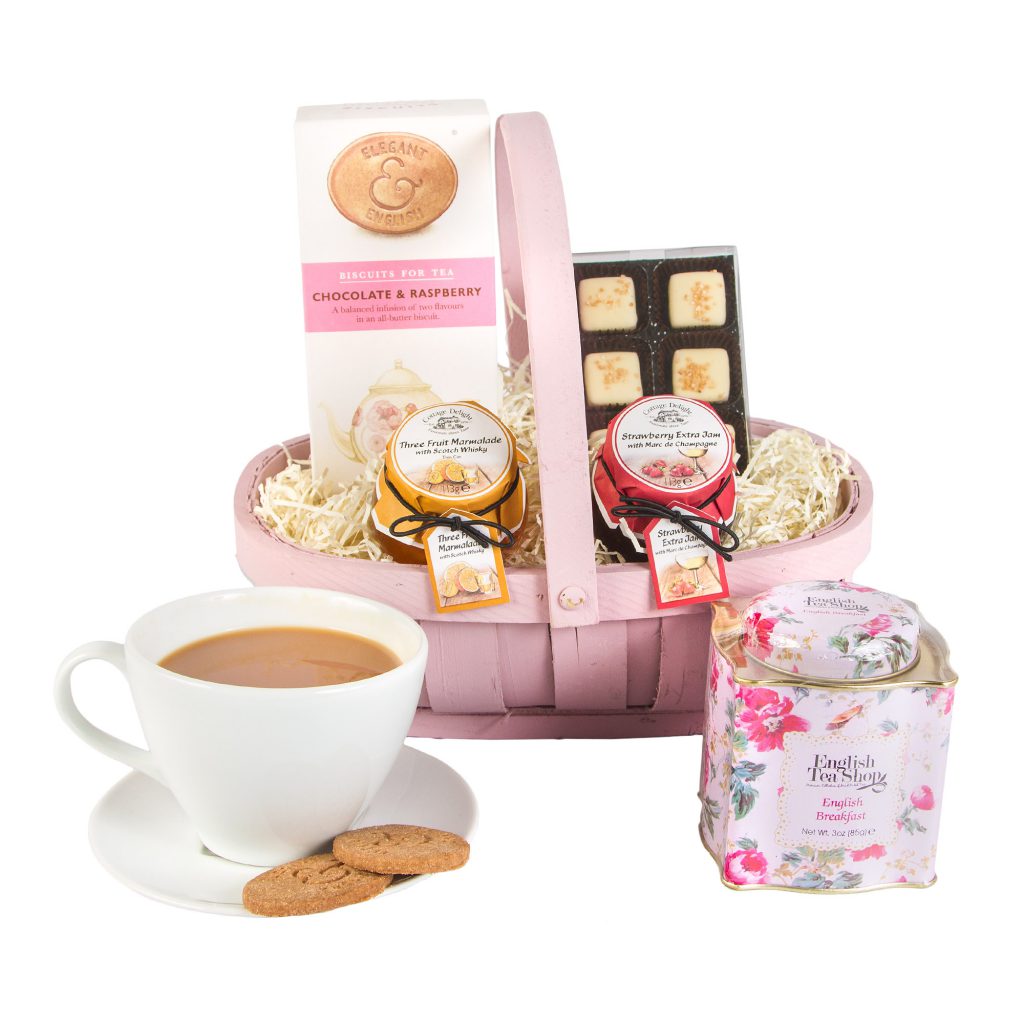 6. Truly Scrumptious
Sometimes something decadent is the only answer to an array of woes. Whether you've had a busy day at work, you're feeling a little under the weather, or it's just a rainy day – handmade chocolate meringues, truffle bars, whiskey marmalade and champagne jam are a guaranteed pick me up! Other items included in this UK chocolate hamper are cheddar biscuits, rosemary dipping crackers, duck and wild boar pate, caramel salted truffles, oriental nut mix, chilli and lime cashews and Old English chutney with cider. What more could you want?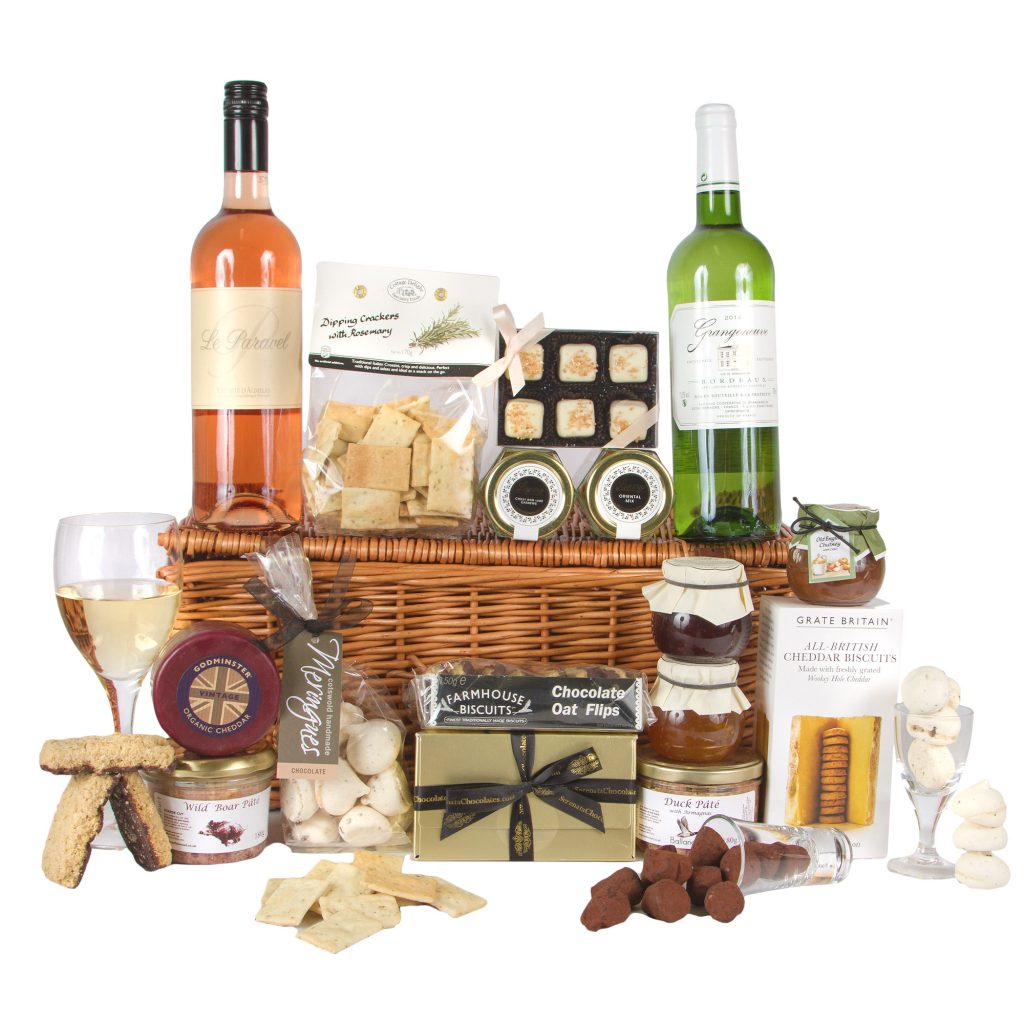 7. The Wimbledon Hamper
Now that tennis season is almost upon us, what better way to get into the spirit than with a Wimbledon hamper? Enjoy a crisp bottle of Rose, an array of moreish biscuits, lashings of chocolate infused fudge, an abundance of sweet treats and English breakfast tea with floral notes. Whether you take it to the match or enjoy beforehand, it's the perfect treat for a summer's day!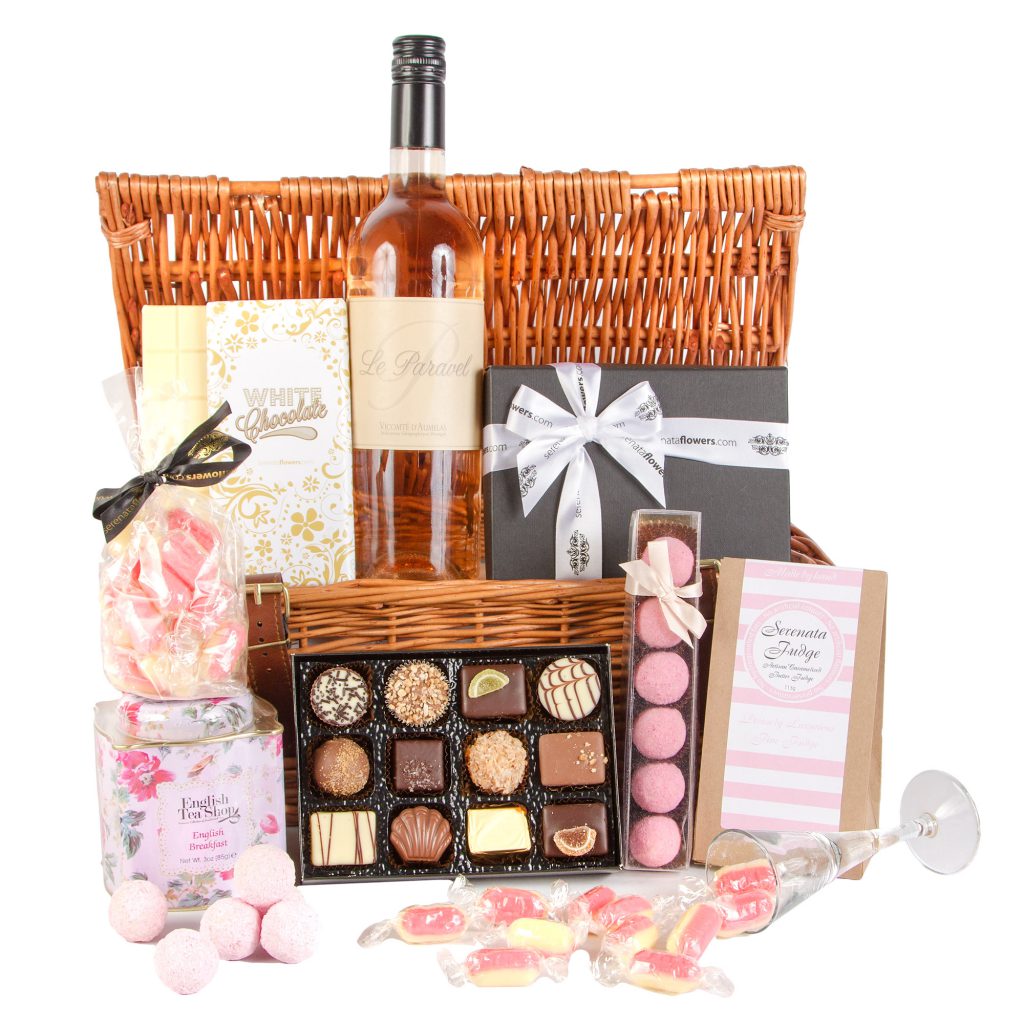 8. The Indulgence Chocolate Hamper
If you're struggling to pick just the one type of chocolate to put in a hamper, worry not! With the definitive chocolate hamper, you can choose all! From white to milk, to dark chocolate and moreish truffles, chocolate hampers the UK make a great Easter gift and are perfectly suited to all tastes. You'll even find a selection of chocolates brimming with taste-tantalizing fillings such as tangy fruit and luxury praline and nut centers. Other items in this hamper include luxury white and dark chocolate coated peanuts and raisins, delicious handmade fudge and an array of assorted chocolate coffee beans. If you're looking to make an impact, this is the hamper for you and is a guaranteed showstopper at an Easter family gathering!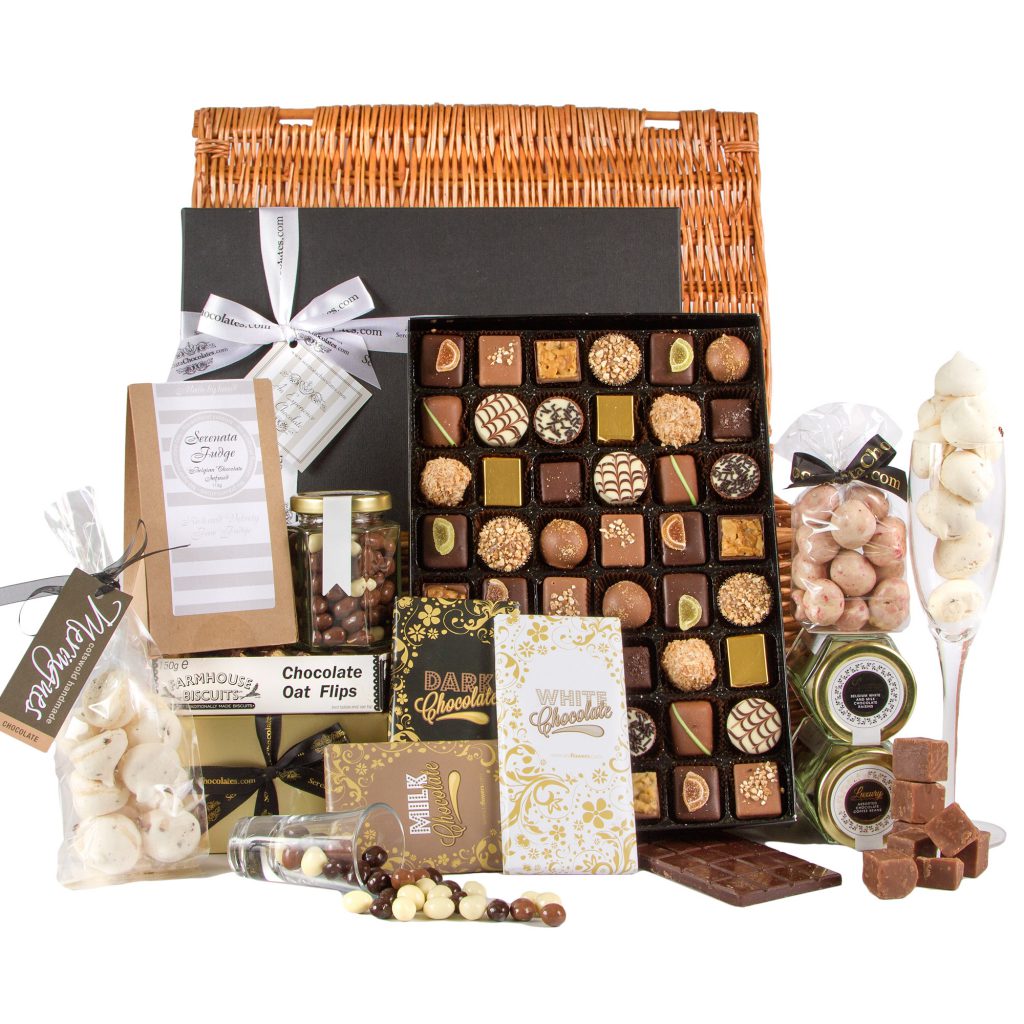 9. Sugar blush
Those with a sweet tooth will enjoy a hamper brimming with decadent delights, including the likes of sweet treats in the shape salted caramel fudge, luxury Belgian chocolates, milk chocolates and more. Asides from chocolate delights, you'll also find a selection of must-try cranberry crunch biscuits and tongue-tingling rhubarb and custard sweets – surely all the ingredients those with a sweet tooth could ever need?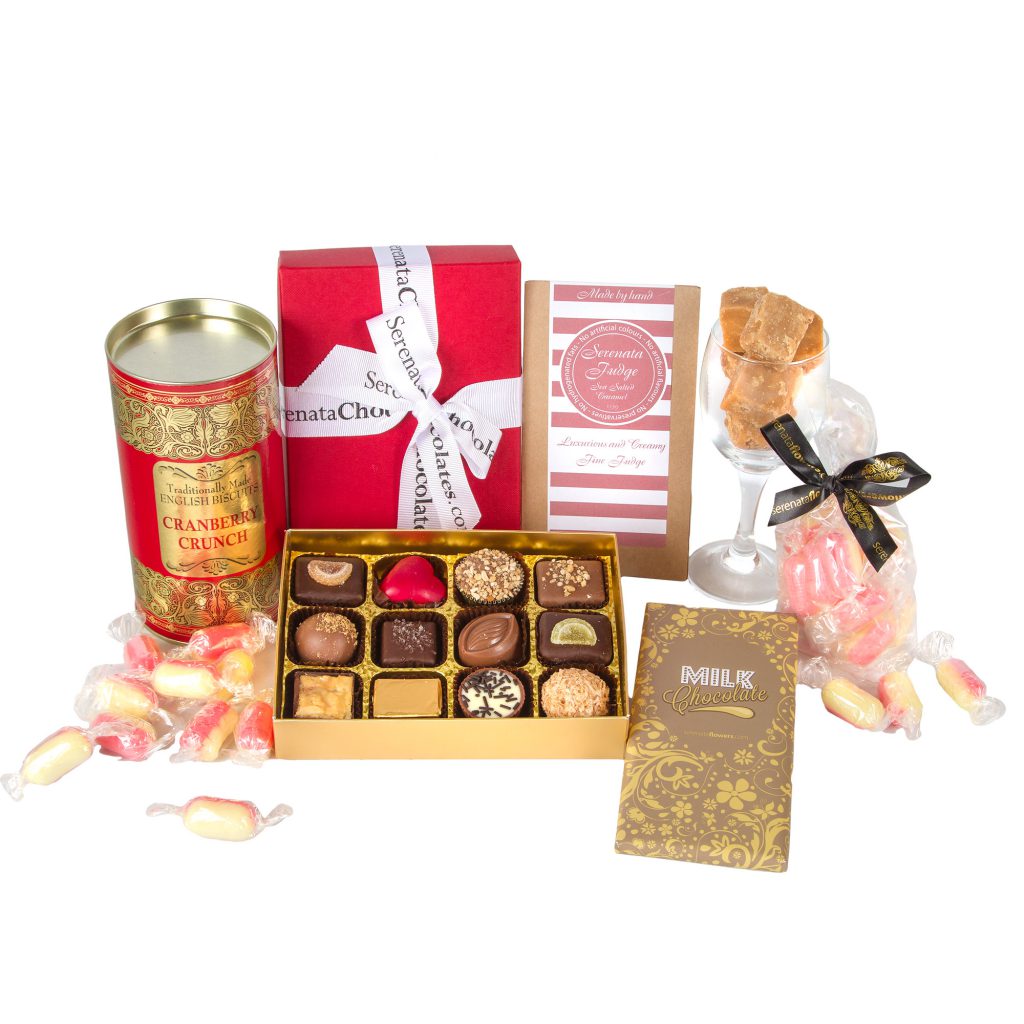 10. Teddy Bears Picnic
If you're looking for something a little more feminine in style, choose a cuddly bear and moreish food hamper. Rosehip English biscuits, sweet jams, fabulous pink butter fudge , and white chocolate covered strawberries are all you need to indulge in an evening of decadence. This popular UK chocolate hamper comes encased in a pretty pink trug complete with cute teddy bear.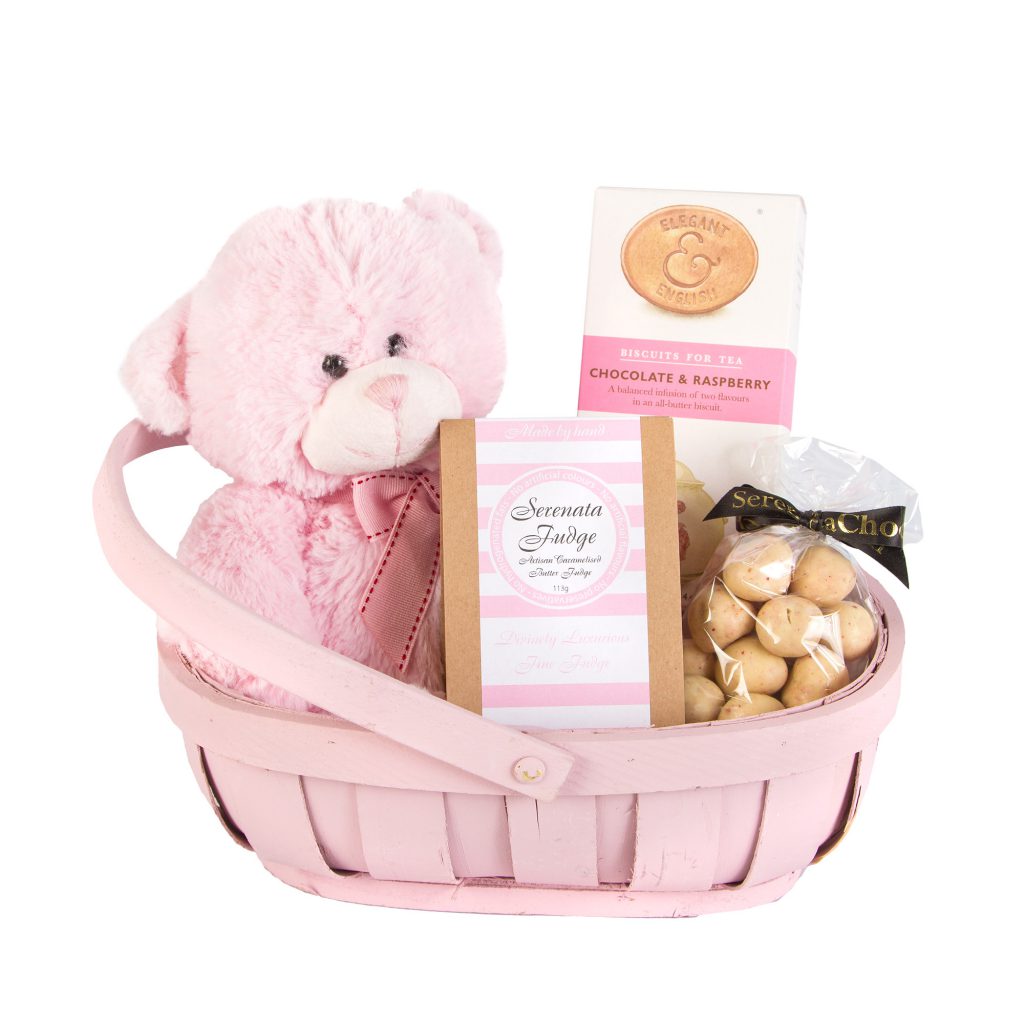 There's plenty of choices when it comes to picking a chocolate hamper that's brimming with all of your favorite delicacies – of course, if you're really struggling to decide, you could always stock up for the summer in preparation for some sun and fun activities in the great outdoors.
Read More about Hampers: