Sunflowers, or professionally referred to as Helianthus, originates from Greek word Helios, which means sun and athnos, which means flower. The sunflower family contains around 70 different members and originates in North America. The common sunflower, Helianthus Annuus, is the most popular form.  Sunflowers are widely know to have a close connection to the sun, as they turn their heads during their lifetime to follow the sun rays around the horizont. Sunflowers are also known for their symmetry based on the Fibonnaci numbers and so called Golden Angle.
Normally growing to the height of around 50 – 400 centimeters. Sunflowers have been in the past used also as medicine and for their oil.
If you want to send someone this vibratn beam of sunshine, order from our selection of sunflower bouquets at SerenataFlowers.com.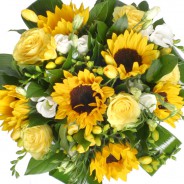 Sunflowers are happy flowers. They make us smile, brighten up the room and bring an instant feeling of summer and sunshine. No wonder they are so popular in summer bouquets. Did you know that they originate in North America? They date back as far as 3000 BCE when they were bred to be used for food, medicine and even dye and oil. The rest of the world can enjoy them now thanks to the exports made by Spanish conquistadors around 1500. Sunflowers not only look like the sun, and have the sun in their name, but they also have an even close...
read more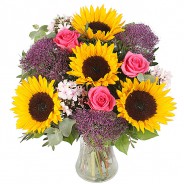 Summer is here and it's time to start decorating your home with fresh blooms, planning picnic in a park and enjoying the great outdoors! We can certainly help with the flowers – here is a round up of our most popular summer bouquets, available with free next-day delivery anywhere in the UK. Choose from vibrant carnations in all the bright colours of summer, fragrant freesia, delicate pastel roses or the popular lilies that will bring the smell of summer indoors.  Let's not forget about Sunflowers! We have a wide range of...
read more
There are few flowers more striking than the sunflower. Big and bold, they evoke the blaze of a mid-summer's day like nothing else. They are relatively easy to grow and the result is a stunning garden feature that attracts butterflies and birds. Here is the ultimate guide to the giant beauties to help budding gardeners grow their own. Planting Sunflowers prefer to grow in direct sunlight, and need loose, well-draining soil of good quality. A spot that is sheltered from strong winds is also ideal If you're planting from seed, it's best to get...
read more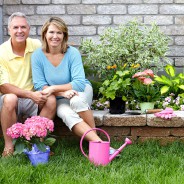 Did you know that an average garden in the UK has a total investment of £1.790 by the house owners? Revealed in a recent study by Homebase, they also set a list of garden flowers that are most attractive to house-hunters and might help to sell you house! According to the study, "Gardens are also crucial to a home's attractiveness on the property market, with two-fifths of Britons saying they would not buy a property unless it had a decent garden." What's are the other things that house hunters are looking at when...
read more