Birthday Flowers for a Man
Bouquets for blokes are becoming more and more popular – and they always love it! Choose from these manly arrangements, with dramatic blooms and strong colours, all made by hand from guaranteed fresh flowers that won't droop too soon
Outback Adventure
Save £10 (29%) with FREE Delivery
Order in the next 6 hours 20 minutes for delivery TOMORROW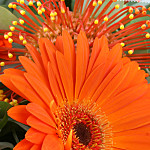 Bestsellers
- Birthday Flowers for a Man
Track your order
Customer Satisfaction
5 star
(98972)
4 star
(24243)
3 star
(470)
2 star
(9362)
1 star
(9004)
service was good - flowers were lovely just had a bit of a grumpy man on customer services at one point
I was very impressed about the next day delivery and the delivery man was apparently very smiley when he arrived about 8pm in the cold rain at my aunts door in the rain. Made her day!
The only negative about this purchase was the delivery man just left them outside, he didnt knock or ring. If my wife had not seen him walking away the boquet could have sat outside all day
Delivery man polite and smiley! Presume delivered when requested ?!? So delivery good and on a Sunday!!!
Brilliant service and I especially like how you can choose for which day you would like the floors to be delivered on, the delivery man was very careful in leaving the flowers under shelter because it was raining. Would definitely recommend. However it would be nice if there were photos of the bouquet as a grand and grandissimo.
Service rating : Good feed back when I made a mistake ordering, delivery man patient and looked for my elderly mother in rear garden when he heard her. V polite with manners.
Product : Good choice of mixed blues,would like to see more colour choice instead of pink for Mothers Day flowers
Excellent service and the delivery man was lovely
The Best Selection of Birthday Flowers for a Man
One of the toughest things to do in this world is selecting the perfect gift for a man. Things get even more complicated if you want to pair that gift with flowers. First of all, you should know that birthday flowers for men are quite popular, if not common. Flowers showcase your love, care, and respect, and it is a human need to feel that love irrespective of whether you are a man of woman. Don't deprive the men in your life from that feeling. At SerenataFlowers.com, we make flowers speak for you. We create bouquets that can deliver your message just the way you want it. With our wide and diverse range of bouquets, baskets, and vases, we can help you send a perfect bouquet of birthday flowers for a man you care about.It doesn't matter if you are a man sending flowers to your best friend, a mother sending birthday greetings to her son, or a lady trying to impress your love interest, we have something absolutely appropriate for your unique needs.
As much as we hate gender stereotypes and endorse men's right to receive flowers as a gift, we know that not every flower can appeal to the senses of a man. There are so many factors that come into the play. From colours to numbers, and from type of container to the scents these flowers carry, everything can affect how you should choose man birthday flowers. The idea is to surprise and please the man rather than making him worry about where he should be hiding the bouquet he just received. Look closely in our collection and you will realise how our expert florists have made good use of colours and arrangement techniques to make the flowers completely gender neutral, or better yet, masculine to an extent. A vase of white daisies, blue dendrobium, orchids, and even roses combined with carnations and fresh green leaves or cut grass. We even have a completely out of the ordinary collection of bouquets that are uniquely design to please a man with a knack for innovation and creativity. Now that is an art we have mastered. You can trust our expertise and judgment in this area. So, find man birthday flowers that are perfect for your man and send him some love!