Engagement
He's popped the question; she's popped the champagne. Now it's your turn to add to the celebration with a spray of floral exuberance. Make a toast to the happy couple with a glamorous arrangement of sensuous blossoms that's as romantic as their decision.
Luxury pink giftbag
Save £39.99 (0%) with FREE Delivery
Order in the next 3 hours 54 minutes for delivery TOMORROW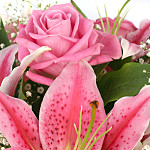 Track your order
Customer Satisfaction
5 star
(99048)
4 star
(24254)
3 star
(470)
2 star
(9368)
1 star
(9007)
Order process is very straightforward and the level communication regarding the order and the delivery process is excellent. The only improvement I'd have liked on the website was to be able to search for flowers by colour theme - I couldn't see any way to do that.
Service rating : I loved the emails and the notifications of delivery. These were great marketing tools and customer engagement.
Product : The roses wern't as fresh as I would have liked but still a nice bunch. Some of the flowers were dying already.
I bought these flowers two weeks ago and Tey are still going well. I would definitely use this service again x
Love services shame amazon local offers closing as used that a lot and always took advantage to say a thanks to friends via this as knew serenata quality is assured.
Website was easy to navigate. Choice was excellent. Pricing was very reasonable. Delivery was on time with no issues.
Excellent customer service - when I contacted Serenata to change my delivery instructions they replied almost immediately.
First time I have used them but very impressed and will use again.
Easy ordering,appeared well organised and flowers delivered promptly on correct day.

It is a dream come true for most couples to get flowers for an engagement. You are just a step away from spending the rest of your life with that wonderful person you are head over heels in love with. If you are a couple celebrating your engagement party with your closest family and friends, no doubt you want every little detail with the engagement flower arrangements to be perfect. From the venue, to the food, down to the music, candles, and gifts engagement flowers, nothing should be overlooked.



If you are looking for the best typical engagement flowers, you need not look any further. serenata flowers is an online florist engagement that specializes in making memorable occasions more special by highlighting them with the freshest, perfect engagement roses of the season. You can browse their online catalogue for samples of engagement flower bouquets, special flower arrangements engagement, or single engagement flower blooms to decorate tables or accent your house with.



The romantics inside all of us just cannot help but feel happy for people who are in love and send flowers for engagement uk. If you have friends or family members who have recently announced their engagement, a sweet gesture, which they would surely appreciate, is giving lovely engagement flowers arrangement.



Serenata Flowers has a wide assortment of engagement flowers florist from which to choose engagement flower bouquet: roses, lilacs, tulips, freesias, orchids, and other blooms. These flowers for engagement are carefully selected and cared for to ensure that they arrive at each recipient`s house as fresh and lovely as if you had picked them yourself.



Alternatively, Serenata also offers engagement bouquets and chocolates with their flower arrangements. Toast to the soon-to-be married couple`s future with a bottle of champagne, some exquisite chocolate truffles, and English roses in a gift hamper.