Engagement
He's popped the question; she's popped the champagne. Now it's your turn to add to the celebration with a spray of floral exuberance. Make a toast to the happy couple with a glamorous arrangement of sensuous blossoms that's as romantic as their decision.
Luxury pink giftbag
Save £39.99 (0%) with FREE Delivery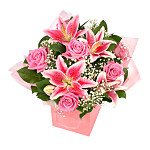 Order in the next 19 hours 26 minutes for delivery TOMORROW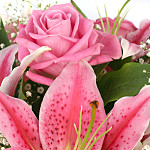 Track your order
Customer Satisfaction
5 star
(98861)
4 star
(24221)
3 star
(470)
2 star
(9354)
1 star
(8994)
Very good service and considerate and helpful.
Good and efficient service
Easy to use website and thorough with messages throughout complete process from order to delivery
The experience was really good kept updated throughout the day regarding the delivery just a shame it wasn't the bouquet prince of Cambridge that I ordered
the website is easy to use and the flowers arrived promptly.
Excellent service. Input the wrong date for flowers to be delivered so emailed serenata and was quickly resolved.
Reliable and great communications

It is a dream come true for most couples to get flowers for an engagement. You are just a step away from spending the rest of your life with that wonderful person you are head over heels in love with. If you are a couple celebrating your engagement party with your closest family and friends, no doubt you want every little detail with the engagement flower arrangements to be perfect. From the venue, to the food, down to the music, candles, and gifts engagement flowers, nothing should be overlooked.



If you are looking for the best typical engagement flowers, you need not look any further. serenata flowers is an online florist engagement that specializes in making memorable occasions more special by highlighting them with the freshest, perfect engagement roses of the season. You can browse their online catalogue for samples of engagement flower bouquets, special flower arrangements engagement, or single engagement flower blooms to decorate tables or accent your house with.



The romantics inside all of us just cannot help but feel happy for people who are in love and send flowers for engagement uk. If you have friends or family members who have recently announced their engagement, a sweet gesture, which they would surely appreciate, is giving lovely engagement flowers arrangement.



Serenata Flowers has a wide assortment of engagement flowers florist from which to choose engagement flower bouquet: roses, lilacs, tulips, freesias, orchids, and other blooms. These flowers for engagement are carefully selected and cared for to ensure that they arrive at each recipient`s house as fresh and lovely as if you had picked them yourself.



Alternatively, Serenata also offers engagement bouquets and chocolates with their flower arrangements. Toast to the soon-to-be married couple`s future with a bottle of champagne, some exquisite chocolate truffles, and English roses in a gift hamper.