Flower Delivery to Exeter
Colourburst
Save £5 (20%) with FREE Delivery
Order in the next 18 hours 49 minutes for delivery TOMORROW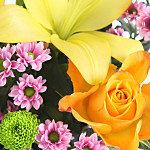 Track your order
Customer Satisfaction
5 star
(99048)
4 star
(24254)
3 star
(470)
2 star
(9368)
1 star
(9007)
I've used Serenata before and as usual the flowers were easy to order and on time, however, unfortunately the actual flowers seemed to have been bashed about a bit in delivery and had a few bruises on them.
Exceptional service. Loved the texts I received updating me to the progress of the delivery of the flowers I sent. Really helpful. Have not experienced this level of service before. Would be great if there was a florist like Serenata in every town!
Excellent and professional service. I was kept fully informed of the status of my order throughout and received three text and e-mail notifications on the day of delivery so I knew exactly what was happening and when my order had been delivered.
I wanted the flowers delivered on a certain day, and they arrived hassle free. I also really liked that the company let me know when they were on their way and then when they arrived, as it meant I wasn't worried about whether they made it to the house or not.
Quality of clowers, longevity of products
Delivery service was faultless
I am a new customer who uses interflora alot - so I speak from experience
Excellent Aftercare service
Dispatch updates were ideal for 'an apprehensive new customer'
Pricing was comparable
Delivery reliable and efficient. Flowers first ordered not available in time so contacted customer service. Replied immediately, friendly woman knew exactly what situation was and explained clearly - wish all customer service depts were as good.
Have used them several times and always been delighted with the service but had to downgrade to "good" rather than "excellent" this time as felt the Amethyst bouquet wasn't up to their usual standard
Flower Delivery in Exeter, England
Exeter's position on the River Exe gives it a special character when it comes to beautiful flowers. Mild winters also make it an ideal location for many popular plants, and its Northernhay Gardens was the first public green space in England. But what should you do if you would like to enjoy flower delivery in Exeter, England? How can you find great florists in Exeter, England, that you can rely on?
For flower delivery in Exeter, England, from true professionals, call on Serenata Flowers. As trusted local florists in Exeter, we offer the best flowers delivered: In Exeter, people know that they can trust the quality of our products as well as our service. No matter what type of beautiful flowers in Exeter, England, you require, we can help you. We have been helping people to send flowers to Exeter for years and have more than 66,000 five-star reviews.
If you are looking for more information about flowers in Exeter, you might try local organisations such as the Flower Guild that looks after the flowers at St Brannock's Church or the Devon Wildlife Trust that has worked hard to maximise the positive environmental effect of local gardens and green spaces. But if you want the finest flowers for your own garden, call on us! Serenata Flowers is a UK florist that cuts out the middleman and thus provides our valued customers with the freshest flowers at an affordable price delivered nationwide. Forget about traditional flower shops: If you're sending flowers 'near me' in the UK, order with us for free next-day delivery. Our flowers are perfect for all kinds of occasions, including weddings, births and much more.
Want fresh flowers? At Serenata Flowers, we look forward to providing you with beautiful flowers for your special times. Call or email us today to find out more about what we can offer you. We look forward to serving you very soon!
Flowers delivered near Exeter: