Flower Delivery to Spennymoor
Colourburst
Save £5 (20%) with FREE Delivery
Order in the next 11 hours 57 minutes for delivery TOMORROW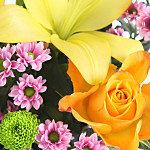 Track your order
Customer Satisfaction
5 star
(98808)
4 star
(24209)
3 star
(470)
2 star
(9349)
1 star
(8987)
Service rating : Excellent. Fast delivery and kept me up to date with the order progress.
Product : A little bit on the small side for the price but still lovely all the same.
Service rating : First time i have used this particular service will most definitely use tham again, delighted with product and customer service.
Product : Flowers were stunning the person recieving them loved the display and also the little personalised how to care for me note from the flowers and how to look after them she thought this added great sentiment to the whole idea.
Excellent products and service yet again
The flowers arrived in very poor condition with many of the buds limp lifeless and with a black tinge
Friendly, efficient service.
Service rating : An excellent service. Website easy to use and I was constantly informed by text and email what was happening with my order whcih was delivered before 10 am the following day. Well done team.
Product : Unfortunately I did not see the flowers as they were delivered to people I had no contact with but they tell me they were delighted with them.
Service rating : Flowers delivered when promised
Product : Unfortunately the flowers lasted 4 days - recipient managed to salvage some of the purple freesias, the rest had to be thrown away.
Order flowers online for Spennymoor delivery
Want to send a beautiful bouquet of flowers but can't get to the high street? At SerenataFlowers.com, we've made it simple to order flowers online at any time, day or night, and have them delivered the next day to any address in Spennymoor. Our safe and secure online site lets you browse a selection of stunning bouquets at affordable prices. Simply pick and click, and your order will be looked after by florists in Spennymoor who will turn your online flower order into beautiful reality. And you can do this all from the comfort of your own home.
Gorgeous flowers made by florist in Spennymoor
At SerenataFlowers.com, we have the honour of working with some of the UK's best florists. These skilled people can take your online order for a bouquet, bunch or even a single red rose and turn it into something magical. Our florist online ensures that your order is processed, and then will arrange for a flower delivery in Spennymoor to ensure that your bouquet arrives in perfect condition. Our florists in Spennymoor can arrange for a free next-day delivery, seven days a week, and their passion, skill and understanding of the language of flowers makes sure that your gift really does make someone's day very special.
Fresh flowers delivered daily to Spennymoor
At SerenataFlowers.com, we are dedicated to delivering fabulous flowers and great gifts to customers all over Spennymoor. It's easy too, thanks to our skilled florists, all you do is pick and click, and we will do the rest. Sending a special message to someone you love with flowers in Spennymoor couldn't be easier. Choose from a great selection of flowers online, pick a bunch that sends a perfect message to the one you love, pay online using our secure payment methods, and then sit back and we will do the rest. Our flower delivery service means that your blooms arrive by next-day post, whether you're sending a single rose, a posy of peonies or a bouquet of blooms to congratulate on a wedding.
Guaranteed next-day flower delivery in Spennymoor
Add an outstanding flowers delivery service to our incredible selection of blooms and bouquets, and you have the complete online flower package from SerenataFlowers.com. Our skilled florist delivery service creates your online order and delivers it to any address in Spennymoor next day, Monday to Sunday. All you need to do to arrange for a flower delivery to someone special (or even as a little treat for yourself!) is to pick from our online collection and book a next-day flower delivery to the address of your choice. Our floral experts make sure your flowers arrive in Spennymoor in perfect condition, as fresh as the moment they were picked.
Flowers delivered near Spennymoor: