Flower Delivery to Ringwood
Colourburst
Save £5 (20%) with FREE Delivery
Order in the next 10 hours 18 minutes for delivery TOMORROW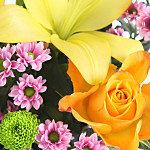 Track your order
Customer Satisfaction
5 star
(98936)
4 star
(24234)
3 star
(470)
2 star
(9359)
1 star
(8999)
Service rating : excellent communication, and deliver was well with in an acceptable time scale item was well boxed
Product : Fab item better than expected
Service rating : Excellent service, next day delivery, great price and beautiful flowers. Also they were very nicely wrapped and delivered. Would definitely use Serenata again!
Product : I received a bunch of 'Madonna' flowers myself and was so impressed with the combination of flowers and beauty of them that I decided to send the same bunch to an Aunty. She was equally impressed by the bunch. Furthermore my bunch is still going strong after 2 weeks, perhaps a little jaded but still lovely.
really excellent service and flow of information regarding the progress of my order.
Service rating : Easy to order flowers. Was kept informed at all times at each stage of delivery
Product : Selection of flowers and quality was excellent
Florist in Ringwood
If you want to send a special message to someone you love in Ringwood then that bouquet needs to be created with love and care! Our florists at SerenataFlowers.com can make your dreams become a reality. You don't have to go hiking up the high street to find a florist! Simple click will take you to our exclusive selection of beautiful bouquets, all created by skilled florists. Delivery in Ringwood is on a next day basis, so you can get a pretty posy or a romantic single red rose to someone special anywhere, any time. And because we're online, you can do it 24/7, whenever you want. Our fabulous choice of blooms, all created by florists with a real passion for their craft, are made from the freshest and most beautiful flowers just for you.
Flowers online near Ringwood
It's never been easier to find flowers online in Ringwood with SerenataFlowers.com. Our online flower shop makes it quick and simple for you to pick and click in a few easy steps. Simply browse our fabulous selection of flowers and gifts, decide when you want your gifts or flowers to arrive, and where you want your them delivered. We will then arrange for next-day delivery, Monday to Sunday, anywhere in Ringwood. For special occasions or just an impulse buy, our florist online service makes sending a special message easy, and the online service means we're open 24/7 for your convenience.
Next-day flowers in Ringwood
Let us deliver your special message every time with our next-day flower delivery service in Ringwood. At SerenataFlowers.com, we know that you want to be sure that your blooms arrive at their destination in tip top condition, looking fresh and beautiful. That's why our florist delivery experts work hard to get your bouquets to their destination the next day, so they look as good as they did the moment they were picked. We can ship and send flowers throughout Ringwood, and you can book a flower delivery just with few clicks. Just pick and click, and we'll do the rest!
Buy stunning flowers in Ringwood
Flowers have been given as a gift for thousands of years. Today, sending a floral gift to say 'I love you' or 'happy birthday' is a great way to reach out. If you want to send a beautiful bouquet to someone special in Ringwood, you can now do it from your own computer, thanks to our flowers online service. Simply choose a bouquet created by our skilled florists, book a next-day delivery and we'll do the rest. At SerenataFlowers.com, we're committed to providing the best online flowers delivery service in Ringwood, whenever and wherever you want.
Flowers delivered near Ringwood: