Flower Delivery to Stickney
Colourburst
Save £5 (20%) with FREE Delivery
Order in the next 3 minutes for delivery TOMORROW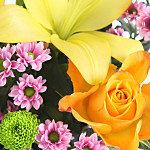 Track your order
Customer Satisfaction
5 star
(98808)
4 star
(24209)
3 star
(470)
2 star
(9349)
1 star
(8987)
The flowers were beautiful and i will be using you again however the flowers were sent to my mum and she said they started to wilt after a couple of days and she then realised the sponge inside was bone dry. i don't know if there is a card to say needs more water because i didn't receive them and my mum wasn't sure but it would be a good idea to prompt people to add more water if necessary...just future reference really.
Would prefer just a plain coloured card to co-ordinate with flower colours. Nevertheless the card we used was fine.
Service rating : Excellent service, flowers delivered, by 10am for my wifes birthday.
Product : Was a little dissapointed when box opened as fresias were just buds and it didn't look much. But after a couple of days in water they burst into life and looked perfect. Thank you.
Service rating : At least this time they arrived on the day I ordered them!!!!!
Product : There was nothing "GRAND" about them at all !!!!! No way was that a big bunch!!, it wasn't worth £10 let alone the £30 I paid!!! Plus which, the roses were dead by morning ..... Sorry guys but this is the second time this has happened ..... Back to Interflora I go!!!!
Online flowers for delivery to Stickney
This is the digital age, and we're all turning into dedicated online shoppers. At SerenataFlowers.com we've made it simple to pick out a beautiful bouquet and send it to any address in Stickney. And all it takes is just a few clicks. Our flowers online are the pick of the very best and freshest blooms, crafted into gorgeous bouquets for you by trained florists online and in Stickney. All you have to do is use our secure online service to choose the bouquet you want, and we'll take care of the rest.
Flowers sent by florist in Stickney
Booking a bouquet through a florist online is a great way to send someone a very special gift. Our florists in Stickney are skilled artisans with years of experience in working with the freshest and most beautiful blooms to create wonderful memories in flowers. Delivery is guaranteed the next day, so with SerenataFlowers.com you can be sure that when you send flowers in Stickney they'll be as fresh as the moment they were picked. Our delivery service makes sure they arrive on time and in perfect condition too. Simply pick and click, and our team of experts will do the rest for you.