Flower Delivery to Grantham
Colourburst
Save £5 (20%) with FREE Delivery
Order in the next 11 minutes for delivery TOMORROW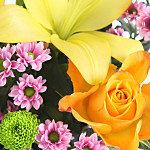 Track your order
Customer Satisfaction
5 star
(99048)
4 star
(24254)
3 star
(470)
2 star
(9368)
1 star
(9007)
Service rating : Easy steps to order flowers. Speedy service, and excellent
service to be told of my flowers journey from start to end. It
was for a funeral, and so was reassuring to know exactly where
my flowers were. Thankyou.
Product : These flowers were for a funeral which I was unable to attend.
I am sure the flowers would have been lovely because the service
given was excellent and the company wanted so much to please
the customer.
Will order again. Perhaps I will order some just for myself as an
indulgence as I lost my husband a few years ago so flowers I have
to buy for myself. Thankyou once again.
Service rating : This was a special offer. I had no problem ordering the flowers and no requirement to contact the company. The order was acknowledged almost instantly and delivered very quickly.
Product : I received an email from the recipient of the flowers who said she was delighted with them. One never knows whether someone is just being polite, but she sent a photograph to a mutual friend so I could see what a lovely bouquet had been sent. I have since met the lady and she is genuinely delighted and the bouquet was beautiful. Thank you.
Service rating : It's lovely to order via the website and know that you are going to receive a good service. I've used SerenataFlowers before and will continue to do so.
Product : Phone my colleague up to see if she'd received the flowers (knew that she had as I had received feedback from Serenata Flowers) but wanted to hear her reaction to the bouquet and she loved them! Good enough for me!!
Service rating : First time I've used Serenata, apart from a cliche when ordering on the website using a voucher. Although this was sorted out via the live help link everything went well. Text messages on the day of delivery saying on the way and when delivered but did say left securely at front of the property but the receipient actually received them herself.
Product : Obviously I have only seen them on the website but the receipient said they were lovely and in a bubble of water.
Service rating : To be able to order at 8pm and have the flowers delivered at lunchtime the following day was service indeed!
Product : The recipient said it was the nicest surprise she's ever had. The flowers were beautiful and fit for a bride on her wedding day. (She was in fact an elderly relative whose birthday we had forgotten.)
Service rating : SerenataFlowers.com were great from start to finish. Competitive pricing, easy ordering systems and fast and efficient service. The email updates were brilliant and reassuring.
Product : The tulips arrived well boxed and undamaged. There were plenty of them to ensure a stunning display and they lasted a good length of time.
There was an error on the website with the card I wanted a get well card and every time I selected the card it came up with happy anniversary. In the end I opted for a blank card and wrote my own message.
Flowers sent online next day to Grantham
Why spend time pounding the high street to find a florist when you can simply go online and have fresh blooms delivered to any address in Grantham with SerenataFlowers.com? We ensure that your fabulous bouquets or perfect posy is delivered with our next-day service anywhere in Grantham. Our skilled team will process your order seven days a week, and arrange for your bouquet to be shipped using our next-day delivery service. Choose from a single rose or a dazzling display of dahlias! Simply click and pick and we will do the rest!
Send flowers online to Grantham
In today's fast moving world, anything that makes your life easier has to be a bonus. So buying flowers online is the easiest and fastest way to send a special gift to someone. After all, who has the time to spend hours trudging up and down high streets in Grantham, when all the flowers you need are right here online? Our skilled florist online can create a fabulous floral display for any occasion, and our next-day delivery is all part of our convenient pick and click service. Sending flowers in Grantham couldn't be easier – simply log on to SerenataFlowers.com.
Flowers delivered near Grantham: