Flower Delivery to Seaford
Colourburst
Save £5 (20%) with FREE Delivery
Order in the next 11 minutes for delivery TOMORROW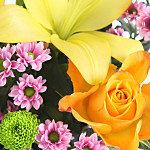 Track your order
Customer Satisfaction
5 star
(98808)
4 star
(24209)
3 star
(470)
2 star
(9349)
1 star
(8987)
I didn't see the flowers myself but the recipient was very happy!
Receipient said cake was really nice
Needed to say thank to a neighbour whilst away for a while, couldn't have been easier, just a couple of minutes online, made selection, big thank you expressed.
Brilliant, Efficient, Reasonably priced and Excellent flowers
Very easy to place order.
Very reasonable and good service
Florist in Seaford
Booking a bouquet through a florist online is a great way to send someone a very special gift. Our florists in Seaford are skilled artisans with years of experience in working with the freshest and most beautiful blooms to create wonderful memories in flowers. Delivery is guaranteed the next day, so with SerenataFlowers.com you can be sure that when you send flowers in Seaford they'll be as fresh as the moment they were picked. Our delivery service makes sure they arrive on time and in perfect condition too. Simply pick and click, and our team of experts will do the rest for you.
Next-day flowers in Seaford
You can rely on SerenataFlowers.com to deliver flowers the next day to any address in Seaford. Using our pick and click online service, you can arrange for a beautiful bouquet to be sent by post or using our seven-day-a-week shipping service. Our florist delivery specialists will ensure that every bloom arrives in perfect condition, whether it's a single red rose or that all-important bridal bouquet. Our flowers delivery service is designed to take good care of your flowers, so you're never disappointed! Send beautiful blooms anywhere in Seaford, and all from the comfort of your couch.
Beautiful flowers in Seaford
Why spend hours looking for a flower shop on the high street when you can send blooms anywhere in Seaford from the comfort of your computer? At SerenataFlowers.com, we've got a fabulous range of flowers online for you to choose from. Our next-day delivery service means that whether it's a birthday or a spur-of-the-moment impulse to say 'I love you', we've got it covered. All you have to do to arrange a flower delivery in Seaford is pick and click from our florist online. Sprays or single roses, posies or brides bouquets, we have fabulous flowers for every occasion.
Send flowers online to Seaford
This is the digital age, and we're all turning into dedicated online shoppers. At SerenataFlowers.com we've made it simple to pick out a beautiful bouquet and send it to any address in Seaford. And all it takes is just a few clicks. Our flowers online are the pick of the very best and freshest blooms, crafted into gorgeous bouquets for you by trained florists online and in Seaford. All you have to do is use our secure online service to choose the bouquet you want, and we'll take care of the rest.
Flowers delivered near Seaford: