Freesias
Versatile flowers with an unusual shape and enchanting scent, freesias are popular inclusions in bouquets. Their appeal doesn't lie in their delicate blossoms and wide spectrum of hues alone – the flowers have a strangely attractive asymmetry, growing off just one side of a thin, elegant stem.
Freesia Bouquet
Save £39.99 (0%) with FREE Delivery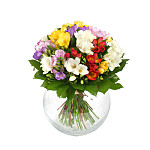 Order in the next 6 hours 13 minutes for delivery TOMORROW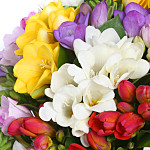 Track your order
Customer Satisfaction
5 star
(98861)
4 star
(24221)
3 star
(470)
2 star
(9354)
1 star
(8994)
Service rating : easy to use and quality products
Product : roses didnt last very long but freesias were lovely
The freesias drooped after only a couple of days. Everything else was excellent
Service rating : The communication at every step of the order was incredible.
Product : The recipient told me the flowers were lovely and said the freesias smelt good too.
Service rating : booking on line, all communications and the fast delivery of the flowers -all outstandingly good and efficient. I would use you again without hesitation and recommend your company.
Product : I didn't see the freesias but the person I sent them to said they were lovely and just coming out for her. thank you!
Service rating : Very efficient service & feedback on delivery schedule
Product : Lovely flowers - white roses & lilac freesias, but expected slightly more for the deluxe price.
Service rating : THought I would get email on the day but finally got a text (later than expected)
Product : Sister reported in tip top condition. Photo sent to me - roses looked lovely, but freesias not as plentiful as expected.
Service rating : Incredible Delivery Service
Product : My wife loves Freesias and to be able to get a bouquet of such quality and quantity to quickly was truly impressive.

When it comes to quality here at serenata flowers, we have an eye for picking the most beautiful freesias for your freesia bouquet or freesia arrangement. With their pretty bell shape and wonderful fragrance, the freesia bouquets is one of the most popular flowers in the world.



This lovely bulb flower is a member of the iris family and originated in Africa at the Cape of Good Hope. Thankfully, flowers freesias are now found all over the world, and the designers here at serenata flowers think roses and freesias add the perfect touch of color and fragrance to any mixed-flower bouquet. Freesias flowers also make a beautiful arrangement even if they are showing off all by themselves.



A white freesia bouquet comes in a gorgeous variety of colors that are simply stunning. While you normally find the most fragrant flower color is white freesias, the freesia is different because the red freesias and pink freesias have the strongest sweet and fruity scent. Orange freesias and blue freesias are available year round with their peak season being spring. No matter what time of year we are buying freesias by post, our buyers inspect every stem, leaf, and petal to make sure the freesia flowers pass our standards for freshness, color, fragrance, and beauty. Because of our high expectations, your roses freesias by post will last longer and smell stronger than freesias from any other florist.



Freesias are the symbol of trusting friendship and innocence, so they are the perfect choice to brighten a friend's day. They also represent a seventh wedding anniversary, so a freesia bouquet delivery of these beauties is the perfect choice for your significant other when you are celebrating that special seventh year. Here at serenata flowers, we know how to spot a perfect flower, and each one has to meet our high standards before our designers will ever allow it to become part of a bouquet or vase arrangement. When you place your order with us, you can be confident you are getting the very best of the best roses and freesias, every time.