Freesias
Versatile flowers with an unusual shape and enchanting scent, freesias are popular inclusions in bouquets. Their appeal doesn't lie in their delicate blossoms and wide spectrum of hues alone – the flowers have a strangely attractive asymmetry, growing off just one side of a thin, elegant stem.
Freesia Bouquet
Save £39.99 (0%) with FREE Delivery
Order NOW for delivery on
Tuesday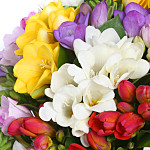 Track your order
Customer Satisfaction
5 star
(98972)
4 star
(24243)
3 star
(470)
2 star
(9362)
1 star
(9004)
Service rating : very prompt
Product : the flowers were lovely, the scent from the freesias gorgeous
Service rating : Amazing service and good feedback from Serenata
Product : My friend was delighted with the flowers and said the smell of the freesias was amazing.
Service rating : beautifully presented flowers, roses and freesias still in bud. delivered exactly as I ordered.
Product : excellent quality.
Service rating : The roses in the original display were disappointment and completely dead after 4 days, however Jade B in Customer Service was on the ball the whole time and organised another bouquet to be sent immediately.
Product : This arrived the day after my contacting Jade B, a huge bouquet of the most amazing freesias. Mum was delighted and they are still going strong a week later.
Service rating : The ease of booking and delivery of flowers was faultless apart from a product substitution.
Product : Recipient was delighted with the product but I was disappointed when she thanked me for the 'roses and irises' because the picture showed freesias. I know substitutes do happen but irises are so different from freesias and, in my opinion, do not last as long. I did send an email to this effect to the company, some days ago, and had an automated acknowledgement but have not had any other response yet. Apart from that everything was fine.
Service rating : I far as I'm aware they were delivered as my request
Product : I haven't see the flowers but my sister tells they are lovely and smell really nice being roses and freesias
Service rating : I far as I'm aware they were delivered as my request
Product : I haven't see the flowers but my sister tells they are lovely and smell really nice being roses and freesias

When it comes to quality here at serenata flowers, we have an eye for picking the most beautiful freesias for your freesia bouquet or freesia arrangement. With their pretty bell shape and wonderful fragrance, the freesia bouquets is one of the most popular flowers in the world.



This lovely bulb flower is a member of the iris family and originated in Africa at the Cape of Good Hope. Thankfully, flowers freesias are now found all over the world, and the designers here at serenata flowers think roses and freesias add the perfect touch of color and fragrance to any mixed-flower bouquet. Freesias flowers also make a beautiful arrangement even if they are showing off all by themselves.



A white freesia bouquet comes in a gorgeous variety of colors that are simply stunning. While you normally find the most fragrant flower color is white freesias, the freesia is different because the red freesias and pink freesias have the strongest sweet and fruity scent. Orange freesias and blue freesias are available year round with their peak season being spring. No matter what time of year we are buying freesias by post, our buyers inspect every stem, leaf, and petal to make sure the freesia flowers pass our standards for freshness, color, fragrance, and beauty. Because of our high expectations, your roses freesias by post will last longer and smell stronger than freesias from any other florist.



Freesias are the symbol of trusting friendship and innocence, so they are the perfect choice to brighten a friend's day. They also represent a seventh wedding anniversary, so a freesia bouquet delivery of these beauties is the perfect choice for your significant other when you are celebrating that special seventh year. Here at serenata flowers, we know how to spot a perfect flower, and each one has to meet our high standards before our designers will ever allow it to become part of a bouquet or vase arrangement. When you place your order with us, you can be confident you are getting the very best of the best roses and freesias, every time.