Elegant
Statuesque long-stemmed beauties ornamented by sumptuous heads of petals are combined to create a refined aesthetic that will appeal to the most discerning taste.
Chakra Glow
Save £5 (13%) with FREE Delivery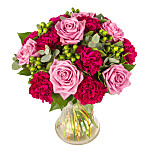 Order in the next 18 hours 17 minutes for delivery TOMORROW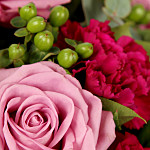 Track your order
Customer Satisfaction
5 star
(99014)
4 star
(24249)
3 star
(470)
2 star
(9365)
1 star
(9007)
Lovely. Elegant shape, large glass vase which did the job nicely and will be really good for bunches in the future. Think it might suit sunflowers particularly well
very beautiful elegant flower love it I can recommend to my friend...
Service rating : Speedy, affordable service. I've used serenata twice in the last 4 weeks and always had amazing service
Product : Very pretty, elegant and not over powering
Service rating : Same day delivery - Thanks!
Product : The bouquet was very elegant and quite large (We had to split it over 2 vases in our house)
Service rating : Fabulous website... easy to order and updates on delivery.
Product : Classy, elegant and cheerful.
Perfect for an elegant subtle bouquet.
Service rating : This has been the second time ive ordered from Serenata. Flowers beautiful and long lasting, brilliant value for money. Have recommended this site to friends and family.
Product : Lovely bouquet, simple and elegant and beautifully arranged.
Freshness and creativity are the cornerstone of the elegant flower bunches at serenata. Select your flowers according to occasion and be assured of getting the appropriate elegant flowers for the occasion. There are no social gaffes here. The website walks you through bunch after bunch of the flowers you can give to loved ones on special occasions. There are elegant flowers for birthdays, anniversaries, even sympathy and condolence; special flowers for special people – mother, friend, girlfriend; flowers for a new baby, a new job –anything at all.

Serenata has elegant flowers to suit any budget – the popular bestsellers for as little as $10 or truly exclusive floral masterpieces for up to $40. In fact, you can search for your bunch of elegant flowers according to price, color, recipient, or occasion. Navigating through the user-friendly website is as easy as walking through a garden, and if you do not use the internet, you can use the international free phones and ask them to call you back. You can also easily keep track of your orders. They store your details, so the next time you place an order the whole process is even quicker.

Elegant flower creations from serenata have found their way to the US, Spain, Italy, even South Africa and Singapore. Their tasteful orchid arrangements have been flown to and appreciated by connoisseurs of fresh and beautiful flowers in Singapore, which is the land of orchids. It is well worth your time and money to give them a try. Moreover, Serenata guarantees satisfaction or your money back.