Colourburst
Save £5 (20%) with FREE Delivery
Order in the next 13 hours 54 minutes for delivery TOMORROW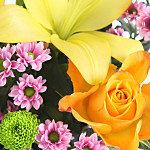 Track your order
Customer Satisfaction
5 star
(98903)
4 star
(24229)
3 star
(470)
2 star
(9357)
1 star
(8995)
It was received with thank, but I didn't see it myself
Service rating : Flowers delivered at the requested time, and in apparent good condition
Product : On receipt, the flowers were handled in accordance with the enclosed instructions. However, within 24 hrs, they appeared to deteriorate very quickly, and prematurely.
Unfortunately recipients were away for a further 5 days after delivery but a considerate neighbour took them in and they were still perfect.
Gorgeous flowers made by florist in Undy
How do you say 'I love you' or 'You're my best friend' with flowers? At SerenataFlowers.com, our florists in Undy know exactly which blooms to pick to send the perfect message to someone you care about. Our delivery service can ensure that message arrives fresh and in perfect condition the next day too, and all it takes is a few clicks. Our florist online does the rest, and because they take a real pride in their work, you can be sure our flower experts will only pick the very best blooms on your behalf.
Buy stunning flowers in Undy
For thousands of years, mankind has had a real love affair with flowers. In fact, these fragile, special blooms that capture our hearts and are the ultimate gift for someone you love even have their own 'language'! Fortunately, our florists in Undy speak it fluently, and can translate your message into a fabulous, fresh bouquet of pansies, peonies or petunias. Or if you prefer a single red rose to say 'I love you' then browse our flowers online at SerenataFlowers.com, click and pick and we'll arrange a special flowers delivery to deliver them the next day to any address in Undy.