Identify Wild Flowers
Wildflowers have many benefits. Not only are these plants beautiful, but the blooms often exhibit impressive staying power throughout a full growing season to provide ongoing beauty. Pollinators such as bees and butterflies rely on the blossoms of wildflowers to survive. Flowers found in the wild can help inspire home gardeners to grow them, assuming that these blooms can be identified and seeds can be found.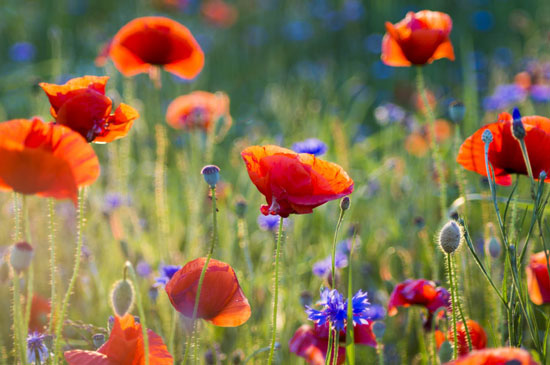 Identify wildflowers using this database, starting with flower color and then moving to the number of petals, the arrangement of the leaves, symmetry of the leaves, and more.
Wildflower Identification Website
This identification website enables visitors to search for flowers by photos to learn more about the different plants.
Simple Key for Plant Identification
By following the steps for plant identification on this website, you can narrow the field to determine the identity of various plants and flowers.
The African daisy is native to South Africa, and it blooms naturally throughout southwestern states with blooms up to 4 inches in diameter.
The University of Illinois Extension provides a directory of wildflowers complete with images and information about growing conditions.
Explore wildflower families within this directory for help with identifying wildflowers according to characteristics such as colors and petals.
Growing a wildflower meadow requires less maintenance than a lawn or other types of landscaping, and wildflowers help enhance biodiversity in an area.
Wildflower Identification Guide
This identification guide includes the common names and scientific names of common wildflowers, and you can click the links for the flowers to learn more about them.
Field Guide to Spring Wildflowers (PDF)
Explore common spring wildflowers by perusing this guide with photos and complete descriptions of the wildflowers.
Prairie Grasses and Wildflowers
Learn about various prairie grasses and wildflowers with information included in this list, including plant families, periods of blooming, and photos.
Not only are wildflower plantings beautiful with riotous colors, but they require less maintenance than other landscaping options.
Wildflowers in Colorado (PDF)
When looking for an informal landscape option, a wildflower planting could be the ideal option thanks to the wide array of colors and flowers that can be included.
Wildflowers of Southern California
Learn about some beautiful wildflowers that can be found in California here.
Common wildflowers that grow in Florida and elsewhere include phlox, coneflower, milkweed, and spiderwort.
Wildflowers and Native Plants: What's the Difference?
When choosing wildflowers for a landscape, try to focus on species that are native to your area to ensure that the plants thrive with minimal maintenance.
It's Time to Bash the Wildflower Myth Again
Although wildflowers usually thrive with little help, it is crucial to prepare a growing area correctly, to sow native species, and to allow the plants to establish themselves for a few seasons to become fully lush and vibrant.
Plant Wildflowers and Native Grasses in Fall or Winter
Many gardeners have success planting wildflower seeds in the autumn because cool-season perennials need cooler temperatures while they establish.
Plant Wildflowers Now to Enjoy a Colorful Spring and Summer
When you plant wildflowers in the fall, winter precipitation helps ensure that the seeds germinate in the soil so they are ready to thrive in the spring.
Where Biodiversity Blooms: The Survival of Sicilian Wildflowers
Sicily is home to more than 3,000 species of wildflowers that thrive in this seaside climate.
Wildflowers in the Home Garden (PDF)
Choose a growing location that receives full sun, and remove all existing weeds and rocks before planting a wildflower garden in a yard.
Wildflowers in the Home Landscape
Growing wildflowers is ideal for gardeners who want hardy and vibrant plants that don't require excessive maintenance to keep them healthy.
Wildflowers of Ponderosa Pine Forests (PDF)
The Ponderosa Pine forests in the Rocky Mountains grow at elevations between 5,600 and 9,000 feet, making this environment ideal for many beautiful wildflowers.
Caroline Dean Wildflower Collection
The wildflowers included in the Caroline Dean Wildflower Collection are presented with photos, full descriptions, and bloom times.
Burke Herbarium Image Collection
The plants included in this image collection are sorted according to whether they are vascular plants, macrofungi, or lichenized fungi.
Follow these directions for planting a wildflower meadow to enjoy colors and scents of wildflowers in a home garden.
40 Most Common Wildflowers at the Reserve
The Point Lobos Foundation shares the 40 most common wildflowers that grow there, many of which may thrive in your yard as well.
Learn about wildflowers by exploring the United States Department of Agriculture Forest Service website, which provides extensive information about native plants, rare wildflowers, and wildflower ethics.
Use this wildflower database to learn about wildflowers and to identify plants you may find growing near you.
The Kansas State University provides information about wildflowers in this database, which is searchable by flower color.
California Native Plant Library
Search for native California plants in this database, looking by either botanical or common name.
This wildflower guide provides information about wildflowers that are currently blooming in northern California.
Providing Wildflowers for Pollinators
Birds, bees, and butterflies rely on wildflowers for nectar and pollen, so planting a wildflower garden will give these pollinators the plants they need to survive.