With Mother's Day just two weeks away (Mother's Day is on Sunday 6 March 2016), you might be wondering where to buy the best value Mother's Day flowers that won't cost you a fortune.
The good news is, there is plenty too choose from when you're looking for cheap Mother's Day flowers and sending flowers is a lot more affordable these days.
We are bringing you our top picks for Mother's Day, all very budget friendly with guaranteed delivery on Sunday, 6 March 2016.
If you're wondering why should you trust us with one of the most important flower deliveries of the year, here are few reasons:
As one of very few online florists, we now offer free flower delivery 7 days a week. So if there's an important occasion coming up for the weekend, you don't have to stress about arranging gift delivery because with us, you don't have to pay any extra delivery charge. Mother's Day being one of the busiest days of the year with us is an exception, we do charge a small fee for delivery. If you prefer, you can deliver your Mother's Day flowers a day early for free to your mum, or to yourself and hand them over in person the next day.
We offer our customers convenient shopping experience and accept order for next day delivery up to 10pm and midnight (selected range only). For Sunday delivery you can order as late as 6pm on Saturday.
If you're worried about reaching your recipient at home or at work, we are offering a timed delivery options for morning, before noon and afternoon delivery for a small charge.
Same day flowers are also available and you have to place your order by 2.30 pm on the day.
Based on reviews from over 1 million customers, we have an average 93% satisfaction rate.
We are up to 30% cheaper than other well known brands,
Are you ready to give it a try? 
7 Cheap Mother's Day Flowers
Shop all of these options and plenty more at SerenataFlowers.com
*All prices are correct as on 15 February 2016 and subject to change. Order early to avoid disappointment on Mother's Day
1. Strawberry Sundae
When did you last make your mother feel really special? Gifting her with the Strawberry Sundae flower arrangement from Serenata is guaranteed to do just that! It's the perfect way to show her how much she means to you. Soft blushes of strawberry pink perfectly complements the creamy white weave of this bouquet, which will arrive brimming with classic Carnations, scented oriental Lily, sweet Roses, delicate Gypsophila and cute Chrysanthemums.
Strawberry Sundae currently available for only £24.99*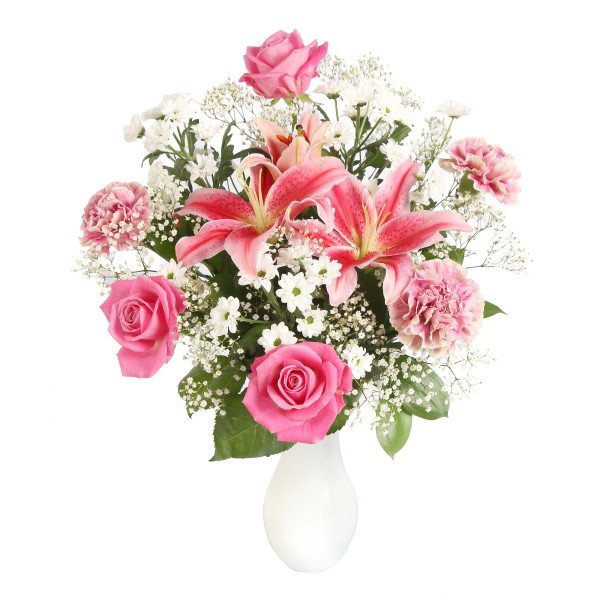 2. Bali Hai
Add a little exotic twist to Mother's Day with this beautifully striking pink Dendrobium orchid bouquet. Guaranteed she will be the only mum with such a unique bouquet on Mother's Day. Upgrade your bouquet from only £5 for even more impressive surprise.
Bali Hai currently available for only £19.99*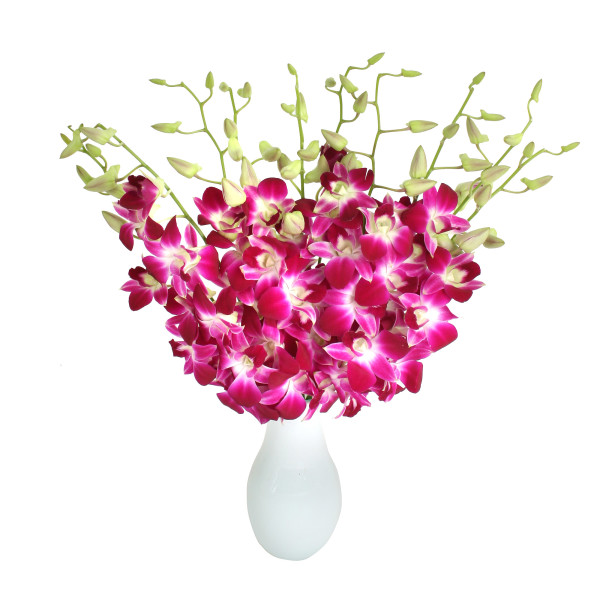 3. Raspberry Ripple
Presented in a beautiful basket, this flower arrangement is soft, sophisticated and ready to be proudly displayed in the living room or dining room. Sweet mix of vibrant pink roses, scented white freesia and dusty pink carnations is guaranteed to impress your mum!
Raspberry Ripple currently available for only £29.99*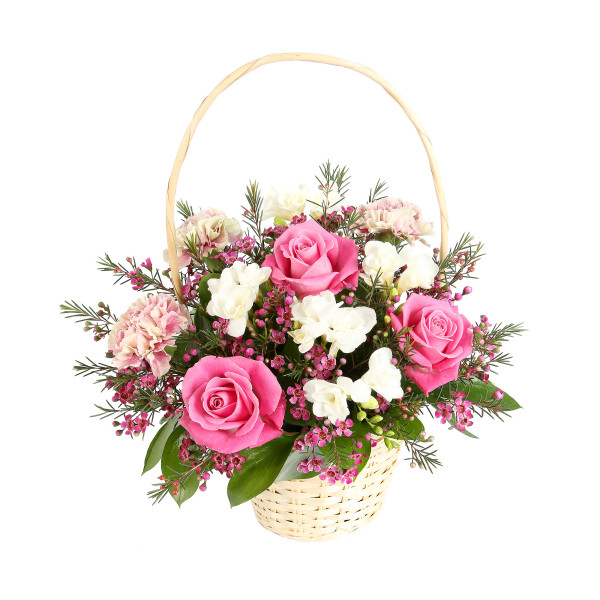 4. Spring Time
If you're looking for colourful yet cheap mother's day flowers, opt for the pastel colours of spring with this sweet bouquet of scented Lily, delicate Germini, purple Statice, pretty pink Lisianthus and beautiful Chrysanthemum blooms. Full of life, this is a selection that can brighten up any room, as well as the face of beloved mother.
Spring Time currently available for only £24.99*
5. Peach Beauty
Simple yet stunning arrangement of pink Roses and Gerberas, dusted with soft Gypsophila and arranged in a matching pink gift bag – a selection that will delight and impress your mum on her big day!
Peach Beauty currently available for only £29.99*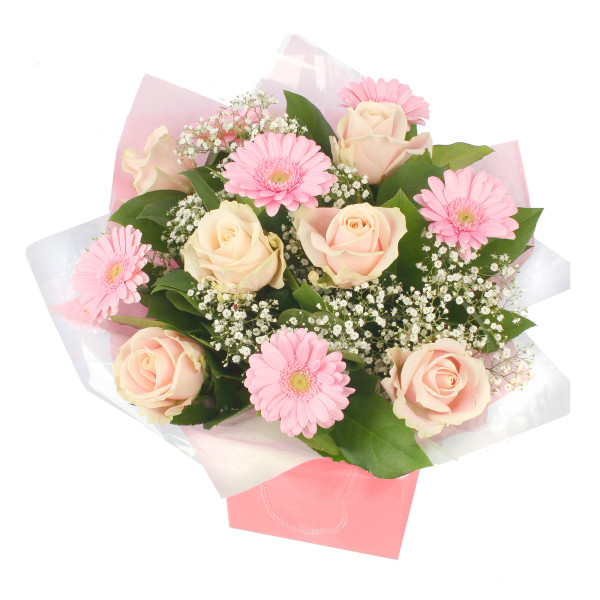 6. Secret Garden
Take your mum for a trip to a little secret garden, a fairytale arrangement of pink roses and while lilies.
Secret Garden currently available for only £24.99*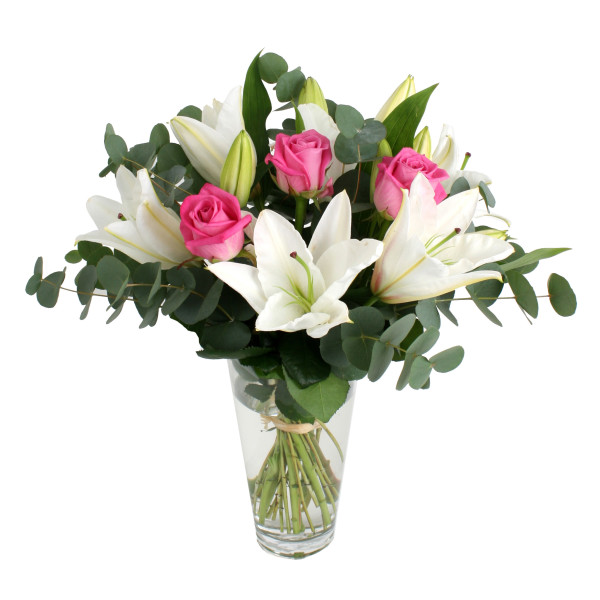 7. Mojito
It may be one of our newest bouquets, but it is quickly becoming a favourite among our customers, and we can see why!
Beautiful blend of whites and greens, featuring white rose, green hued carnations, Chrysanthemum and matching foliage.
Mojito currently available for only £19.99*
Are you searching for a special treat for your Mum this Mother's Day?
Then a Mother's Day Plant could be just what you're looking for. These cheap mother's day flowers will not only add a splash of colour to any room, they can be enjoyed time and time again.
The Pink Rose Garden from Serenata is one such example; these two beautiful pink roses will arrive planted side by side in a gorgeous pink trough with a cute wooden Mother's Day board. What's not to love?
Other options include the Luxury Pink Orchids, which come in the shape of an attractive double-stemmed pink Phalaenopsis orchid, presented in a stylish glass cube, lined with moss.
The Capanula Basket is another popular choice, and boasts an abundance of rich purple cascading over a contemporary square basket, complemented by a gorgeous purple bow. Both are the perfect gifts for mum as you can show her just how much you care.
If you're looking for something brandishing even more colour, choose a Spring Basket. This pretty arrangement comes complete with a gorgeous cascade of purple Campanula blooms and vivid yellow daffodils, which are guaranteed to add joy to any home!
Once it gets a little warmer, these plants can be transferred to the garden and enjoyed year after year – providing an endless reminder of the bond you have with your mum.